"Cordula Grün" is Austrian song released on 25 August 2018 in the official channel of the record label - "DraufgaengerTV". Discover exclusive information about "Cordula Grün". Explore Cordula Grün lyrics, translations, and song facts. Earnings and Net Worth accumulated by sponsorships and other sources according to information found in the internet. How many times the Austrian song appeared in music charts compiled by Popnable? "Cordula Grün " is well-known music video that took placements in popular top charts, such as Top 100 Austria Music Chart , Top 40 Austrian Songs Chart, and more.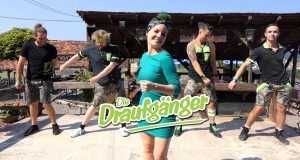 Country

Austria
Added
Origin Name
Die Draufgänger - Cordula Grün - Josh Cover (Offizielles Video)
Report
[Not music related] [Add Artist Related] [Report Fake Views] [Remove Linked Artist] [Add Lyrics] [Add Lyrics Translation]
"Cordula Grün" Facts
"Cordula Grün" has reached 49M total views, 163.2K likes, and 18.6K dislikes on YouTube.

The song has been submitted on 25/08/2018 and spent 171 weeks on the charts.
The original name of the music video "Cordula Grün" is "DIE DRAUFGÄNGER - CORDULA GRÜN - JOSH COVER (OFFIZIELLES VIDEO)".
"Cordula Grün" has been published on Youtube at 24/08/2018 12:56:22
"Cordula Grün" Lyrics, Composers, Record Label
Hier geht es zum neuesten Video "KÜSS DIE HAND SCHÖNE FRAU":
Das neue Album "GRÜN" vorbestellen:

Hier geht's zum Song "CORDULA GRÜN":

Die wahrscheinlich grünste Band der Welt covert den wahrscheinlich grünsten Hit aus Ö ;Passt irgendwie.

Kanal abonnieren:
Playlist mit allen Musikvideos:
Das neue Album "#Hektarparty" - jetzt streamen/ downloaden/ kaufen:


Infos und Termine unter & &

Management & Booking:
ADLMANN PROMOTION
Gewerbepark Süd 4/1
A-8121 Deutschfeistritz
+43 (0) 676 4893122


Arrangement, Aufnahme, Produktion: Albert-Mario Lampel

Videoproduktion: Priska Hirschmann & Albert-Mario Lampel
Locations: Woazockern Leitersdorf A-8330 und Rudi's Saustall

SONGTEXT
Sie hieß Cordula Grün
Ich hab sie tanzen gesehen
Dann hab ich sie noch gefragt
Ob sie morgen mit mir einen Tee trinken mag
Oder ein Fruchtkonzentrat
"Wer zuerst geht, verliert"
Hat sie dann abends skandiert
Aus unserm Tee wurde Bier
Zwei große Schnaps, und sie sagt
"Komm mit nach Hause zu mir
Mein Mann wohnt eh nicht mehr hier"
In der Bim übern Ring steh ich auf und sing ihr ein Liebeslied
Ihr graut vor Kitsch, Poesie, mit Refrain, Mimimi
Sie mag Tanzmusik

Cordula Grün
Cordula Grün
Cordula Grün
Ich hab dich
Ich hab dich
Ich hab dich

Cordula Grün
Du bist nur schwer zu verstehen
Cordula Grün
Ich würd dich gern wiedersehn
Cordula Grün
Ich hab dich
Ich hab dich
Ich hab dich
Ich hab dich tanzen gesehn

Mir wars am nächsten Tag klar
Ich will jetzt nur Cordula
Ich bin und bleib Optimist
Selbst wenn sie mir verschwieg, dass sie verheiratet ist
Mit einem Pädiatrist
Ihr Mann hieß Eberhard Grün
Er hat sie tanzen gesehen
Dann hat er sie noch gefragt
Ob sie morgen mit ihm vor den Altar treten mag
Und sie hat ja gesagt
Hätte ich das geahnt
Hätt ichs anders geplant
Und hätt weggesehn
Ich konnt nicht fort von ihr gehn
Fing auch an, mich zu drehn
Denn sie tanzt so schön

Cordula Grün
Cordula Grün
Cordula Grün
Ich hab dich
Ich hab dich
Ich hab dich

Cordula Grün
Du bist nur schwer zu verstehen
Cordula Grün
Ich würd dich gern wiedersehn
Cordula Grün
Ich hab dich
Ich hab dich
Ich hab dich
Ich hab dich tanzen gesehn
Weekly Chart Achieves (Top 40 Songs)
The highest charting position of the entry is #1 . "Cordula Grün" atop the Top 40 Songs Chart for 40 total weeks. The song appeared 170 total times in the Top 10 ; 1 total times in the Top 20 ; The worst ranking place of the video is #18. "Cordula Grün" has been charted in 1 trends (countries):
Monthly Chart Achieves (Top 40 Songs)
The best charting position of the entry is #1 . "Cordula Grün" atop the Top 40 Songs Chart for 11 total months. The song appeared 38 total times in the Top 10 ; 1 total times in the Top 40 ; The worst ranking place of the video is #26. "Cordula Grün" has been charted in 1 trends (countries):
Daily Chart Achieves (Top 100 Songs)
The highest ranking position of the entry is #1 . "Cordula Grün" atop the Top 100 Songs Chart for 229 total days. The song appeared 1114 total times in the Top 10 ; 6 total times in the Top 20 ; The worst charting place of the entry is #21. Find all daily charts - Top 100 Austria