"Lalala" is Bosnian song released on 07 August 2020 in the official channel of the record label - "Maya Berovic". Discover exclusive information about "Lalala". Explore Lalala lyrics, translations, and song facts. Earnings and Net Worth accumulated by sponsorships and other sources according to information found in the internet. How many times the Bosnian song appeared in music charts compiled by Popnable? "Lalala " is well-known music video that took placements in popular top charts, such as Top 100 Bosnia and Herzegovina Music Chart , Top 40 Bosnian Songs Chart, and more.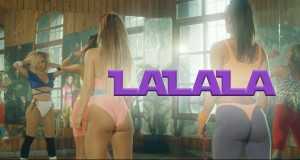 Country
Bosnia and Herzegovina
Added
Origin Name
Maya Berovic - Lalala (Official Video)
Report
[Not music related] [Add Artist Related] [Report Fake Views] [Remove Linked Artist] [Add Lyrics] [Add Lyrics Translation]
"Lalala" Facts
"Lalala" has reached 27M total views, 99.3K likes, and 6.2K dislikes on YouTube.

The song has been submitted on 07/08/2020 and spent 40 weeks on the charts.
The original name of the music video "Lalala" is "MAYA BEROVIC - LALALA (OFFICIAL VIDEO)".
"Lalala" has been published on Youtube at 06/08/2020 15:01:28
"Lalala" Lyrics, Composers, Record Label
#MayaBerovic #Lalala #Intime2020

✔ Listen to my Spotify Playlist:

Label and copyright: Maya Berovic & XL Elit, ℗ & © ;All rights ;

✔ Streaming album link:

✔ Follow me:
Instagram:
Facebook:
Spotify:
Apple:
Deezer:
Amazon Music:
YouTube:


► Muzika: Alex & Nikki Caneras
► Tekst: Alex & Nikki Caneras
► Aranžman: Nikki Caneras

► Mix i master: Nikki Caneras


???? Buy on:
✔ iTunes:
✔ Play Store:
✔ Amazon Music:

???? Listen on:
✔ YouTube Music:
✔ Spotify:
✔ Deezer:
✔ Tidal:


???? Video Production: LEONA Videos
???? Creative Director: Alex Caneras & Nikki Caneras
???? Director of Photography: Miodrag Marković
???? Editor: Alex Caneras
???? Colourist & VFX: Alex Caneras
???? Scenography: Alex Caneras & Nikki Caneras

Make Up Artist: Despot Radović
Hairstylist: Đuka Ivanović
Stylist: Petar Trbović


???? ALBUM "INTIME" 2020:
;Intime
;Honey
;Moto
;Verna ko pas
;Niko kao on
;Breme
;Bonbon
;Kunem se u nas
;Lalala
;Niko ne zna


Zabranjeno je svako kopiranje video i/ili audio snimaka i postavljanje na druge kanale! ©
Copying, re-uploading and illegally distributing this copyrighted work is strictly prohibited! ©

TEKST:

Lose mi je
Srce moje kuca sporije
U skorije
Znam da ces mi doci posle nje
Dok trezna bdim
Nad lazima tim
Ne podnosim
Sebe jer trebas mi

Sve to bas mi
Svesno radis
Pa kajes se
Da okrenemo nov list
Po koji put ti molis me

REF:
Od kad sa njom si
Ja svaku noc bi se opijala
I sa svima ja igrala la la
O bejbe
Pravila da hladna sam
A sve bi porazbijala
Pa te vijala i dozivala
O bejbe
Odrobijala bi svaku koja mi te dirala
Nocu skrivala i zvala ko ja tebe
Jel ti drame fali
Aj reci mi jel ti prijala
Telo grijala, omadjijala um bejbe

Prvo drugo trece mi
Pice daje krila i moc
Da u klubu plesem i
Zavodim da ne vide bol
Ali tokom veceri
Krecu mi suze ko
Da se tope glečeri
Klizav ispod mene je pod

Sve to bas mi
Svesno radis
Pa kajes se
Da okrenemo nov list
Po koji put ti molis me

REF:
Od kad sa njom si
Ja svaku noc bi se opijala
I sa svima ja igrala la la
O bejbe
Pravila da hladna sam
A sve bi porazbijala
Pa te vijala i dozivala
O bejbe
Odrobijala bi svaku koja mi te dirala
Nocu skrivala i zvala ko ja tebe
Jel ti drame fali
Aj reci mi jel ti prijala
Telo grijala, omadjijala um bejbe

Pravila da hladna sam
A sve bi porazbijala
I dozivala, o bejbe

Odrobijala bi svaku koja mi te dirala
Nocu skrivala i zvala ko ja tebe
Jel ti drame fali
Aj reci mi jel ti prijala
Telo grijala, omadjijala um bejbe
Weekly Chart Achieves (Top 40 Songs)
The highest charting position of the entry is #3 . The song appeared 44 total times in the Top 10 ; 10 total times in the Top 20 ; 7 total times in the Top 40 ; The worst ranking place of the video is #75. "Lalala" has been charted in 2 trends (countries):
Monthly Chart Achieves (Top 40 Songs)
The best charting position of the entry is #3 . The song appeared 10 total times in the Top 10 ; 2 total times in the Top 20 ; 1 total times in the Top 40 ; The worst ranking place of the video is #63. "Lalala" has been charted in 2 trends (countries):
Daily Chart Achieves (Top 100 Songs)
The highest ranking position of the entry is #3 . The song appeared 277 total times in the Top 10 ; 94 total times in the Top 20 ; 179 total times in the Top 100 ; The worst charting place of the entry is #82. Find all daily charts - Top 100 Bosnia and Herzegovina