Light Years Away

by G.e.m.

"Light Years Away" is Chinese song released on 20 July 2020 in the official channel of the record label - "GEMblog". Discover exclusive information about "Light Years Away". Explore Light Years Away lyrics, translations, and song facts. Earnings and Net Worth accumulated by sponsorships and other sources according to information found in the internet. How many times the Chinese song appeared in music charts compiled by Popnable? "Light Years Away " is well-known music video that took placements in popular top charts, such as Top 100 China Music Chart , Top 40 Chinese Songs Chart, and more.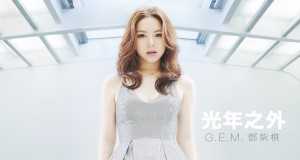 Country

China
Added
Origin Name
G.e.m.【光年之外 Light Years Away 】Mv (電影《太空潛航者 Passengers》中文主題曲) [Hd] 鄧紫棋
Report
[Not music related] [Add Artist Related] [Report Fake Views] [Remove Linked Artist] [Add Lyrics] [Add Lyrics Translation]
"Light Years Away" Facts
"Light Years Away" has reached 236.3M total views, 536.5K likes, and 31.9K dislikes on YouTube.

The song has been submitted on 20/07/2020 and spent 47 weeks on the charts.
The original name of the music video "Light Years Away" is "G.E.M.【光年之外 LIGHT YEARS AWAY 】MV (電影《太空潛航者 PASSENGERS》中文主題曲) [HD] 鄧紫棋".
"Light Years Away" has been published on Youtube at 30/12/2016 03:00:50
"Light Years Away" Lyrics, Composers, Record Label
KKBox:
iTunes:
Spotify:

• 音悅台連續六週TOP 1
• KKBox TOP 1
• Billboard Radio China兩週TOP 1

主唱: ;鄧紫棋
曲詞: ;鄧紫棋
編曲: Lupo Groinig
監製: Lupo Groinig


如何瞬間 凍結時間

也許已經 沒有明天

面對浩瀚的星海
我們微小得像塵埃
漂浮在 一片無奈






我沒想到 為了你 我能瘋狂到
山崩海嘯 沒有你 根本不想逃
我的大腦 為了你 已經瘋狂到
脈搏心跳 沒有你 根本不重要


足夠抵擋 天旋地轉

足以點燃 所有希望

宇宙磅礡而冷漠
我們的愛微小卻閃爍
顛簸 卻如此忘我






我沒想到 為了你 我能瘋狂到
山崩海嘯 沒有你 根本不想逃
我的大腦 為了你 已經瘋狂到
脈搏心跳 沒有你 根本不重要

也許航道以外 是醒不來的夢
亂世以外 是純粹的相擁

我沒想到 為了你 我能瘋狂到
山崩海嘯 沒有你 根本不想逃
我的大腦 為了你 已經瘋狂到
脈搏心跳 沒有你 根本不重要

相遇亂世以外 危難中相愛
相遇亂世以外 危難中相愛

#光年之外 #GEM #鄧紫棋
The Official Site | 官方網頁 :

's Official Site:
Facebook:
Fans Club:
Weibo:
Twitter:
instagram:
Weekly Chart Achieves (Top 40 Songs)
The highest charting position of the entry is #2 . The song appeared 46 total times in the Top 10 ; 1 total times in the Top 20 ; The worst ranking place of the video is #16. "Light Years Away" has been charted in 1 trends (countries):
Monthly Chart Achieves (Top 40 Songs)
The best charting position of the entry is #2 . The song appeared 10 total times in the Top 10 ; 1 total times in the Top 20 ; The worst ranking place of the video is #15. "Light Years Away" has been charted in 1 trends (countries):
Daily Chart Achieves (Top 100 Songs)
The highest ranking position of the entry is #2 . The song appeared 325 total times in the Top 10 ; The worst charting place of the entry is #8. Find all daily charts - Top 100 China