"Un Día (One Day)" is Colombian song released on 25 July 2020 in the official channel of the record label - "jbalvinVEVO". Discover exclusive information about "Un Día (One Day)". Explore Un Día (One Day) lyrics, translations, and song facts. Earnings and Net Worth accumulated by sponsorships and other sources according to information found in the internet. How many times the Colombian song appeared in music charts compiled by Popnable? "Un Día (One Day) " is well-known music video that took placements in popular top charts, such as Top 100 Colombia Music Chart , Top 40 Colombian Songs Chart, and more.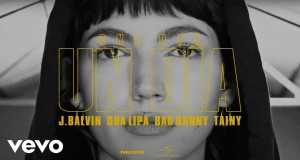 Country

Colombia
Added
Origin Name
J Balvin, Dua Lipa, Bad Bunny, Tainy - Un Día (One Day) (Official Video)
Report
[Not music related] [Add Artist Related] [Report Fake Views] [Remove Linked Artist] [Add Lyrics] [Add Lyrics Translation]
"Un Día (One Day)" Facts
"Un Día (One Day)" has reached 226.8M total views, 2.4M likes, and 92.8K dislikes on YouTube.

The song has been submitted on 25/07/2020 and spent 47 weeks on the charts.
The original name of the music video "Un Día (One Day)" is "J BALVIN, DUA LIPA, BAD BUNNY, TAINY - UN DÍA (ONE DAY) (OFFICIAL VIDEO)".
"Un Día (One Day)" has been published on Youtube at 24/07/2020 03:00:11
"Un Día (One Day)" Lyrics, Composers, Record Label
Stream "UN DIA (ONE DAY)" on your favorite streaming platform:

Subscribe to my YouTube channel here:

Connect with J Balvin on socials:






LYRICS

Dua Lipa:
You know sometimes I think about us
Now and then
But I never want to fall again

You are deep in water
Now you are drowning us
You question my love
Like it's not enough
but I hate that you know, you know, you know
You got me tied up

You regret it now
But it's your mistake
What makes you think
That my mind will change
And you hate that you know, you know, you know, you know
You messed up

One day you'll love me again
One day you'll love me for sure
One day you'll wake up
feeling how I've been feeling baby
Knock on my door

One day you'll love me again
Hug me again till the end
One day you'll beg me to try

One day you'll realize I'm more than your lover
I'm more than your lover I'm your friend

J Balvin:
Acércate un poquito no más
you quiero que te quedes conmigo
deja tus amigas allá atrás
Que nos vamos en un viaje escondidos
Nos vamos pa Turk & Caicos
y ahí calmamos las ganas
Suéltate conmigo mama

Que ya no hay marcha atrás
Una noche sin ti, no es tan fácil baby
Que yo soy pa ti, y tu eres pa mi
Nunca me dejes de querer
Oh na na na
Contigo por siempre baby
No quiero dejarte esta vez

Dua Lipa:
One day you'll love me again
One day you'll love me for sure
One day you'll wake up
feeling how I've been feeling baby
Knock on my door

One day you'll love me again
Hug me again till the end
One day you'll beg me to try

One day you'll realize I'm more than your lover
I'm more than your lover I'm your friend

Bad Buny:
Ya se que estoy en tu Corazón
Quizás en el fondo
Otras babys me escriben nunca les respondo
La vida da vueltas y el mundo es redondo
Y yo voy a que te beso de nuevo en London
O si no en Marbella
Encima de la arena viendo las estrellas
Yo se que ni olas han borrado mi huella
Pero tu pichaera es lo que me atropella

Sol, playa y en la arena vamo allá
Baby no te quedes calla
Yo sé que tú quieres guayar conmigo
Otra vez me tienes en depression
Fumando en la habitación
Pero yo sé que

Dua Lipa:
One day you'll love me again
One day you'll love me for sure
One day you'll wake up
feeling how I've been feeling baby
Knock on my door

One day you'll love me again
Hug me again till the end
One day you'll beg me to try

One day you'll realize I'm more than your lover
I'm more than your lover I'm your friend

One day you'll love me again
One day you'll realize am more than your lover
I'm more than your lover I'm your friend

#JBalvin #UnDia #OneDay
Weekly Chart Achieves (Top 40 Songs)
The highest charting position of the entry is #1 . "Un Día (One Day)" atop the Top 40 Songs Chart for 1 total weeks. The song appeared 16 total times in the Top 10 ; 21 total times in the Top 20 ; 18 total times in the Top 40 ; The worst ranking place of the video is #475. "Un Día (One Day)" has been charted in 3 trends (countries):
Monthly Chart Achieves (Top 40 Songs)
The best charting position of the entry is #1 . The song appeared 4 total times in the Top 10 ; 6 total times in the Top 20 ; 3 total times in the Top 40 ; The worst ranking place of the video is #770. "Un Día (One Day)" has been charted in 3 trends (countries):
Daily Chart Achieves (Top 100 Songs)
The highest ranking position of the entry is #1 . "Un Día (One Day)" atop the Top 100 Songs Chart for 7 total days. The song appeared 92 total times in the Top 10 ; 152 total times in the Top 20 ; 256 total times in the Top 100 ; The worst charting place of the entry is #100. Find all daily charts - Top 100 Colombia