Poblado (Remix)

by J. Balvin

"Poblado (Remix)" is Colombian song released on 18 June 2021 in the official channel of the record label - "jbalvinVEVO". Discover exclusive information about "Poblado (Remix)". Explore Poblado (Remix) lyrics, translations, and song facts. Earnings and Net Worth accumulated by sponsorships and other sources according to information found in the internet. How many times the Colombian song appeared in music charts compiled by Popnable? "Poblado (Remix) " is well-known music video that took placements in popular top charts, such as Top 100 Colombia Music Chart , Top 40 Colombian Songs Chart, and more.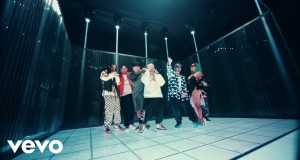 Country

Colombia
Added
Origin Name
Poblado (Remix) (Official Video)
Report
[Not music related] [Add Artist Related] [Report Fake Views] [Remove Linked Artist] [Add Lyrics] [Add Lyrics Translation]
"Poblado (Remix)" Facts
"Poblado (Remix)" has reached 199.1M total views, 1.5M likes, and 78.7K dislikes on YouTube.

The song has been submitted on 18/06/2021 and spent 23 weeks on the charts.
The original name of the music video "Poblado (Remix)" is "POBLADO (REMIX) (OFFICIAL VIDEO)".
"Poblado (Remix)" has been published on Youtube at 18/06/2021 03:00:09
"Poblado (Remix)" Lyrics, Composers, Record Label
J Balvin, Karol G, Nicky Jam, ;Crissin, Totoy El Frio, Natan & Shander - Poblado Remix (Official Video)

'Poblado (Remix)' out now:

#JBalvin #PobladoRemix #KarolG #NickyJam #Crissin #TotoyElFrio #NatanyShander

Shop:

Subscribe to J Balvin's channel here:

Follow J Balvin on social media:
Instagram: ;
Facebook:
Twitter: ;
TikTok:

Subscribe to Karol G's YouTube channel here:

Follow Karol G on social media:
Instagram:
Twitter: ;
Facebook: ;
TikTok:

Follow Nicky Jam on social media:
Instagram:
Facebook:
Twitter:
TikTok:

Follow on Instagram:
Crissin:
Totoy El Frio:
Natan & Shander:

LYRICS

Kapital Music
(Aló, ya estoy en Medallo Mor)
(J Balvin)
Colombia Gang Gang
(te veo en el poblado pues) Remix
En un PH en El Poblado me la comía
De ella me quede enchulao yo no sabía
Hicimos poses que en verdad desconocía Esa noche no la he olvidado

(Nicky Jam) This is the Remix!

(Crissin)
Le compré unos pantie' Moschino pa' que modele (Leggo)
Y un perfume Bond, ay, qué rico huele (Latino Gang Gang)
Ese culito es mío, ya yo tengo los papele'
Encerrao', en un PH en El Poblado

(Nicky Jam)
This is the Remix!
Le compré unos pantie' Moschino pa' que modeles
Y un perfume Bond, ay, qué rico huele
Ese culito es mío, ya yo tengo los papel
Encerrao' en un PH en El Poblado

(Totoy El Frio) Yeh, yeh
Yo nunca le altero el PH
Te quiero en cuatro pa' que grites, "Oh shit"
Se me cayó el lápiz, baby quiero que te agaches
Si le jalo el pelo no importa si estoy muy guache Ella solo disfruta de mi PH
Mi baby honey, ella quiere sexo, no quiere money
Pa' ella la vida es un rolling, haciendo el amor por hobby Obvio tiene cara e' enferma esa hijueputa tiene Covid
Y yo soy eterno como Kobe
Tú estás en mi Penthouse y ellas están en el lobby
Aquí no te joden, si tú juegas quedan en Game Over
Si me vió en tu casa soy amigo de tu brother
Y dile que aquí somos cantantes que no hacemos covers
Soy el que la desvisto
Le compré unos panty de una marca que tu nunca has visto
Agresiva cuando se lo meto
Y vamo a subir el Blackout pa' ver El Poblado completo

(Karol G)
Y si tu tienes los papeles de este culo
Es porque has pagado caro, yo facturo Panticito Moschino y pal oscuro

Que yo prendo el bareto y lo circulo Dale ponte las botas y en la nota Vamo azota estas nalgotas
Que tengo que sudarla gota gota
Y en Colombia tos' me gritan: mamasota
Un chin, todos quieren Un chin
De la nena de Medellín
Los bebés me ven y dicen Que chimba Karol G
Un chin, todos quieren un chin De las nenas de Medellín
Porque el booty que tenemos Brinca como trampolín

(J Balvin)
Le compré unos panty Moschino pa' que modeles
Y un perfume Bond, ay, qué rico huele
Ese culito es mío, ya yo tengo los papele'
Encerrao', con este hijo e puta en El Poblado

En el cuarto bebé la ciudad no se ve
Fija en el balcón pa que la vista le de Medio violenta quiere que la cachetee
En un PH con este HP
Que rico le huele ese Bond
Y no es solo el perfume, abajo le huele a jabón
La niña no fuma pero quiere prender un blunt Dos días encerrados esto parece un maratón

Tiene novio por eso no quiere comprometerse
Pero él no le da así como yo le doy
Le compré un juguete pa cuando él no esté me piense
Y también

(Karol G)
Me compró unos pantie' Moschino pa' que modele
Y un perfume Bond, ay, qué rico huele
Tu ere' el culito es mío, ya yo tengo los papele'
Encerrao', en un PH en El Poblado

(Nicky Jam)
Ya tu sabes como va
La encerré en mi PH le compre una CH
Ella nunca pichea porque yo soy un cacher
La dejé mojaita vuelta flow triple H (ehh ehh ehh)
Te canto el perdón y te hago travesuras
Con ese culo voy a la segura
Te juro baby tu eres la más dura
Y tu estas

Loca con el Nicky Nicky
Perrea desde los tiempos de wiki wiki
No acabamos y ella quiere montar el repeat Nunca me dice que no siempre claro que si

Loca con el Nicky Nicky
Perrea desde los tiempos de wiki wiki
No acabamos y ella quiere montar el repeat Nunca me dice que no siempre claro que si

(Natan)
Na-na-nadie se imagina como tú y yo nos comemos Viendo las estrellas nos enloquecemos
Todas las botellas, nos la bebemos
Los dos encerrao', lo hacemos y prendemos
Le gusta el reggaetón
Y a mí su perfume Bond
Quiero que me modeles y te grabes con el phone Moviendo ese culo, baby, tienes el don
Pa' pedir permiso mejor pido perdón

(Shander)
Me tiene enviciao', waoh,
Weekly Chart Achieves (Top 40 Songs)
The highest charting position of the entry is #2 . The song appeared 31 total times in the Top 10 ; 7 total times in the Top 20 ; 14 total times in the Top 40 ; The worst ranking place of the video is #166. "Poblado (Remix)" has been charted in 3 trends (countries):
Monthly Chart Achieves (Top 40 Songs)
The best charting position of the entry is #2 . The song appeared 7 total times in the Top 10 ; 1 total times in the Top 20 ; 3 total times in the Top 40 ; The worst ranking place of the video is #142. "Poblado (Remix)" has been charted in 3 trends (countries):
Daily Chart Achieves (Top 100 Songs)
The highest ranking position of the entry is #2 . "Poblado (Remix)" atop the Top 100 Songs Chart for 4 total days. The song appeared 202 total times in the Top 10 ; 20 total times in the Top 20 ; 187 total times in the Top 100 ; The worst charting place of the entry is #99. Find all daily charts - Top 100 Colombia