"No Me Busques Más" is Colombian song released on 14 January 2022 in the official channel of the record label - "Angel Bleu". Discover exclusive information about "No Me Busques Más". Explore No Me Busques Más lyrics, translations, and song facts. Earnings and Net Worth accumulated by sponsorships and other sources according to information found in the internet. How many times the Colombian song appeared in music charts compiled by Popnable? "No Me Busques Más " is well-known music video that took placements in popular top charts, such as Top 100 Colombia Music Chart , Top 40 Colombian Songs Chart, and more.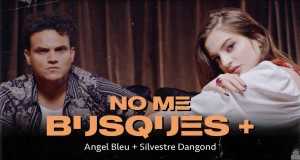 Country

Colombia
Added
Origin Name
No Me Busques Más - Silvestre Dangond + Angel Bleu (Video Oficial)
Report
[Not music related] [Add Artist Related] [Report Fake Views] [Remove Linked Artist] [Add Lyrics] [Add Lyrics Translation]
"No Me Busques Más" Facts
"No Me Busques Más" has reached 3.1M total views, 4.8K likes, and 0 dislikes on YouTube.

The song has been submitted on 14/01/2022 and spent 1 weeks on the charts.
The original name of the music video "No Me Busques Más" is "NO ME BUSQUES MÁS - SILVESTRE DANGOND + ANGEL BLEU (VIDEO OFICIAL)".
"No Me Busques Más" has been published on Youtube at 14/01/2022 16:00:09
"No Me Busques Más" Lyrics, Composers, Record Label
No Me Busques Más - @Silvestre Dangond + @Angel Bleu (Video Oficial)
Suscríbete a mi canal: ???? ;-
???? Escucha toda mi música en tu plataforma favorita:

✨Sígueme en mis redes sociales:
Facebook:
Instagram:
Tik Tok:

Escucha mis canciones en:
Spotify:
Apple Music:
Google Play:
Tidal:
Deezer:

Escucha la Playlist Amanece Bailando aquí:
????

Letra:

No Me Busques Más

(VERSO 1)
Te ame demasiado
Pero fue un pecado
Aguante de todo por estar ahí a tu lado

(VERSO 2)
Ya lo tengo claro
De que fue un pecado
Perdonarte todo por estar ahí a tu lado

(PRE-HOOK)
Pero ya esta idiota despertó
Siempre perdonando tu traición
Tu nunca por mi sentiste amor
Y yo no puedo amar por los dos

(BRIDGE)
Quien vea tu cara pidiendo perdón
De seguro te da la razón
Disfrazada de Santa

Y lloras para llamar la atención
Así de fácil me trago tu error
Y vuelves y me fallas


(CORO)
Vete de mi vida
no me busques más
Me voy o te vas
Ya nos dimos más
de una oportunidad
Tu no vas a cambiar

Vete de mi vida
no me busques más
Me voy o te vas
Ya nos dimos más
de una oportunidad
Tu no vas a cambiar

(PRE-HOOK)
Pero ya este idiota despertó
Siempre perdonando tu traición
Tu nunca por mi sentiste amor
Y yo no puedo amar por los dos

(Ayy)

(Ay Silvestre)

(Sufre, sufre)

(¿Quien yo? Ni soñando sufriré)

(Angel Bleu)

(CORO)
Vete de mi vida
no me busques más
Me voy o te vas
Ya nos dimos más
de una oportunidad
Tu no vas a cambiar

Vete de mi vida
no me busques más
Me voy o te vas
Ya nos dimos más
de una oportunidad
Tu no vas a cambiar

(CHÁNTEO)
Yo no soy imbecil
Así que deja el show
Pa mal compañia
Dejáme sola, amor
Buscáte a otra
Que se coma el dramón
pa' que perdamos el tiempo
Si ya esto se acabó

Prefiero tenerte como enemigo
Se acabó este idiota
Ya tengo otro conmigo

Lo nuestro e' pasado
Empieza un nuevo ciclo
Y lo que deshecho
Mas nunca lo reciclo

(PRE-HOOK)
Pero ya este idiota despertó
Siempre perdonando tu traición
Tu nunca por mi sentiste amor
Y yo no puedo amar por lo dos


(CORO)
Vete de mi vida
no me busques más
Me voy o te vas
Ya nos dimos más
de una oportunidad
Tu no vas a cambiar

Vete de mi vida
no me busques más
Me voy o te vas
Ya nos dimos más
de una oportunidad
Tu no vas a cambiar

#SilvestreDangond
#NoMeBusquesMás
#AngelBleu

Official Music Video by Silvestre Dangond, Angel Bleu performing "No Me Busques Más" (C) 2022 ONErpm
Weekly Chart Achieves (Top 40 Songs)
The highest charting position of the entry is #27 . The song appeared 1 total times in the Top 40 ; The worst ranking place of the video is #220. "No Me Busques Más" has been charted in 2 trends (countries):
Daily Chart Achieves (Top 100 Songs)
The highest ranking position of the entry is #27 . The song appeared 1 total times in the Top 10 ; 2 total times in the Top 20 ; 8 total times in the Top 100 ; The worst charting place of the entry is #94. Find all daily charts - Top 100 Colombia