Moje Proljece Hd

by Jelena Rozga

"Moje Proljece Hd" is Croatian song released on 30 January 2019 in the official channel of the record label - "Jelena Rozga". Discover exclusive information about "Moje Proljece Hd". Explore Moje Proljece Hd lyrics, translations, and song facts. Earnings and Net Worth accumulated by sponsorships and other sources according to information found in the internet. How many times the Croatian song appeared in music charts compiled by Popnable? "Moje Proljece Hd " is well-known music video that took placements in popular top charts, such as Top 100 Croatia Music Chart , Top 40 Croatian Songs Chart, and more.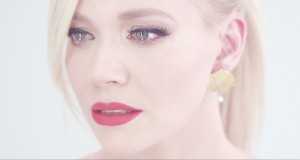 Country
Croatia
Added
Origin Name
Jelena Rozga - Moje Proljece (Official Video 2019) Hd
Report
[Not music related] [Add Artist Related] [Report Fake Views] [Remove Linked Artist] [Add Lyrics] [Add Lyrics Translation]
"Moje Proljece Hd" Facts
"Moje Proljece Hd" has reached 14.7M total views, 72.1K likes, and 3K dislikes on YouTube.

The song has been submitted on 30/01/2019 and spent 124 weeks on the charts.
The original name of the music video "Moje Proljece Hd" is "JELENA ROZGA - MOJE PROLJECE (OFFICIAL VIDEO 2019) HD".
"Moje Proljece Hd" has been published on Youtube at 29/01/2019 10:59:13
"Moje Proljece Hd" Lyrics, Composers, Record Label
Follow Jelena:




Subscribe to Jelena Rozga:

Premijera spota i pjesme "MOJE PROLJEĆE"!

Glazba: Emina Jahović
Tekst: Emina Jahović
Aranžman: Darko Dimitrov
Back vocal: Antonija Gigovska

Download:
iTunes -
Google Play -
Amazon -

Listen:
Deezer -
Spotify -
Tidal -

© JRFC - Zabranjeno svako kopiranje video i/ili audio snimke i postavljanje na druge kanale!

Directed by: Dario Radusin
Photo: Petar Vilović
Make up: Saša Joković
Hair: Zvonimir Franić za salon Franić
Clothes: eNVy room, Twins
Jewerly: Lana and Love
Styling: Mate Rončević

Hvala svima koji su sudjelovali na ovom projektu koji je za mene bio izuzetno važ ;Hvala za nesebičnu podršku, trud i ulaganje koje je rezultiralo ovakvom ;Posebnu zahvalnost dugujem Emini Jahović koja je osjetila moj puls i koja potpisuje "Moje proljeće" kao ;Hvala i mojim prijateljima na svemu, Kristini i Sergeju Ćetković.

MIRIŠE, NA BOLJE SUTRA I PROLJEĆE
SAD IDI DRAGI OD MENE I NE VRAĆAJ SE
DO MENE, JE SAMO DA TI OPROSTIM
SVE TVOJE GRIJEHE POKUPIM, DA OZDRAVIM

TI, NEMAŠ MJERU
A JA U SUPROTNOM SAM SMJERU
OD ANĐELA, ODAVNO SAM ODMAKLA

A, NA PRVOG NA KOG NALETIM
SVE ĆU DA MU DOZVOLIM
I JEDNOM DA SE PREVARIM
DA SE OSJETIM K'O TI

U SEBI DA TE UBIJEM
I DA SE SVIMA ZAREKNEM
DA SAM IZ BLATA USTALA
MEĐU ŽIVE OPET ZGAZILA

MIRIŠE, NA NOVU LJUBAV I POLJUPCE
SAD IDI DRAGI OD MENE, NE GLEDAJ ME
DO MENE, JE SAMO DA TE ISPRATIM
I KAO SEBI POŽELIM, ZABORAVI

#mojeproljece #jelenarozga
Weekly Chart Achieves (Top 40 Songs)
The highest charting position of the entry is #1 . "Moje Proljece Hd" atop the Top 40 Songs Chart for 2 total weeks. The song appeared 13 total times in the Top 10 ; 13 total times in the Top 20 ; 28 total times in the Top 40 ; The worst ranking place of the video is #497. "Moje Proljece Hd" has been charted in 2 trends (countries):
Monthly Chart Achieves (Top 40 Songs)
The best charting position of the entry is #1 . "Moje Proljece Hd" atop the Top 40 Songs Chart for 1 total months. The song appeared 3 total times in the Top 10 ; 3 total times in the Top 20 ; 4 total times in the Top 40 ; The worst ranking place of the video is #818. "Moje Proljece Hd" has been charted in 2 trends (countries):
Daily Chart Achieves (Top 100 Songs)
The highest ranking position of the entry is #1 . "Moje Proljece Hd" atop the Top 100 Songs Chart for 18 total days. The song appeared 99 total times in the Top 10 ; 99 total times in the Top 20 ; 694 total times in the Top 100 ; The worst charting place of the entry is #100. Find all daily charts - Top 100 Croatia