Moj Vukovar

by Zaprešić Boys

"Moj Vukovar" is Croatian song released on 13 November 2020 in the official channel of the record label - "Zapresic Boys". Discover exclusive information about "Moj Vukovar". Explore Moj Vukovar lyrics, translations, and song facts. Earnings and Net Worth accumulated by sponsorships and other sources according to information found in the internet. How many times the Croatian song appeared in music charts compiled by Popnable? "Moj Vukovar " is well-known music video that took placements in popular top charts, such as Top 100 Croatia Music Chart , Top 40 Croatian Songs Chart, and more.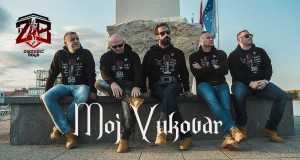 Country
Croatia
Added
Origin Name
Zaprešić Boys - Moj Vukovar [Official Video]
Report
[Not music related] [Add Artist Related] [Report Fake Views] [Remove Linked Artist] [Add Lyrics] [Add Lyrics Translation]
"Moj Vukovar" Facts
"Moj Vukovar" has reached 582.3K total views, 16.8K likes, and 392 dislikes on YouTube.

The song has been submitted on 13/11/2020 and spent 15 weeks on the charts.
The original name of the music video "Moj Vukovar" is "ZAPREŠIĆ BOYS - MOJ VUKOVAR [OFFICIAL VIDEO]".
"Moj Vukovar" has been published on Youtube at 13/11/2020 11:00:12
"Moj Vukovar" Lyrics, Composers, Record Label
???? Listen & Buy ''Moj Vukovar'':

PRATITE NAS NA:
Facebook -
YouTube -
Instagram -

ZAPREŠIĆ BOYS WEBSHOP


TEKST PJESME / CREDITS /↓↓↓
**** Molimo Vas da ne stavljate ovaj video spot na svoje ;
U protivnom, biti ćemo primorani ukloniti ga, hvala!! ****

IZDAVAČ: RUBIKON SOUND FACTORY 2020.

Tekst: Marko Novosel
Glazba: Ante Pecotić
Aranžman/produkcija: Bojan Šalamon - Shalla
Mix/master: Bojan Šalamon - Shalla

Električne i akustične gitare: Boris Kapetan
Klavir: Zdeslav Klarić
Aranžman gudača: Zdeslav Klarić & Goran Kovačić
Violina i viola: Antun Stašić
Extra editiranje I programiranje: Toni Ćosić

Video by Nevio Smajić & Mario Boršćak



MOJ VUKOVAR

DA BAREM PRIČATI ZNA
ONA GOLUBICA IZ VUČEDOLA
ŠAPNULA BI VOLI GA
ON SE DIGAO IZ PRAHA I BOLA

I SADA STOJI TU
PRKOSI VREMENU
KAO RIJEDAK BISER JA GA ČUVAM
TOLIKO LJUBAVI
NA USNE ZOVE MI
RIJEČI PA MU ZAPJEVAM

TO JE VUKOVAR, MOJ VUKOVAR
ROĐEN TU NA OVOM UŠĆU VUKE
NJOM SE UMIVA KAD PRUŽI RUKE
TO JE VUKOVAR, MOJ VUKOVAR
DUNAV VODI GA DO MIRNE LUKE
NOĆU MILUJE UZ TIHE ZVUKE
VUKOVAR, MOJ VUKOVAR, VUKOVAR
GRAD HEROJA
VUKOVAR, MOJ VUKOVAR, VUKOVAR
LJUBAV MOJA

JOŠ I DANAS PAMTI DAN
TU PRIČU SAMO ZA SEBE KRIJE
PREVIŠE JE PONOSAN
GLAVU POGNUO BAŠ NIKAD NIJE

I SADA STOJI TU
PRKOSI VREMENU
KAO RIJEDAK BISER JA GA ČUVAM
TOLIKO LJUBAVI
NA USNE ZOVE MI
RIJEČI PA MU ZAPJEVAM


TO JE VUKOVAR, MOJ VUKOVAR
ROĐEN TU NA OVOM UŠĆU VUKE
NJOM SE UMIVA KAD PRUŽI RUKE
TO JE VUKOVAR, MOJ VUKOVAR
DUNAV VODI GA DO MIRNE LUKE
NOĆU MILUJE UZ TIHE ZVUKE
VUKOVAR, MOJ VUKOVAR, VUKOVAR
GRAD HEROJA
VUKOVAR, MOJ VUKOVAR, VUKOVAR
LJUBAV MOJA

TO JE VUKOVAR, MOJ VUKOVAR
ROĐEN TU NA OVOM UŠĆU VUKE
NJOM SE UMIVA KAD PRUŽI RUKE
TO JE VUKOVAR, MOJ VUKOVAR
DUNAV VODI GA DO MIRNE LUKE
NOĆU MILUJE UZ TIHE ZVUKE
VUKOVAR, MOJ VUKOVAR, VUKOVAR
GRAD HEROJA
VUKOVAR, MOJ VUKOVAR, VUKOVAR
LJUBAV MOJA
Weekly Chart Achieves (Top 40 Songs)
The highest charting position of the entry is #7 . The song appeared 1 total times in the Top 10 ; 1 total times in the Top 20 ; The worst ranking place of the video is #386. "Moj Vukovar" has been charted in 2 trends (countries):
Monthly Chart Achieves (Top 40 Songs)
The best charting position of the entry is #7 . The song appeared 1 total times in the Top 40 ; The worst ranking place of the video is #399. "Moj Vukovar" has been charted in 2 trends (countries):
Daily Chart Achieves (Top 100 Songs)
The highest ranking position of the entry is #7 . The song appeared 7 total times in the Top 10 ; 3 total times in the Top 20 ; 14 total times in the Top 100 ; The worst charting place of the entry is #100. Find all daily charts - Top 100 Croatia