Diana Fuentes

by Divan

"Diana Fuentes" is Cuba song released on 27 November 2020 in the official channel of the record label - "Planet Records Cuba / La Oficina Secreta". Discover exclusive information about "Diana Fuentes". Explore Diana Fuentes lyrics, translations, and song facts. Earnings and Net Worth accumulated by sponsorships and other sources according to information found in the internet. How many times the Cuba song appeared in music charts compiled by Popnable? "Diana Fuentes " is well-known music video that took placements in popular top charts, such as Top 100 Cuba Music Chart , Top 40 Cuba Songs Chart, and more.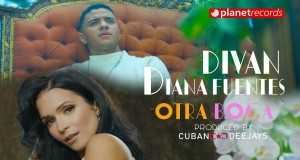 Country

Cuba
Added
Origin Name
Divan ❌ Diana Fuentes Otra Boca (Prod By Cuban Deejays) Video By Freddy Loons ❌ Asiel Babastro
Report
[Not music related] [Add Artist Related] [Report Fake Views] [Remove Linked Artist] [Add Lyrics] [Add Lyrics Translation]
"Diana Fuentes" Facts
"Diana Fuentes" has reached 1.8M total views, 12.4K likes, and 199 dislikes on YouTube.

The song has been submitted on 27/11/2020 and spent 38 weeks on the charts.
The original name of the music video "Diana Fuentes" is "DIVAN ❌ DIANA FUENTES OTRA BOCA (PROD BY CUBAN DEEJAYS) VIDEO BY FREDDY LOONS ❌ ASIEL BABASTRO".
"Diana Fuentes" has been published on Youtube at 27/11/2020 19:01:54
"Diana Fuentes" Lyrics, Composers, Record Label
DIVAN ❌ DIANA FUENTES Otra Boca (Produced by CUBAN DEEJAYS)
Official Video by Freddy Loons ❌ Asiel ;
Escuchalo en todas las plataformas:

Tema escrito por Osmani Espinosa Morales, Divan, Diana ;
Produced & Arranged by Roberto Ferrante & Jay Simon at Planet Recording Studio 2, La Habana (Cuba). Additional Production, Mix and Mastering by Roberto Ferrante at Planet Recording Studio 1, Napoli (Italy).

(p) (c) 2020 Planet Records [Powered by Planet Distribution], all rights reserved, worldwide exclusive.

Follow DIVAN:
Instagram:
Spotify:
Apple Music:

Follow DIANA FUENTES:
Instagram:
Spotify:
Apple Music:

Follow CUBAN DEEJAYS:
Instagram:
Spotify:
Apple Music:

Follow PLANET RECORDS:
Instagram:
Facebook:
Twitter:

Subscribe on Planet Records YouTube Channels:




Letras:

Aquí estoy intentando engañarme en esta habitación
Con otra piel y otro cuerpo que acabo de conocer
Ay aquí estoy en una cama extraña pagando mi error
Pues te confieso que yo

Estoy besando otra boca
pero la tuya es la que me importa
Estoy besando otra boca
pero la tuya es la que me importa
Perdóname y no seas mala
Perdóname y no seas mala
Perdóname y no seas malo
Perdóname y no seas malo

Dime qué tengo que hacer
yo hago lo que tú me pidas
Dime qué tengo que hacer
si así vuelves a mi vida
Aquí estoy intentando engañar mi pobre corazón
Es que yo sé que tú eres el que a mi me quita la sed
Ay aquí estoy en esta piel extraña pagando mi error
Pues te confieso que yo

Estoy besando otra boca
pero la tuya es la que me importa
Estoy besando otra boca
pero la tuya es la que me importa
Perdóname y no seas mala
Perdóname y no seas mala
Perdóname y no seas malo
Perdóname y no seas malo

Baby no quiero estar con otra
yo quiero estar contigo
Mami no se me nota
que estoy arrepentido
No quiero estar con otro
yo quiero estar contigo
Baby no se me nota
que estoy arrepentida

Estoy besando otra boca
pero la tuya es la que me importa
Estoy besando otra boca
pero la tuya es la que me importa
Perdóname y no seas mala
Baby tú tienes en tu cuerpo todo lo que extraño

Divan,Divan Otra boca,Divan Nuevo,Divan 2021,Diana Fuentes,Diana Fuentes Otra Boca,Diana Fuentes Nuevo,Diana Fuentes 2021,Divan Diana Fuentes,Otra Boca,Cuban Deejays,Produced by Cuban Deejays,Cuban Deejays Nuevo,Cuban Deejays 2021,Divan Lenier,Reggaeton,Reggaeton Nuevo,Reggaeton 2021,Reggaeton Romantico,Musica Romantica,Reggaeton Nueva Musica,Cubaton,Cubaton Nuevo,Cubaton 2021,Reggaeton Romantico 2021,Cubaton Romantico,Roberto Ferrante,Freddy Loons,Asiel Babastro,Video Oficial,Official Video,Planet Records,Planet Distribution

#Divan #DianaFuentes #OtraBoca #CubanDeejays
Weekly Chart Achieves (Top 40 Songs)
The highest charting position of the entry is #2 . The song appeared 1 total times in the Top 10 ; 3 total times in the Top 20 ; The worst ranking place of the video is #297. "Diana Fuentes" has been charted in 1 trends (countries):
Monthly Chart Achieves (Top 40 Songs)
The best charting position of the entry is #2 . The song appeared 1 total times in the Top 10 ; The worst ranking place of the video is #459. "Diana Fuentes" has been charted in 1 trends (countries):
Daily Chart Achieves (Top 100 Songs)
The highest ranking position of the entry is #2 . "Diana Fuentes" atop the Top 100 Songs Chart for 2 total days. The song appeared 12 total times in the Top 10 ; 3 total times in the Top 20 ; 89 total times in the Top 100 ; The worst charting place of the entry is #99. Find all daily charts - Top 100 Cuba