Cantare

by Pitbull , Lenier

"Cantare" is Cuba song released on 04 January 2021 in the official channel of the record label - "Pitbull". Discover exclusive information about "Cantare". Explore Cantare lyrics, translations, and song facts. Earnings and Net Worth accumulated by sponsorships and other sources according to information found in the internet. How many times the Cuba song appeared in music charts compiled by Popnable? "Cantare " is well-known music video that took placements in popular top charts, such as Top 100 Cuba Music Chart , Top 40 Cuba Songs Chart, and more.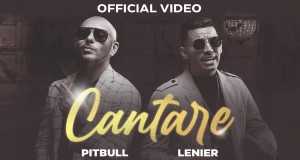 Country

Cuba
Added
Origin Name
Pitbull Ft. Lenier - Cantare (Official Video)
Report
[Not music related] [Add Artist Related] [Report Fake Views] [Remove Linked Artist] [Add Lyrics] [Add Lyrics Translation]
"Cantare" Facts
"Cantare" has reached 9.5M total views, 91.7K likes, and 1.9K dislikes on YouTube.

The song has been submitted on 04/01/2021 and spent 29 weeks on the charts.
The original name of the music video "Cantare" is "PITBULL FT. LENIER - CANTARE (OFFICIAL VIDEO)".
"Cantare" has been published on Youtube at 04/01/2021 17:30:06
"Cantare" Lyrics, Composers, Record Label
Pitbull ;Lenier
Cantare (Official Video)

Subscribe to the channel:

Follow Pitbull:
Instagram:
Facebook:
Twitter:

Lyrics:

Cantare
;Worldwide
Tomare
Lenier
Fumare
Esta canción está dedicada a Barilla
Jose Antonio Armando Perez Torres
Te invito yo a ti
El no era Frank Sinatra
But he did it his way
Por que hoy vivimos así
Eeeeeeyooooooo
Fiesta

Dale mami, dale mami pa' abajo
Dale mami, mami deja el descaro
Dale mami que yo se que tú eres loca
Estás como el queso italiano
Ricotta
(Que rico)
Estás bailando noche y día
En el tubo buscando lotería
Culo caliente, sangre fria
Y tú lo que eres es una asesina
Y yo lo que quiero es locura
Mira a ver qué bola con tu amiga (Qué bola)
Yo lo que quiero es gozar
Y cantar toda la vida

Cantare
Tomare
Fumare
Oooh oh
Y yo te invito a ti
Porque hoy vivimos así

Mami, mami
Mami vamos de fiesta
Por todo, todo todo el mundo
Yo sé como, como como te gusta
Yo soy primero
Nunca Segundo
(Nunca)
Mami, mami
Mami vamos de party
No mami aquí no hay Ferrari
Aquí lo que hay chorizo y chicles
Y se acabó el chicle
Capisce

Yo lo que quiero es locura
Mira a ver qué bola con tu amiga
Yo lo que quiero es gozar
Y cantar toda la vida

Cantare
Tomare
Fumare
Oooh oh
Y yo te invito a ti
Porque hoy vivimos así

Lelo lelo le
Lelo lelo la
Que rica esta nota
Vamo' a vacilar
Vamo' a vacilar
Lelo lelo le
Lelo lelo la
Que rica esta nota
Vamo' a celebrar
Vamo' a celebrar

Yo canto para que el mundo
Escuche mi canciones
Yo canto para vivir
Y alegrar corazones
Yo canto para el amor
Y para los mal de amores
Yo canto para vivir
Y alegrar los corazones

Cantare
(Cantare)
Tomare
(Tomare)
Fumare
(Fumare)
Oooh oh
(Oooh oh)
Y yo te invito a ti
Porque hoy vivimos así

Lelo lelo le
(Lelo lelo le)
Lelo lelo la
(Lelo lelo la)
Que rica esta nota
(Que rica esta nota)
Vamos a vacilar
(Vamos a vacilar)
Lelo lelo le
(Lelo lelo le)
Lelo lelo la
(Lelo lelo la)
Que rica esta nota
(Que rica esta nota)
Vamos a celebrar
(Vamos a celebrar)

Como decía Barilla Mami, mami

Mi Papá decía
Siempre
Esto es tremenda descarga


#Pitbull #Lenier #Cantare #Libertad548
Weekly Chart Achieves (Top 40 Songs)
The highest charting position of the entry is #1 . "Cantare" atop the Top 40 Songs Chart for 2 total weeks. The song appeared 8 total times in the Top 10 ; 12 total times in the Top 20 ; 9 total times in the Top 40 ; The worst ranking place of the video is #408. "Cantare" has been charted in 2 trends (countries):
Monthly Chart Achieves (Top 40 Songs)
The best charting position of the entry is #1 . The song appeared 3 total times in the Top 10 ; 2 total times in the Top 20 ; 1 total times in the Top 40 ; The worst ranking place of the video is #728. "Cantare" has been charted in 2 trends (countries):
Daily Chart Achieves (Top 100 Songs)
The highest ranking position of the entry is #1 . "Cantare" atop the Top 100 Songs Chart for 15 total days. The song appeared 52 total times in the Top 10 ; 72 total times in the Top 20 ; 69 total times in the Top 100 ; The worst charting place of the entry is #34. Find all daily charts - Top 100 Cuba