Ahí

by El Taiger

"Ahí" is Cuba song released on 08 April 2021 in the official channel of the record label - "El Taiger". Discover exclusive information about "Ahí". Explore Ahí lyrics, translations, and song facts. Earnings and Net Worth accumulated by sponsorships and other sources according to information found in the internet. How many times the Cuba song appeared in music charts compiled by Popnable? "Ahí " is well-known music video that took placements in popular top charts, such as Top 100 Cuba Music Chart , Top 40 Cuba Songs Chart, and more.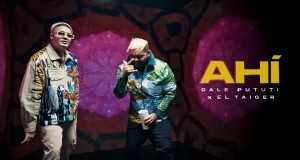 Country

Cuba
Added
Origin Name
El Taiger, Dale Pututi - Ahí (Video Oficial)
Report
[Not music related] [Add Artist Related] [Report Fake Views] [Remove Linked Artist] [Add Lyrics] [Add Lyrics Translation]
"Ahí" Facts
"Ahí" has reached 1.5M total views, 8.5K likes, and 192 dislikes on YouTube.

The song has been submitted on 08/04/2021 and spent 17 weeks on the charts.
The original name of the music video "Ahí" is "EL TAIGER, DALE PUTUTI - AHÍ (VIDEO OFICIAL)".
"Ahí" has been published on Youtube at 07/04/2021 15:44:35
"Ahí" Lyrics, Composers, Record Label
Ahí, lo último de El Taiger y Dale Pututi, marcando tendencia.

La creación de Dale Pututi y el flow de El Taiger uniéndose por la música urbana ;Este tema será parte de Epicentro, el próximo álbum de mi hermano Pututi.

???? Escuchalo ahora en tu tienda de música preferida:


Suscríbete al canal de Dale Pututi para que goces #Epicentro
????

AHÍ (Letra)

He Taiger heee
No contesta,
sabiendo que estás molesta
Pero cuando te llamo
Casi siempre peleamos
Porque tú haces preguntas
Que no llevan respuestas
Y yo se porque no contesta
Yo se porque estás molesta
Porque cuando te llamo
Casi siempre peleamos
Porque tú haces preguntas
Que no llevan respuestas
Y te conectas y es Ahí Ahí Ahí
Haciendo preguntas
Que no llevan respuestas
Vuelve y llama y es Ahí Ahí Ahí
Haciendo preguntas
Que no llevan respuestas
Vuelve y llama y es Ahí Ahí Ahí
Haciendo preguntas
Que no llevan respuestas
Vuelve y llama y es Ahí Ahí Ahí
Y me haces preguntas
Que no llevan respuestas
Y mami tú te pones incomprensible
Y yo por otro lado inaccesible
Y eso que tú quieres no es posible
Por eso es que no somos compatible bebé
La relación se vuelve insostenible
Y eso que contigo yo soy easy soy flexible
Y aunque tú seas impredecible
Tus sentimientos hacia mi siempre estarán visible
Siempre te pasas cuando te desplazas
Terminas arriba de mi
Y llegas a casa pero tú fracasas
Porque esto es de dos no de ti
Y te conectas y es Ahí Ahí Ahí
Haciendo preguntas
Que no llevan respuestas
Vuelve y llama y es Ahí Ahí Ahí
Haciendo preguntas
Que no llevan respuestas
Vuelve y llama y es Ahí Ahí Ahí
Haciendo preguntas
Que no llevan respuestas
Vuelve y llama y es Ahí Ahí Ahí
Y me haces preguntas
Que no llevan respuestas
No contesta,
sabiendo que estás molesta
Pero cuando te llamo
Casi siempre peleamos
Porque tú haces preguntas
Que no llevan respuestas
Y yo se porque no contesta
Yo se porque estás molesta
Porque cuando te llamo
Casi siempre peleamos
Porque tú haces preguntas
Que no llevan respuestas
Y te conectas y es Ahí Ahí Ahí
Haciendo preguntas
Que no llevan respuestas
Vuelve y llama y es Ahí Ahí Ahí
Haciendo preguntas
Que no llevan respuestas
Vuelve y llama y es Ahí Ahí Ahí
Haciendo preguntas
Que no llevan respuestas
Vuelve y llama y es Ahí Ahí Ahí
Y me haces preguntas
Que no llevan respuestas
Big big big big Big Big Taiger
Pututi
Los británicos
Con DJ Conds
Internacional
you know what i say
Dímelo Ma G

En el EPICENTRO

© 2021 Puntilla Music | Musicadoy
​
__
#ElTaiger​ #DalePututi #Ahí
Weekly Chart Achieves (Top 40 Songs)
The highest charting position of the entry is #3 . The song appeared 1 total times in the Top 10 ; 3 total times in the Top 20 ; The worst ranking place of the video is #152. "Ahí" has been charted in 1 trends (countries):
Monthly Chart Achieves (Top 40 Songs)
The best charting position of the entry is #3 . The song appeared 1 total times in the Top 20 ; 1 total times in the Top 40 ; The worst ranking place of the video is #132. "Ahí" has been charted in 1 trends (countries):
Daily Chart Achieves (Top 100 Songs)
The highest ranking position of the entry is #3 . "Ahí" atop the Top 100 Songs Chart for 1 total days. The song appeared 4 total times in the Top 10 ; 23 total times in the Top 20 ; 42 total times in the Top 100 ; The worst charting place of the entry is #99. Find all daily charts - Top 100 Cuba