Hasta Luego

by Hrvy , Malu Trevejo

"Hasta Luego" is Cuba song released on 26 April 2018 in the official channel of the record label - "HRVYVEVO". Discover exclusive information about "Hasta Luego". Explore Hasta Luego lyrics, translations, and song facts. Earnings and Net Worth accumulated by sponsorships and other sources according to information found in the internet. How many times the Cuba song appeared in music charts compiled by Popnable? "Hasta Luego " is well-known music video that took placements in popular top charts, such as Top 100 Cuba Music Chart , Top 40 Cuba Songs Chart, and more.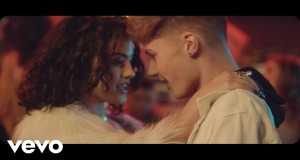 Country

Cuba
Added
Origin Name
Hrvy, Malu Trevejo - Hasta Luego (Official Video)
Report
[Not music related] [Add Artist Related] [Report Fake Views] [Remove Linked Artist] [Add Lyrics] [Add Lyrics Translation]
"Hasta Luego" Facts
"Hasta Luego" has reached 62.2M total views, 842.6K likes, and 26.5K dislikes on YouTube.

The song has been submitted on 26/04/2018 and spent 155 weeks on the charts.
The original name of the music video "Hasta Luego" is "HRVY, MALU TREVEJO - HASTA LUEGO (OFFICIAL VIDEO)".
"Hasta Luego" has been published on Youtube at 25/04/2018 22:00:03
"Hasta Luego" Lyrics, Composers, Record Label
My newest single TOLD YOU ;now ???? leettts go
Watch, stream and download here:

My single 'Hasta Luego' featuring Malu is out
Listen here:

Follow me on Socials:
Instagram -
Facebook -
Twitter -

Follow MALU
Instagram -
Facebook -

Lyrics

Hasta Luego

You got them Juliet eyes
An I can be your Romeo tonight
Star crossed and love at first sight
an Its like a movie
She Danced like she never gonna die
blowin up the floor like she dynamite
I dont wanna tell her good bye
But its only one Night
Ohh
he got me
Oh
he got me
Eye Yie Yie Yie Yie Yie Yie
Ohh
he told me
Ohh
he Told me
Eye Yie Yie Yie Yie Yie Yie

Hasta Luego
(Waygo)
But she don't Know my Name though
(oh no)
Hasta Luego
(Waygo)
But she don't Know my Name though
(oh no)
I said bailamos I said bailamos I said bailamos and we dance
Hasta Luego
(Waygo)
But you don't Know my Name though
(Oh No)

No pasa nada esta bien
Haria lo que sea para verte
y al tenerte a mis pies
Esto se pone caliente
Bailando quiero probar
mi corazón sabe esperar
Tengo Para enamorar
Yo tengo lo que tu quieres

Ohh
She Got me
Oh
She got me
Eye Yie Yie Yie Yie Yie Yie
Ohh
She told me
She Told me
Eye Yie Yie Yie Yie Yie Yie

Hasta Luego
(Waygo)
But she don't Know my Name though
(oh no)
Hasta Luego
(Waygo)
But she don't Know my Name though

(oh no)
I said bailamos I said bailamos I said bailamos and we dance
Hasta Luego
(Waygo)
But you don't Know my Name though
(Oh No)

I'm ;Oh oh oh
Me ;Oh oh oh
Weekly Chart Achieves (Top 40 Songs)
The highest charting position of the entry is #1 . "Hasta Luego" atop the Top 40 Songs Chart for 2 total weeks. The song appeared 65 total times in the Top 10 ; 71 total times in the Top 20 ; 16 total times in the Top 40 ; The worst ranking place of the video is #456. "Hasta Luego" has been charted in 2 trends (countries):
Monthly Chart Achieves (Top 40 Songs)
The best charting position of the entry is #1 . The song appeared 12 total times in the Top 10 ; 18 total times in the Top 20 ; 4 total times in the Top 40 ; The worst ranking place of the video is #668. "Hasta Luego" has been charted in 2 trends (countries):
Daily Chart Achieves (Top 100 Songs)
The highest ranking position of the entry is #1 . The song appeared 337 total times in the Top 10 ; 431 total times in the Top 20 ; 115 total times in the Top 100 ; The worst charting place of the entry is #53. Find all daily charts - Top 100 Cuba