"Kommena Ta Prepei" is Cypriot song released on 18 November 2021 in the official channel of the record label - "Heaven Music". Discover exclusive information about "Kommena Ta Prepei". Explore Kommena Ta Prepei lyrics, translations, and song facts. Earnings and Net Worth accumulated by sponsorships and other sources according to information found in the internet. How many times the Cypriot song appeared in music charts compiled by Popnable? "Kommena Ta Prepei " is well-known music video that took placements in popular top charts, such as Top 100 Cyprus Music Chart , Top 40 Cypriot Songs Chart, and more.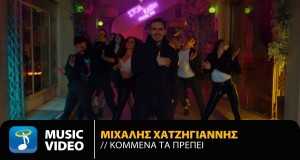 Michalis Hatzigiannis "Kommena Ta Prepei"

on Apple Music Unlimited

Listen 100M songs — new subscribers only

Try it FREE
Country
Cyprus
Added
Origin Name
Μιχάλησ Χατζηγιάννησ - Κομμένα Τα Πρέπει | Official Music Video (4Κ)
Report
[Not music related] [Add Artist Related] [Report Fake Views] [Remove Linked Artist] [Add Lyrics] [Add Lyrics Translation]
"Kommena Ta Prepei" Facts
"Kommena Ta Prepei" has reached 3.4M total views, 18.7K likes, and 0 dislikes on YouTube.

The song has been submitted on 18/11/2021 and spent 105 weeks on the charts.
The original name of the music video "Kommena Ta Prepei" is "ΜΙΧΆΛΗΣ ΧΑΤΖΗΓΙΆΝΝΗΣ - ΚΟΜΜΈΝΑ ΤΑ ΠΡΈΠΕΙ | OFFICIAL MUSIC VIDEO (4Κ)".
"Kommena Ta Prepei" has been published on Youtube at 17/11/2021 12:58:12
"Kommena Ta Prepei" Lyrics, Composers, Record Label
Κάνε ΕΓΓΡΑΦΗ εδώ:
Βρες το «Κομμένα Τα Πρέπει» εδώ: ;

Στίχοι:

Παίρνει φωτιά
Ο κόσμος, ξανά
Τρέχω σε σένα
Διψάω για μια σου αγκαλιά
Χαμογελώ
Σε προκαλώ
Πάμε γερά
Απ' όλους κι απ' όλα μακριά

Μη φοβηθείς
Το "μαζί" είναι το νόημα αυτής της ζωής
Μη φοβηθείς
Να 'σαι δίπλα μου δίχως σημάδι ενοχής

Κομμένα τα πρέπει
Κανείς δε μας βλέπει
Μία καρδιά δυνατή
Δυνατά αν χτυπάει
Τα πάντα επιτρέπει
Κομμένα τα πρέπει
Κανείς δε μας βλέπει
Όταν η αλήθεια
Στ' αλήθεια μπορεί να ανασαίνει
Στα ύψη ανεβαίνει

Παίρνει φωτιά
Σπίθα η ματιά
Τρέλα η αγάπη
Γι' αυτό μη μιλάς λογικά

Άκου, στην ψυχή σου μια κραυγή σωπαίνει
Παραδέξου ό,τι σε υπερβαίνει
Άσε πίσω ό,τι σε τρελαίνει
Άκου, σ' αγαπάω ό,τι κι αν συμβαίνει
Κάθε βήμα σου μπροστά να πηγαίνει
Κι όσο πάει κι άλλο να μας δένει



Follow HEAVEN MUSIC:
▶ Spotify:
▶ Facebook:
▶ Instagram:
▶ Website:

FOLLOW Michalis Hatzigiannis:

Μιχάλης Χατζηγιάννης - Κομμένα Τα Πρέπει
Μουσική: Μιχάλης Χατζηγιάννης, Κωνσταντίνος Παντζής
Στίχοι: Ελεάνα Βραχάλη

Credits:
Παραγωγή: Κωνσταντίνος Παντζής

Ενορχήστρωση: Κωνσταντίνος Παντζής
Πλήκτρα: Κωνσταντίνος Παντζής
Κιθάρες: Αντώνης Γούναρης
Φωνητικά: Κωνσταντίνος Παντζής - Κατερίνα Νάκα
Ηχογράφηση - Μίξη - Mastering: Κωνσταντίνος Παντζής
Φωνητική Διδασκαλία: Αμαλία Βίνος

Music Video Credits:

Directed by Alex Konstantinidis
Dop & Editing: Alex Konstantinidis
Camera: Dimitris Kopalidis
Focus Puller: Anastasis Tsallas

Production manager: Pantelis Kastanidis
Production assist: Xristos Pirris, Michalis Spiridis

Styling: Antonios Voerakos
Hair/ MUA: Elisavet Dere

Artistic Director/Choreographer: Natalia Michael
Dancers:
Λιόλια Κερογλή
Γιάννης Στεφάνου
Τζένη Στεφανίδου
Χρήστος Ντέντης
Κατερίνα Υφαντή
Χριστίνα Τζάκου
Ζέτα Ζώη
Σεσίλια Λιάντζουρα
Μακρυπίδης Κωνσταντίνος
Γρηγόρης Δεληγιαννίδης


Michalis Hatzigiannis - Kommena Ta Prepi | Official Music Video (4Κ)

#MichalisHatzigiannis #KommenaTaPrepi #HeavenMusic #GreekMusic #GreekHits #MusicMadeInHeaven
Weekly Chart Achieves (Top 40 Songs)
The highest charting position of the entry is #1 . "Kommena Ta Prepei" atop the Top 40 Songs Chart for 16 total weeks. The song appeared 61 total times in the Top 10 ; 44 total times in the Top 20 ; The worst ranking place of the video is #20. "Kommena Ta Prepei" has been charted in 1 trends (countries):
Monthly Chart Achieves (Top 40 Songs)
The best charting position of the entry is #1 . "Kommena Ta Prepei" atop the Top 40 Songs Chart for 4 total months. The song appeared 15 total times in the Top 10 ; 7 total times in the Top 20 ; The worst ranking place of the video is #19. "Kommena Ta Prepei" has been charted in 1 trends (countries):
Daily Chart Achieves (Top 100 Songs)
The highest ranking position of the entry is #1 . "Kommena Ta Prepei" atop the Top 100 Songs Chart for 100 total days. The song appeared 433 total times in the Top 10 ; 302 total times in the Top 20 ; 1 total times in the Top 100 ; The worst charting place of the entry is #64. Find all daily charts - Top 100 Cyprus