Fady Shewaya

by Hamza Namira

"Fady Shewaya" is Egyptian song released on 30 December 2020 in the official channel of the record label - "Hamza Namira". Discover exclusive information about "Fady Shewaya". Explore Fady Shewaya lyrics, translations, and song facts. Earnings and Net Worth accumulated by sponsorships and other sources according to information found in the internet. How many times the Egyptian song appeared in music charts compiled by Popnable? "Fady Shewaya " is well-known music video that took placements in popular top charts, such as Top 100 Egypt Music Chart , Top 40 Egyptian Songs Chart, and more.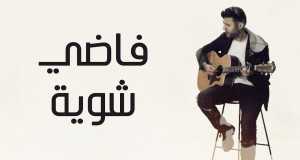 Country

Egypt
Added
Origin Name
Hamza Namira - Fady Shewaya | حمزة نمرة - فاضي شوية
Report
[Not music related] [Add Artist Related] [Report Fake Views] [Remove Linked Artist] [Add Lyrics] [Add Lyrics Translation]
"Fady Shewaya" Facts
"Fady Shewaya" has reached 119.5M total views, 1.6M likes, and 58.9K dislikes on YouTube.

The song has been submitted on 30/12/2020 and spent 16 weeks on the charts.
The original name of the music video "Fady Shewaya" is "HAMZA NAMIRA - FADY SHEWAYA | حمزة نمرة - فاضي شوية".
"Fady Shewaya" has been published on Youtube at 30/12/2020 19:00:10
"Fady Shewaya" Lyrics, Composers, Record Label
الفيديو كليب الرسمي لأغنية 'فاضي شوية' لحمزة نمرة من ألبوم 'مولود سنة 80'

This is the official music video of Hamza Namira's latest release 'Fady Shewaya' from the album 'Mawlood Sanat 80"
------------------
كلمات: خليل عز الدين
ألحان: حمزة نَمِرة
توزيع: كريم عبد الوهاب
جيتار: مصطفى أصلان
------------------
Listen on:
Anghami
Apple Music
Deezer
Spotify
------------------
:الكلمات
------------------
آه يا سلام
سيبنا الوقت يعدي أوام
ما حسبناش اللحظة الجاية

دا اسمه كلام
عيشنا العمر نربّي حمام
بس نسينا نقوم غيّة

ومايهمكش عادي
اسمع مني الساعة دي
مش وقت عتاب أو لوم

فيها ايه لو نرجع تاني
وبدل ما تكون وحداني
تسندني معاك ونقوم

فاضي شوية
نشرب قهوة فى حتة بعيدة
إعزمني على نكتة جديدة
وخلّي حساب الضحك عليّا

دا احنا يا دوب
مالحقناش نقرا المكتوب
علشان نلقى هموم وقسية
دا اسمه كلام
عيشنا العمر نربّي حمام
بس نسينا نقوم ِغيّة

عارفك مشغول ليام دي
ما انا زيك بس عندي
حكايات صعب أخبيها

واكمنك داري بحالي
مذاكرني وعارف مالي
مستني عشان أحكيها

موج الدنيا أناني وعالي
وانت لوحدك وانا لسه لي
عمر هعيشه معاك.. لو يوم

ماشي براحتك بس راهننى
على يوم منّك وسنين منى
إنك مابتعرفش تعوم

ومايهمكش عادي
اسمع مني.. الساعة دي
مش وقت عتاب أو لوم

فيها ايه لو نرجع تاني
وبدل ما تكون وحداني
تسندني معاك ونقوم

فاضي شوية؟
دا انا واحشاني القعدة معاك
وان ماقدرتش تيجي هناك
هستناك المرة الجاية
Weekly Chart Achieves (Top 40 Songs)
The highest charting position of the entry is #1 . "Fady Shewaya" atop the Top 40 Songs Chart for 23 total weeks. The song appeared 32 total times in the Top 10 ; The worst ranking place of the video is #221. "Fady Shewaya" has been charted in 3 trends (countries):
Monthly Chart Achieves (Top 40 Songs)
The best charting position of the entry is #1 . "Fady Shewaya" atop the Top 40 Songs Chart for 5 total months. The song appeared 6 total times in the Top 10 ; The worst ranking place of the video is #110. "Fady Shewaya" has been charted in 3 trends (countries):
Daily Chart Achieves (Top 100 Songs)
The highest ranking position of the entry is #1 . "Fady Shewaya" atop the Top 100 Songs Chart for 116 total days. The song appeared 228 total times in the Top 10 ; 72 total times in the Top 100 ; The worst charting place of the entry is #100. Find all daily charts - Top 100 Egypt