Einy Al Gamal

by Tamer Ali

"Einy Al Gamal" is Egyptian song released on 12 May 2021 in the official channel of the record label - "Nogoum Records". Discover exclusive information about "Einy Al Gamal". Explore Einy Al Gamal lyrics, translations, and song facts. Earnings and Net Worth accumulated by sponsorships and other sources according to information found in the internet. How many times the Egyptian song appeared in music charts compiled by Popnable? "Einy Al Gamal " is well-known music video that took placements in popular top charts, such as Top 100 Egypt Music Chart , Top 40 Egyptian Songs Chart, and more.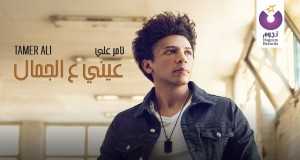 Country

Egypt
Added
Origin Name
Tamer Ali – Einy Al Gamal (Official Lyric Video) تامر على – عيني ع الجمال
Report
[Not music related] [Add Artist Related] [Report Fake Views] [Remove Linked Artist] [Add Lyrics] [Add Lyrics Translation]
"Einy Al Gamal" Facts
"Einy Al Gamal" has reached 4.4M total views, 4.4K likes, and 227 dislikes on YouTube.

The song has been submitted on 12/05/2021 and spent 1 weeks on the charts.
The original name of the music video "Einy Al Gamal" is "TAMER ALI – EINY AL GAMAL (OFFICIAL LYRIC VIDEO) تامر على – عيني ع الجمال".
"Einy Al Gamal" has been published on Youtube at 12/05/2021 18:56:24
"Einy Al Gamal" Lyrics, Composers, Record Label
Lyrics by: Tamer Hussien | كلمات: تامر حسين
Composed by: Tamer Ali | الحان: تامر على
Arranged & Mixed by: Yehia Youssef | توزيع موسيقي و ميكساج: يحيي يوسف
Vocal Recording by: Nogoum Records Studio | تم تسجيل الغناء : ستوديو نجوم ريكوردز
Mastering by: Emre Kiral | إيميري كيريل
Tamer Ali's Production Mgmt: Ahmed Ali | اداره انتاج: احمد علي

Nogoum Records Director | Yasser Khalil

Photography :Sherif Mokhtar | شريف مختار
Studio One Director: Shady Kasem
Video Lyrics Direction: Studio One Productions | ستوديو وان برودكشن
Photo Compositing: Islam Nagi Yehia

Social Media Mgmt.| Mohamed Hussein
Service Providers Manager | Marian Nasr
Digital Consultant | Emad Moussa
PR Consultant | Hani Azab

Official Radio Partner | Nogoum FM
Official TV Partner | Nogoum FMTV
Digital Partner | NRPD

Produced by Nogoum Records | إنتاج نجوم ريكوردز


To Enjoy This Song As Your Call Tone:
Please Send 595391 to 9999 to Orange
Please Send 700611 to 5555 to Vodafone

Song Lyrics | كلمات الأغنية
عيني عيني علي الجمال
من نظرة أنا قلبي مال
محلي عينيك الجمال
حبيت طريقتك في الكلام
داري داري الناس تشوف
البراءة و الكسوف
ده انت من بين الألوف
القلب يرتاحلك قوام

و الليله... الليله... الليله عيد
الليله عيد
و الليله... الليله... حبيت جديد
الليله عيد
و الليله عيد... الليله عيد... الليله عيد
الليله عيد

تاني تاني النظرة دي
تاني تاني الضحكة دي
بتفاجئني و لا ايه
أنا قلبي مش قدك حرام
اه يا روحي عليك قبول
ده انت خلتني ف ذهول
علمتني عينيك أقول
ولسه ما شبعتش علام

و الليله... الليله... الليله عيد
الليله عيد
و الليله... الليله... حبيت جديد
الليله عيد
و الليله عيد... الليله عيد... الليله عيد
الليله عيد

انا أراهن حد شاف
الجمال ده في اختلاف
عيني باردة عليك و اخاف
ماتجيش تزورني ف المنام

و الليله... الليله... الليله عيد
الليله عيد
و الليله... الليله... حبيت جديد
الليله عيد
و الليله عيد... الليله عيد... الليله عيد
الليله عيد

English Lyrics| "Einy Al Gamal"
What's this beauty?
From the first look, you captured my heart
Your beauty makes your eyes shine
I love the way you talk
Hide this beauty before people see
The innocence and the shyness
Amongst hundreds of people
My heart feels comfortable with you only

And tonight we are celebrating
And tonight I loved again
And tonight we are celebrating

Again this look
Again this laugh
Are you surprising me?
My heart can't take all this beauty in
You always leave me speechless
Your eyes have taught me to express
And I am still learning

And tonight we are celebrating
And tonight I loved again
And tonight we are celebrating

I bet anyone has never seen
This beauty is unmatched
I fear you never come to me in my dreams

And tonight we are celebrating
And tonight I loved again
And tonight we are celebrating


Follow Nogoum Records On:
Facebook:
Twitter:
Instagram:
YouTube:
Weekly Chart Achieves (Top 40 Songs)
The highest charting position of the entry is #4 . The song appeared 2 total times in the Top 10 ; The worst ranking place of the video is #234. "Einy Al Gamal" has been charted in 3 trends (countries):
Monthly Chart Achieves (Top 40 Songs)
The best charting position of the entry is #4 . The song appeared 1 total times in the Top 20 ; The worst ranking place of the video is #48. "Einy Al Gamal" has been charted in 2 trends (countries):
Daily Chart Achieves (Top 100 Songs)
The highest ranking position of the entry is #4 . "Einy Al Gamal" atop the Top 100 Songs Chart for 2 total days. The song appeared 4 total times in the Top 10 ; 1 total times in the Top 20 ; The worst charting place of the entry is #19. Find all daily charts - Top 100 Egypt