Madame Djé

by Vegedream

"Madame Djé" is French song released on 10 June 2021 in the official channel of the record label - "VegedreamVEVO". Discover exclusive information about "Madame Djé". Explore Madame Djé lyrics, translations, and song facts. Earnings and Net Worth accumulated by sponsorships and other sources according to information found in the internet. How many times the French song appeared in music charts compiled by Popnable? "Madame Djé " is well-known music video that took placements in popular top charts, such as Top 100 France Music Chart , Top 40 French Songs Chart, and more.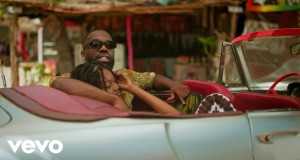 Country

France
Added
Origin Name
Vegedream - Madame Djé (Djenaba) (Clip Officiel)
Report
[Not music related] [Add Artist Related] [Report Fake Views] [Remove Linked Artist] [Add Lyrics] [Add Lyrics Translation]
"Madame Djé" Facts
"Madame Djé" has reached 1.2M total views, 26.7K likes, and 416 dislikes on YouTube.

The song has been submitted on 10/06/2021 and spent weeks on the charts.
The original name of the music video "Madame Djé" is "VEGEDREAM - MADAME DJÉ (DJENABA) (CLIP OFFICIEL)".
"Madame Djé" has been published on Youtube at 08/06/2021 18:08:29
"Madame Djé" Lyrics, Composers, Record Label
""Madame Djé (Djenaba)"" le nouveau single disponible ici :

PAROLES :
Tu me rappelles un plat de mon pays
Pour toi je porterai je treillis
Et quand tu enfiles ton pagne ça t'embellit
Peau ébène c'est un délice
Djénaba ton prénom vient du Mali

Pour toi je porterai je treillis
Et quand tu enfiles ton pagne je suis ravi
Ta cambrure est un délit

J'la vois dans mes rêvent
j'veux plus me réveiller
je veux la goûter la goûter la goûter comme le Tiep Bou Dien

La seule qui me comprenne
Naturel cheveux grainé
Plus de doute , plus de doute , j'peux plus douter
J'suis prêt a la doté

Madame Djé , Djé , Djé
Naba Djé , Djé , Djé
Madame Djé , Djé , Djé
Tu m'as ensorcelé

Madame Djé , Djé , Djé
Naba Djé , Djé , Djé
Madame Djé , Djé , Djé
Tu m'as ensorcelé

Tu me rappelles un plat de mon pays
Pour toi je porterai je treillis
Et quand tu enfiles ton pagne ça t'embellit
Peau ébène c'est un délice
Djénaba ton prénom vient du Mali

Pour toi je porterai je treillis
Et quand tu enfiles ton pagne je suis ravi
Ta cambrure est un délit

Devant ton père j'ai l'impression qu'il est impressionné
je répondrai à ses questions, j'saurais le raisonner
J'ai attendu tellement longtemps, tellement longtemps
Tu me fais frissonner, rentrons à la maison les murs vont résonner

Madame Djé , Djé , Djé
Naba Djé , Djé , Djé
Madame Djé , Djé , Djé
Tu m'as ensorcelé

Madame Djé , Djé , Djé
Naba Djé , Djé , Djé
Madame Djé , Djé , Djé
Tu m'as ensorcelé

Tu me rappelles un plat de mon pays
Pour toi je porterai je treillis
Et quand tu enfiles ton pagne ça t'embellit
Peau ébène c'est un délice
Djénaba ton prénom vient du Mali

Pour toi je porterais je treillis
Et quand tu enfiles ton pagne je suis ravi
Ta cambrure est un délit

Chérie coco ( co co co co )
Chérie coco ( co co co co )
Chérie coco ( co co co co )
Chérie coco ( co co co co )

J't'emmènerai Gagnao
J'te ferai découvrir Gagnao
Marions-nous a Gagnao
Djénaba de Gagnao

Madame Djé , Djé , Djé
Naba Djé , Djé , Djé
Madame Djé , Djé , Djé
Tu m'as ensorcelé
Ensorcelé

Abonne-toi à la chaine →

Suis l'actualité de VEGEDREAM sur :

Instagram :
Snapchat :
Facebook :
Twitter :

Video Director : Nicolas Noël
Video Producer : Pauline Beauchamps

© 2021 La Ruche Records, under exclusive license to Island Def Jam, a label of Universal Music France


Daily Chart Achieves (Top 100 Songs)
The highest ranking position of the entry is # . The song appeared 1 total times in the Top 10 ; 3 total times in the Top 100 ; The worst charting place of the entry is #40. Find all daily charts - Top 100 France