Listen Wave FM 97.4
Listen to Wave FM 97.4 online for free. Wave FM 97.4 is an internet radio station from Greece that broadcast live 24/7. Popular Greek Radio Station.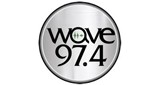 Wave FM 97.4 is well-known Greek Radio Station.
Address: Othonos Amalias 45 Patra, PC 262 21
Phone: +30 261 031 4654
Email: info@wave974.gr
Fax. 2610 314349
https://www.instagram.com/wave_97.4/
With seven years of operation in Patras and the wider area, Wave 97.4 expresses a special dynamic with music that moves throughout the range of Rock, without special commitments. The name of the station is related to the music wave, emphasizing the now, but also the yesterday, from the 70s until today. With its musical identity, it travels freely in musical waves, but also in colors!