"Despoinis" is Greek song released on 10 June 2021 in the official channel of the record label - "Heaven Music". Discover exclusive information about "Despoinis". Explore Despoinis lyrics, translations, and song facts. Earnings and Net Worth accumulated by sponsorships and other sources according to information found in the internet. How many times the Greek song appeared in music charts compiled by Popnable? "Despoinis " is well-known music video that took placements in popular top charts, such as Top 100 Greece Music Chart , Top 40 Greek Songs Chart, and more.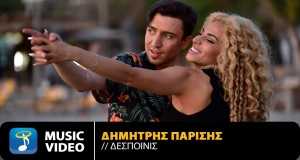 Country

Greece
Added
Origin Name
Δημήτρησ Παρίσησ - Δεσποινίσ | Official Music Video (4K)
Report
[Not music related] [Add Artist Related] [Report Fake Views] [Remove Linked Artist] [Add Lyrics] [Add Lyrics Translation]
"Despoinis" Facts
"Despoinis" has reached 76.4K total views, 1.1K likes, and 81 dislikes on YouTube.

The song has been submitted on 10/06/2021 and spent 2 weeks on the charts.
The original name of the music video "Despoinis" is "ΔΗΜΉΤΡΗΣ ΠΑΡΊΣΗΣ - ΔΕΣΠΟΙΝΊΣ | OFFICIAL MUSIC VIDEO (4K)".
"Despoinis" has been published on Youtube at 10/06/2021 17:00:13
"Despoinis" Lyrics, Composers, Record Label
Κάνε ΕΓΓΡΑΦΗ εδώ:
Βρες το «Δεσποινίς» εδώ:

Στίχοι:

Στην καρδιά μου έχω μέσα
Μια γλυκιά πριγκιπέσσα
Έχει κόκκινα χείλη και μα αρέσει πολύ
Μάλλον μου κανες μάγια
Δεν κοιμάμαι τα βράδια
Και έχω μες το μυαλό μου το δικό σου φιλί.

Δεσποινίς πως είναι το όνομά σου
Με τρέλανε η ματιά σου
Και απόψε θα στο πω
Δεσποινίς θα ρθω να σου μιλησω
Γλυκα θα σε φιλησω
Γιατι θα τρελαθω.

Θα ρθω απόψε τη νύχτα
Να σου πω όσα δεν είπα
Να μου πείς το όνομα σου και όπου θελει ας βγει
Μάλλον μου κανες μάγια
Σε θυμάμαι τα βράδια
Και έχω μες το μυαλό μου το δικό σου φιλί


Follow HEAVEN MUSIC:
▶ Spotify:
▶ Facebook:
▶ Instagram:
▶ Website:

Δημήτρης Παρίσης - Δεσποινίς
Μουσική - Στίχοι: Δημήτρης Παρίσης

Credits:

Σαξόφωνο: Φοίβος Μποζάς
Κιθάρες: Δημήτρης Παρίσης
Production & Arrangement: Δημήτρης Παρίσης
Mastering: Αντώνης Τζώρτζης
Ηχογραφήσεις: Mediolanum Studios


Music Video Credits:

Σκηνοθεσία: John Li
Make up artist: Λίτσα Γεωργιάδου
Επιμέλεια παραγωγής: Ιωάννης Πεφάνης
Παραγωγή: Lenshoots Media Productions – Athens Art | 6946767747

Συμμετέχουν:
Αναστασία Γιούσεφ
Νικόλας Παπαπαύλου

Ευχαριστούμε για την ευγενική παραχώρηση των χώρων, το Monkeyz all day bar & το beach bar Μαύρο Λιθάρι.

Ευχαριστούμε για τη αμέριστη βοήθεια τους: Ιωάννη Ραφτόπουλο, Χάρη Τσαγγαράτο, Φραγγίσκο Λάβδα, Αριστοτέλη Ευθύμη Μάρκο, Κώστα Λαμπαδάρη, Κατερίνα Λιούτα, Κωνσταντή Σέρβη.

Χορηγοί:
whizz scooters
Monkeyz all day bar
litsa makeup and beauty


Dimitris Parisis - Despinis | Official Music Video (4K)

#DimitrisParisis #Despinis #HeavenMusic #GreekMusic #GreekHits #MusicMadeInHeaven
Weekly Chart Achieves (Top 40 Songs)
The highest charting position of the entry is #341 . The worst ranking place of the video is #498. "Despoinis" has been charted in 1 trends (countries):
Monthly Chart Achieves (Top 40 Songs)
The best charting position of the entry is #341 . The worst ranking place of the video is #837. "Despoinis" has been charted in 1 trends (countries):
Daily Chart Achieves (Top 100 Songs)
The highest ranking position of the entry is #341 . The song appeared 1 total times in the Top 100 ; The worst charting place of the entry is #42. Find all daily charts - Top 100 Greece