"Ékptotos Ángelos" is Greek song released on 16 November 2023 in the official channel of the record label - "Νίκος Οικονομόπουλος Official YouTube Channel". Discover exclusive information about "Ékptotos Ángelos". Explore Ékptotos Ángelos lyrics, translations, and song facts. Earnings and Net Worth accumulated by sponsorships and other sources according to information found in the internet. How many times the Greek song appeared in music charts compiled by Popnable? "Ékptotos Ángelos " is well-known music video that took placements in popular top charts, such as Top 100 Greece Music Chart , Top 40 Greek Songs Chart, and more.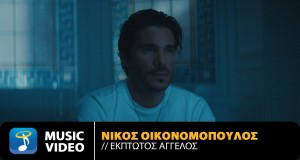 Nikos Ikonomopoulos "Ékptotos Ángelos"

on Apple Music Unlimited

Listen to over 100 million songs

Try Apple Music
Country

Greece
Added
Origin Name
Νίκοσ Οικονομόπουλοσ – Έκπτωτοσ Άγγελοσ | Official Music Video (4K)
Report
[Not music related] [Add Artist Related] [Report Fake Views] [Remove Linked Artist] [Add Lyrics] [Add Lyrics Translation]
"Ékptotos Ángelos" Facts
"Ékptotos Ángelos" has reached 3.2M total views, 38.6K likes, and dislikes on YouTube.

The song has been submitted on 16/11/2023 and spent 2 weeks on the charts.
The original name of the music video "Ékptotos Ángelos" is "ΝΊΚΟΣ ΟΙΚΟΝΟΜΌΠΟΥΛΟΣ – ΈΚΠΤΩΤΟΣ ΆΓΓΕΛΟΣ | OFFICIAL MUSIC VIDEO (4K)".
"Ékptotos Ángelos" has been published on Youtube at 15/11/2023 16:15:50
"Ékptotos Ángelos" Lyrics, Composers, Record Label
???? Κάνε εγγραφή στο Official κανάλι του Νίκου Οικονομόπουλου στο YouTube:
???? Βρες το «Έκπτωτος Άγγελος» εδώ:

Στίχοι:
Δε βλέπω να 'ρθει το πρωί,
Ούτε τον ήλιο να με βρει,
Να με ζεστάνει,
'Eνα σκοτάδι αχανές,
Και του μυαλού μου οι φωνές,
Μ' έχουν τρελάνει.

Στην απομόνωση που μ' άφησες εσύ,
Που 'χεις καρδιά συνηθισμένη να μισεί,
Δε βλέπω να 'ρθει το πρωί,
Η απουσία σου μπορεί να με ξεκάνει.

Με την ψυχή μου δεν τα βρήκα πουθενά,
Στέγνωσα θάλασσες και γκρέμισα βουνά,
Γιατί εκείνα που τα ήθελα πολύ,
Ποτέ δεν ήρθαν.

Με τ' όνειρό μου χτυπημένο στα φτερά,
'Eξω απ' του σύμπαντος την άρρωστη χαρά,
'Eξω απ' του κόσμου τα παραμύθια.

Πάνω μου, πάνω μου το λάθος,
'Eκπτωτος άγγελος μονάχος,
Διώξε με απ' την αγκαλιά σου,
Κόψε με από τα φτερά σου.

Πάνω μου δάκρυα και ευθύνες,
Πάνω μου μαχαιριές οι μνήμες,
Όλες οι νύχτες εκείνες που σαν το κερί,
'Eλιωνες πάνω μου.

Δε βλέπω να 'ρθει το πρωί,
Όλα τα χρώματα μαζί,
Κι όλους τους ήχους,
Εδώ σιωπή και μοναξιά,
Και έχω για μόνη συντροφιά,
Τέσσερις τοίχους.

Εξαφανίστηκε το γέλιο κι η χαρά,
Όλα κοντά μου κι όλα τόσο μακριά,
Δε βλέπω να 'ρθει το πρωί,
Χωρίς εσένα να με βρει,
Ποτέ μου πάλι.

Με την ψυχή μου δεν τα βρήκα πουθενά,
Στέγνωσα θάλασσες και γκρέμισα βουνά,
Γιατί εκείνα που τα ήθελα πολύ,
Ποτέ δεν ήρθαν.

Με τ' όνειρό μου χτυπημένο στα φτερά,
'Eξω απ' του σύμπαντος την άρρωστη χαρά,
'Eξω απ' του κόσμου τα παραμύθια.

Πάνω μου, πάνω μου το λάθος,
'Eκπτωτος άγγελος μονάχος,
Διώξε με απ' την αγκαλιά σου,
Κόψε με από τα φτερά σου.

Πάνω μου δάκρυα και ευθύνες,
Πάνω μου μαχαιριές οι μνήμες,
Όλες οι νύχτες εκείνες που σαν το κερί,
'Eλιωνες πάνω μου.

▶ FOLLOW Νίκος Οικονομόπουλος:
▶ HEAVEN All Around:

Audio Credits:
▶ Μουσική: Γιώργος Σαμπάνης
▶ Στίχοι: Νίκος Γρίτσης

▪ Παραγωγή: Κώστας Καλημέρης
▪ Ενορχήστρωση, Πλήκτρα: Μαρία Παπαδοπούλου
▪ Τύμπανα: Άλκης Μισιρλής
▪ Μπάσο: Γιάννης Γρηγορίου
▪ Κιθάρες: Ευριπίδης Ζεμενίδης
▪ Τζουράς, Μπαγλαμάς: Νίκος Πασσαλίδης
▪ Κρουστά: Κώστας Καλημέρης

Φωνητικά:
▪ Άκης Δείξιμος
▪ Νίκος Οικονομόπουλος

▪ Ηχογράφηση Φωνής: Τάκης Αργυρίου
▪ Editing: Άρης Γαλανός
▪ Hχογράφηση, Μίξη: Κώστας Καλημέρης
▪ Mastering: Γιάννης Χριστοδουλάτος, Sweetspot

Video Credits:
▪ Directed by Nick Marianos
▪ Cinematography by Dimitris Lampridis
▪ Assistant Director: Vasilis Matzoros
▪ Production Manager: Yiannis Machairas
▪ Art Director: Tzela Christopoulou
▪ 1st AC: Stratos Kourlis & Vasilis Athanasopoulos
▪ 2nd AC: Xronis Tavris
▪ Steadycam Operator: Vasilis Parousis
▪ Electricians: Dimitris Mantzaris, Nikos Diamantakis
▪ Production Assistants: Nikos Kantzilieris, Karolos Samoulian, Tellis Chouchlas
▪ Camera & Lighting: Equipment Studio Karamanos
▪ Edited by Vasilis Matzoros
▪ Colour by Andrew Gordeev
▪ Vfx: Christos Filippou
▪ Model: Maria Exeki
▪ Styling: Stefanos Zaousis
▪ Mua: Elena Chatzinikolidou
▪ Produced by My Films

Nikos Oikonomopoulos – Ekptotos Aggelos | Official Music Video (4K)

#NikosOikonomopoulos #EkptotosAggelos #HeavenMusic #GreekMusic #GreekHits #MusicMadeInHeaven
Weekly Chart Achieves (Top 40 Songs)
The highest charting position of the entry is #1 . "Ékptotos Ángelos" atop the Top 40 Songs Chart for 1 total weeks. The song appeared 2 total times in the Top 10 ; The worst ranking place of the video is #2. "Ékptotos Ángelos" has been charted in 1 trends (countries):
Monthly Chart Achieves (Top 40 Songs)
The best charting position of the entry is #1 . "Ékptotos Ángelos" atop the Top 40 Songs Chart for 1 total months. The song appeared 1 total times in the Top 10 ; The worst ranking place of the video is #1. "Ékptotos Ángelos" has been charted in 1 trends (countries):
Daily Chart Achieves (Top 100 Songs)
The highest ranking position of the entry is #1 . "Ékptotos Ángelos" atop the Top 100 Songs Chart for 14 total days. The song appeared 17 total times in the Top 10 ; The worst charting place of the entry is #2. Find all daily charts - Top 100 Greece