Loser

by Mc Cheung

"Loser" is Hong Kong song released on 26 August 2021 in the official channel of the record label - "MC張天賦". Discover exclusive information about "Loser". Explore Loser lyrics, translations, and song facts. Earnings and Net Worth accumulated by sponsorships and other sources according to information found in the internet. How many times the Hong Kong song appeared in music charts compiled by Popnable? "Loser " is well-known music video that took placements in popular top charts, such as Top 100 Hong Kong Music Chart , Top 40 Hong Kong Songs Chart, and more.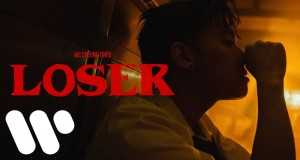 Country

Hong Kong
Added
Origin Name
Mc 張天賦 - Loser (Official Music Video)
Report
[Not music related] [Add Artist Related] [Report Fake Views] [Remove Linked Artist] [Add Lyrics] [Add Lyrics Translation]
"Loser" Facts
"Loser" has reached 2M total views, 19.7K likes, and 0 dislikes on YouTube.

The song has been submitted on 26/08/2021 and spent 22 weeks on the charts.
The original name of the music video "Loser" is "MC 張天賦 - LOSER (OFFICIAL MUSIC VIDEO)".
"Loser" has been published on Youtube at 26/08/2021 17:00:13
"Loser" Lyrics, Composers, Record Label
MC 張天賦 Lo-Fi R&B 情歌 《Loser》

'it's time for me to let you go'

#MC張天賦 #Loser




——————
Loser
曲: 陳考威 / JNYBeatz
詞: T-Rexx
Rap Lyrics: 陳考威
編: 陳考威 / JNYBeatz
監: 陳考威

或滴淚 亦很累
沒有空間憶記誰
沒電量 便安睡

日或夜 未分類
伴結他一個隱居
隨音階 升與墜

對愉快感覺 沒有感覺
全是泡影 不配失落
Guess it's time for me to let you go


說為你看顧 是有天賦
望這四壁 怎夠生活


人崇優都不算錯
來遺忘一起溫暖過
Yeah we're breaking up
No more faking love
'Cause I am a loser

無情都不虧欠我
如難忘低端的次貨
隨便踩我
換心底一點好過

若話別 別想念
像結他假使斷弦
舊調亦 盡變遷

飛灰輕輕一跌 可看化一遍
存在純屬給某段熾熱
誰又配被你紀念

未來看得到 是看不到
夢也會醒 只有煎熬


人崇優都不算錯
來遺忘一起溫暖過
Yeah we're breaking up
No more faking love
'Cause I am a loser

無情都不虧欠我
能賠償青春交託錯
來隨便踩我
絕一點得體得多

落幕就落幕 並沒淚眼
寂寞就寂寞 逐漸習慣
It's over
It's over now

讓浪漫盛事 味道漸淡
讓現實憾事 獨自負擔
It's over
It's over now

I should have known that love won't last forever
No matter how much happy times that we had together
But I can never seem to understand what's in your mind
I guess it's time for me to put my thoughts of you behind

You can call me a loser
But I never minded
I was afraid to lose ya
Oh damn I'm blinded
So girl I guess it's time for both of us to let go
And never hit each other up coz I don't love you no more

人崇優都不算錯
來遺忘一起溫暖過
Yeah we're breaking up
No more faking love
'Cause I am a loser

誰人口講很愛我
麻煩詳細的思索過
誰來打攪我
為溫飽都鬆開我

OP: Warner Chappell Music, Hong Kong Limited / Universal Music Publishing Limited 

Guitar: Derrick Sepnio
Bass: Darrell
Keyboard & Synth: JNYBeatz, 陳考威
Drums & Programming: 陳考威
Strings arrangement: 蘇道哲
Mixing: Matt Sim
Mastering: Alex Psaroudakis
Weekly Chart Achieves (Top 40 Songs)
The highest charting position of the entry is #2 . The song appeared 2 total times in the Top 10 ; 1 total times in the Top 40 ; The worst ranking place of the video is #75. "Loser" has been charted in 1 trends (countries):
Monthly Chart Achieves (Top 40 Songs)
The best charting position of the entry is #2 . The song appeared 1 total times in the Top 10 ; The worst ranking place of the video is #68. "Loser" has been charted in 1 trends (countries):
Daily Chart Achieves (Top 100 Songs)
The highest ranking position of the entry is #2 . "Loser" atop the Top 100 Songs Chart for 3 total days. The song appeared 10 total times in the Top 10 ; 3 total times in the Top 20 ; 137 total times in the Top 100 ; The worst charting place of the entry is #79. Find all daily charts - Top 100 Hong Kong