Bachelor Party

by Diljit Dosanjh

"Bachelor Party" is Indian song released on 28 September 2022 in the official channel of the record label - "Saregama Punjabi". Discover exclusive information about "Bachelor Party". Explore Bachelor Party lyrics, translations, and song facts. Earnings and Net Worth accumulated by sponsorships and other sources according to information found in the internet. How many times the Indian song appeared in music charts compiled by Popnable? "Bachelor Party " is well-known music video that took placements in popular top charts, such as Top 100 India Music Chart , Top 40 Indian Songs Chart, and more.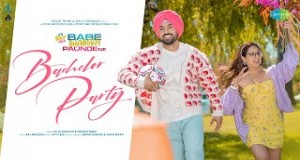 Country
India
Added
Origin Name
Bachelor Party | Diljit Dosanjh | Sargun Mehta|Babe Bhangra Paunde Ne|Inderjit Nikku| Official Video
Report
[Not music related] [Add Artist Related] [Report Fake Views] [Remove Linked Artist] [Add Lyrics] [Add Lyrics Translation]
"Bachelor Party" Facts
"Bachelor Party" has reached 10.3M total views, 104.1K likes, and dislikes on YouTube.

The song has been submitted on 28/09/2022 and spent 1 weeks on the charts.
The original name of the music video "Bachelor Party" is "BACHELOR PARTY | DILJIT DOSANJH | SARGUN MEHTA|BABE BHANGRA PAUNDE NE|INDERJIT NIKKU| OFFICIAL VIDEO".
"Bachelor Party" has been published on Youtube at 27/09/2022 09:30:09
"Bachelor Party" Lyrics, Composers, Record Label
Bachelor Party, the next song from Diljit Dosanjh and Sargun Mehta's upcoming movie, "Babe Bhangra Paunde Ne" is out now to fill you with good ;Sung by Diljit Dosanjh and Inderjit Nikku, this beautiful song is composed by Avvy Sra and penned by Raj Ranjodh.

Credits:
Movie Credits:
Movie : Babe Bhangra Paunde Ne (ਬਾਬੇ ਭੰਗੜਾ ਪਾਉਂਦੇ ਨੇ )
Directed by : Amarjit Singh Saron
Written By: Naresh Kathooria
Produced by : Daljit Thind & Diljit Dosanjh
Associate Producer Sonali Singh ,
Executive Producer Hammad Chaudhry
Starring : Diljit Dosanjh, Sargun Mehta
Cast : Gurpreet Bhangu, Balinder Johal, Jassica Gill, Sangtar Singh, Lakhan Pal, Bk Singh Rakhra, Devinder Deve Dillon, Avtar Singh Gill, Dr Pargat Singh Bhurji
DOP: Baljit Singh Deo

Audio Credits:
Singer : Diljit Dosanjh And Inderjit Nikku
Lyrics : Raj Ranjodh
Music : Avvy Sra
Female Vox : Jannat Sandhu And Sargi Maan

Video Credits:
Music: Avvy Sra
Editor : Rohit Dhiman
Background Music : Sandeep Saxena
Story By : Naresh Kathooria ,
Screenplay: Amarjit Singh Saron, Naresh Kathooria ,
Dialogue: Amarjit Singh Saron, Naresh Kathooria, Chanchal Dabra
Financial Controller: Shveta Bali & Shammi Garg
Choreographer - Arvind Thakur
Production Design: Sheena Saini
Line Production Manager: Gaurav Bakhsi & Naina Toor
Chief Assistant Director: Garry Somal
Action & Stunt: Sean Kohnke
Action Choreography By : Amarjit Singh Saron
Costume Sylish Money Singh ( Singh Studios) ,
Makeup By Blue Ruby Artistry
Sound Design Pranam Pansare, Di Dneg India Di
Colourist : Nilesh Sawant
Music On : Saregama
All Mix Mastered By Yograj Singh And Suyash Singh At Mix N Vibe Studios
Assitant Music Producer And Sound Designer - Jaydden
Instruments Recorded By Suresh At Sursangam Studios

Lyrics:
Ho chitte kukkar nu sehra laaya (x2)
Bau jeha Majhe wall daa, saadi kuri nu viyahaun aaya (x2)
O krda ae bachelor partiya, ve kamm mainu theek ni lgde tere
Mere naal matching krda naa, ve mundeya main ne lene phere (x2)
Aukhi a tere naal gall krni, moonho mitha dil da tu Kaa ae
Bapu g ne aakh ditte mere kann ch, munda ta wgaareya ae maa ne
Tenu lorh naa meri we, yaara naal ghumda chaar suphere

Mere naal matching krdaa naa, ve mundeya mai ni lene phere (x2)
Mere naal matching krdaa naa, ve mundeya mai ni lene phere (x2)

Sachi ni kehnda mera sir ghumda, haye ni pagg kehnda tight badi a
Aho ni kehnda shervani chubdi,
haaye ni camere di light badi a (x2)
o munda gehra khaagya ni jehda nitt c maarda gehre


Mere naal matching krdaa naa, ve mundeya mai ni lene phere (x2)

Mere kol khada jiwen jail hoyi a, rooh teri daru wich pathke
Photoan ch hassde nu maut pendi a,
krda mai laal galla pattke (x2)
Haye tu phone ni shad da vee, ehde kamm zroori kehre


Mere naal matching krdaa naa, ve mundeya mai ni lene phere (x2)
Mere naal matching krdaa naa, ve mundeya mai ni lene phere (x2)


#diljitdosanjh
#sargunmehta
#inderjitnikku
#bachelorparty
#babebhangrapaundene
#punjabimovie
#saregamapunjabi
#latestpunjabisongs2022

Label: Saregama India Limited

To listen to more such Punjabi songs, subscribe to:

For more updates Follow us on Facebook:


Follow us on Twitter:
Weekly Chart Achieves (Top 40 Songs)
The highest charting position of the entry is #9 . The song appeared 1 total times in the Top 10 ; The worst ranking place of the video is #9. "Bachelor Party" has been charted in 1 trends (countries):
Monthly Chart Achieves (Top 40 Songs)
The best charting position of the entry is #9 . The worst ranking place of the video is #54. "Bachelor Party" has been charted in 1 trends (countries):
Daily Chart Achieves (Top 100 Songs)
The highest ranking position of the entry is #9 . "Bachelor Party" atop the Top 100 Songs Chart for 2 total days. The song appeared 3 total times in the Top 10 ; 1 total times in the Top 20 ; 1 total times in the Top 100 ; The worst charting place of the entry is #41. Find all daily charts - Top 100 India