Lyrics & Translations -
Dagabaj

by Rakesh Barot "Dagabaj" lyrics and translations. Discover who has written this song. Find who are the producer and director of this music video. "Dagabaj"'s composer, lyrics, arrangement, streaming platforms, and so on. "Dagabaj" is sung by Rakesh Barot . "Dagabaj" is Indian song, performed in Hindi .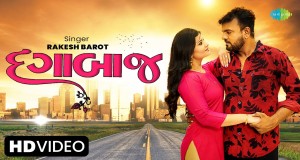 Country
India
Added
Origin Name
Rakesh Barot | દગાબાજ | Dagabaj | New Gujarati Bewafa Song 2022 | નવું ગુજરાતી ગીત
Report
[Not music related] [Add Artist Related] [Report Fake Views] [Remove Linked Artist] [Add Lyrics] [Add Lyrics Translation]
"Dagabaj" Lyrics
"Dagabaj" has lyrics in Hindi language.
"Dagabaj" meaning comes from Hindi language and currently not converted to english translation.
રાકેશ બારોટ તમારા માટે લાવ્યા છે વર્ષનું નવું બેવફા ગીત. આ ગીત એ વ્યક્તિના જૂઠાણા, અને અન્યાયની વાર્તા કહે છે જે તમે તમને પ્રેમ કર્યો હોવા છતાં.

Buy Carvaan Mobile - Feature phone with 1500 Pre-loaded songs:

Listen to the best of Rakesh Barot songs only on Saregama Gujarati !


બધા OTT પર તમારા મનપસંદ ગીતો સાંભળો:

JioSaavn
Spotify
Wynk
Hungama
Amazon Music
YouTube Music

Lyrics:

હો
નીકળ્યા એ દગાબાજ

નીકળ્યા એ દગાબાજ

હો જેને માથે બેહાડ્યા મેં રાખ્યા સરતાજ....(2)
જેને કરતા વાતો દિલ ની રાખ્યા દિલ ની પાસ
એજ મારી જાન નીક્ળ્યાં દગાબાજ...(2)

હવે મારે રોવા નું રહ્યું પછતાવા નું રહ્યું...(2)
હો કરતા વાતો દિલ ની રાખ્યા દિલ ની પાસ
એજ મારી જાન નીક્ળ્યાં દગાબાજ...(2)

હો હાથ ની હથેળી માં મેં રાખી તને
રઈ શું ખોટ ના હમજાયું મને
હો દૂધ કહી ઝેર તમે
હતી નફરત તને ના જાણ્યું અમે

તને ભગવાન કરગરું હવે કેને ક્યાં જઈ ને મરુ...(2)
જેને કરતા વાતો દિલ ની રાખ્યા દિલ ની પાસ
રાખ્યા જેને દિલ માં નીકળ્યા દગાબાજ...(2)

હો તારા રસ્તા માં ફૂલ બિછાવ્યાં અમે
આખો ની પલકો માં રાખ્યા તને
હો આવા રે કઠણ દિલ નોતા તમે
શરમ ના આયી તને છોડતા મને

હવે મારે રોવા નું રહ્યું દર્દ સહેવાનું રહ્યું...(2)
જેને કરતા વાતો દિલ ની રાખ્યા દિલ ની પાસ
રાખ્યા જેને દિલ માં નીકળ્યા દગાબાજ

હો જેને માથે બેહાડ્યા મેં રાખ્યા સરતાજ
એજ મારી જાન નીક્ળ્યાં દગાબાજ

હો એજ મારી જાન નીક્ળ્યાં દગાબાજ...(2)

(English)

Ho Dagabaj…dagabaj
Nikalya E Dagabaj
Dagabaj…dagabaj
Nikalya E Dagabaj

Ho Jene Mathe Behadya Me Rakhya Sartaj…(2)
Jene Karta Vato Dil Ni Rakhya Dil Ni Paas
Ej Mari Jaan Nikalya Dagabaj…(2)

Have Mare Rovanu Rahyu Pachatava Nu Rahyu…(2)
Ho Karta Vaato Dil Ni Rakhya Dil Ni Paas
Ej Mari Jaan Nikalya Dagabaj…(2)

Ho Haath Ni Hatheli Ma Me Rakhi Tane
Rai Shu Khot Na Hamjayu Mane
Ho Dudh Kahi Jer Pivdavyu Tame
Hati Nafrat Tane Na Janyu Ame

Tane Bhagwan Kargaru Have Kene Kya Jai Ne (2)
Jene Karta Vaato Dil Ni Rakhya Dil Ni Paas
Rakhya Jene Dil Ma Nikalya Dagabaj…(2)

Ho Tara Rasta Ma Phool Bichavya Ame
Aakho Ni Palko Ma Rakhya Tane
Ho Aava Re Kathan Dil Nota Tame
Sharam Na Aayi Tane Chodata Mane

Have Mare Rova Nu Rahyu Dard Sahevanu Rahyu…(2)
Jene Karta Vaato Dil Ni Rakhya Dil Ni Paas
Rakhya Jene Dil Ma Nikalya Dagabaj

Ho Jene Mathe Behadya Me Rakhya Sartaj
Ej Mari Jaan Nikalya Dagabaj

Ho Ej Mari Jaan Nikalya Dagabaj…(2)


Credits:
Singer: Rakesh Barot
Artist: Rakesh Barot, Divya Bhatt, Asvin Prajapati, Kalpesh Prajapati, Bhavesh Prajapati ,kamini Patel
Concept & Director: Bhavesh Gorasiya
Creative Head: Dhyey Films & Team
Technical Support: Jenish Talaviya
Production Management: Jigar Bhatiya
Music: Ravi Nagar, Rahul Nadiya
Lyrics: Bharat Ravat, Devraj Adroj
Dop: Kundan Thakor
Drone & Editor: Nitin Patel (Vastral)
;Camera: Suresh Patel
Makeup & Hair: Hashmukh Limbachiya, Gayatri
Producer: Red Velvet Cinema
Location: Jk Singh Studio, Durga Motors, Papa Louie Pizza Odhav, Tfo- The Fashion Outlet
Special Thanks: ;Chetan Patel, Hitesh Patel (Jonty), Prakash Patel, Sandip Patel


#Dagabaj
#rakeshbarot
#saregamagujarati
#rakeshbarotnewsong
#rakeshbarotnewstatus2022
#bewafasong
#gujaratibewafasong
#gujaratisong2022
#newgujaratisong

Label- Saregama India Limited, A RPSG Group Company


For more videos log on & subscribe to our channel :


Follow us on -
Facebook:
Twitter: