Bidadari Surga

by Syakir Daulay

"Bidadari Surga" is Indonesian song released on 19 May 2020 in the official channel of the record label - "Falcon Music Indonesia". Discover exclusive information about "Bidadari Surga". Explore Bidadari Surga lyrics, translations, and song facts. Earnings and Net Worth accumulated by sponsorships and other sources according to information found in the internet. How many times the Indonesian song appeared in music charts compiled by Popnable? "Bidadari Surga " is well-known music video that took placements in popular top charts, such as Top 100 Indonesia Music Chart , Top 40 Indonesian Songs Chart, and more.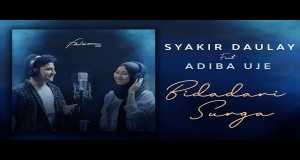 Country

Indonesia
Added
Origin Name
Syakir Daulay Ft Adiba Uje - Bidadari Surga (Official Video Lirik )
Report
[Not music related] [Add Artist Related] [Report Fake Views] [Remove Linked Artist] [Add Lyrics] [Add Lyrics Translation]
"Bidadari Surga" Facts
"Bidadari Surga" has reached 18.9M total views, 605.9K likes, and 8.3K dislikes on YouTube.

The song has been submitted on 19/05/2020 and spent 56 weeks on the charts.
The original name of the music video "Bidadari Surga" is "SYAKIR DAULAY FT ADIBA UJE - BIDADARI SURGA (OFFICIAL VIDEO LIRIK )".
"Bidadari Surga" has been published on Youtube at 18/05/2020 12:00:14
"Bidadari Surga" Lyrics, Composers, Record Label
Title: Bidadari Surga
Artis: Syakir Daulay Ft Adiba Uje
Labels: Falcon Music Indonesia

Music & Lyrics Ustad Jefry Al-Buchori
Produced & Arranged by Ifa Fachir & Dimas Wibisana
Vocals Produced by irvnat

Violins: Ava Victoria, Yohanes Handoko, Dessy Saptany Puri
Viola: Yacobus Widodo
Cello: Angga Pratala
Flute: Andika Candra Perdana
Backing Vocals: Adyuta Abandhika
All others instruments: Dimas Wibisana & Ifa Fachir

Mixed by Rayendra Sunito
Mastered by Dimas Pradipta


Follow Falcon Music:
Youtube:
Instagram:
Facebook:

Avaiable On
Apple Music :

SPOTIFY :

JOOX : ;


Lyric :
Adiba (A):
Setiap manusia punya rasa cinta
Yang mesti dijaga kesuciannya…
Namun ada kala insan tak berdaya
Saat dusta mampir bertahta…

Syakir (S):
Kuinginkan dia yang punya setia
Dan mampu menjaga kemurniannya…
Saat 'ku tak ada, 'ku jauh darinya
Amanah pun jadi

Chorus 1 (S):
Hatimu tempat berlindungku
Dari keheningan malamku
Tuhanku merestui itu
Dijadikan 'kau pasanganku…
Engkaulah…
Bidadari surgaku…

A:
Tiada yang memahami
Segala kekuranganku…
Kecuali kamu…
S:
Oh, Bidadariku…
Maafkanlah aku
Dengan kebodohanku
Yang tak bisa membimbing dirimu…

Chorus 2 (A):
Hatimu tempat berlindungku
Dari keheningan malamku
Tuhanku merestui itu
Dijadikan 'kau pasanganku…
Akulah…
Bidadari surgamu…

Chorus3 (A& S):
Hatimu tempat berlindungku
Dari keheningan malamku
Tuhanku merestui itu
Dijadikan 'kau pasanganku…
Engkaulah (Akulah)…
Bidadari surgaku (surgamu)…

Copyright©Falcon Music All rights reserved
Weekly Chart Achieves (Top 40 Songs)
The highest charting position of the entry is #1 . "Bidadari Surga" atop the Top 40 Songs Chart for 2 total weeks. The song appeared 4 total times in the Top 10 ; 1 total times in the Top 20 ; 1 total times in the Top 40 ; The worst ranking place of the video is #369. "Bidadari Surga" has been charted in 2 trends (countries):
Monthly Chart Achieves (Top 40 Songs)
The best charting position of the entry is #1 . The song appeared 1 total times in the Top 10 ; 1 total times in the Top 20 ; The worst ranking place of the video is #952. "Bidadari Surga" has been charted in 2 trends (countries):
Daily Chart Achieves (Top 100 Songs)
The highest ranking position of the entry is #1 . "Bidadari Surga" atop the Top 100 Songs Chart for 11 total days. The song appeared 22 total times in the Top 10 ; 6 total times in the Top 20 ; 74 total times in the Top 100 ; The worst charting place of the entry is #100. Find all daily charts - Top 100 Indonesia