"Sakit Gigi" is Indonesian song released on 28 April 2021 in the official channel of the record label - "Global Musik Era Digital". Discover exclusive information about "Sakit Gigi". Explore Sakit Gigi lyrics, translations, and song facts. Earnings and Net Worth accumulated by sponsorships and other sources according to information found in the internet. How many times the Indonesian song appeared in music charts compiled by Popnable? "Sakit Gigi " is well-known music video that took placements in popular top charts, such as Top 100 Indonesia Music Chart , Top 40 Indonesian Songs Chart, and more.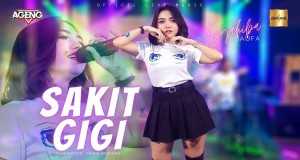 Country

Indonesia
Added
Origin Name
Syahiba Saufa Ft Ageng Music - Sakit Gigi (Official Live Music)
Report
[Not music related] [Add Artist Related] [Report Fake Views] [Remove Linked Artist] [Add Lyrics] [Add Lyrics Translation]
"Sakit Gigi" Facts
"Sakit Gigi" has reached 8.1M total views, 47.8K likes, and 3.3K dislikes on YouTube.

The song has been submitted on 28/04/2021 and spent 13 weeks on the charts.
The original name of the music video "Sakit Gigi" is "SYAHIBA SAUFA FT AGENG MUSIC - SAKIT GIGI (OFFICIAL LIVE MUSIC)".
"Sakit Gigi" has been published on Youtube at 28/04/2021 05:00:15
"Sakit Gigi" Lyrics, Composers, Record Label
Official live Music : Syahiba Saufa ft Ageng Music - Sakit Gigi
▶️ Subscribe Global Musik Era Digital


????Special Thanks To :
Artist : Syahiba Saufa ft Ageng Music
Songwriter : Obbie Messakh

♫ Aktifkan Nada Sambung ♫ :
Syahiba Saufa ft Ageng Music - Sakit Gigi
Ketik : GMOCX kirim SMS ke 1212 (TELKOMSEL)
Ketik : 16614393 kirim SMS ke 1818 (XL 1818)

♫ Lyrics ♫ (Sakit Gigi)

Putus lagi cintaku
Putus lagi jalinan kasih-sayangku dengannya
Cuma karena rupiah lalu engkau berpaling muka
Tak mau menatap lagi

Kecewa kecewa hatiku
Terluku karena cinta

Reff:
Kalau terbakar api kalau tertusuk duri mungkin
Masih dapat kutahan
Tapi ini sakit lebih sakit
Kecewa karena cinta

Jangankan diriku semut pun kan marah
Bila terlalu sakit begini
Daripada sakit hati lebih baik sakit gigi ini
Biar tak mengapa

Rela rela rela aku relakan [2X]

Kalau terbakar api kalau tertusuk duri mungkin
Masih dapat kutahan
Tapi ini sakit lebih sakit
Kecewa karena cinta

Jangankan diriku semut pun kan marah
Bila terlalu sakit begini
Daripada sakit hati lebih baik sakit gigi ini
Biar tak mengapa

Rela rela rela aku relakan [2X]

Lagu Lagu Syahiba Saufa :
Lungiting Asmoro :
Sakit Gigi :
Lewung :
Ada Rindu :
Tresno Sudro :
Mawar Putih :
Talining Asmoro :
Aku Rindu Padamu :
Lilin Putih :
Hadirmu Bagai Mimpi :
Sepine Wengi :
Goyah :
Bagai Ranting Yang Kering :
Terdiam Sepi :
Jalan Datar :
Layang Dungo Restu (LDS) :
Cintaku Tak Terbatas Waktu :
Selamat Malam :
Karmila :
Bukan PHO (De Yang Gatal Gatal Sa) :
Sing Di Rindu Wis Due Bojo :
Syahara :
Kopi Dangdut :
Sambel Terasi :
Mantan Tersayang :
Kangen Mantan :
Cinta Datang Dan Pergi :
Isun Kelangan :

Artist Based Playlist Right Here :
Nazia Marwiana :
Tagor Pangaribuan :
Mira Putri :
Vita Alvia :
Syahiba Saufa :
Jihan Audy :
Mala Agatha :
Happy Asmara :
Nonna 3in1 :
Anisa Rahma :
Yeni Inka :
Esa Risty :
Didi Kempot :
Rena Movies :
Tryana :
Anggun Pramudita :
Lintang Piscesa :
Safira Inema :
New Pallapa :
New Monata :
Adella:
Ageng Music:

???? Info Global Musik Era Digital :
Twitter:
Instagram:
Facebook:
VCD Karaoke:
Website:

;Global Musik Era Digital disingkat Global Musik didirikan sejak tahun ;Global Musik merupakan pengembang "Music Industry Publishing Artist Management Content Provider" dan mitra kerja Telkom, Produser, Musisi, Artis & Kreator Era ;

;GLOBAL MUSIK ERA DIGITAL
Email : info@

Copyright © 2021 Global ;All rights reserved.
#SakitGigi #SyahibaSaufa #GlobalMusik #AgengMusic
Weekly Chart Achieves (Top 40 Songs)
The highest charting position of the entry is #13 . The song appeared 6 total times in the Top 20 ; 3 total times in the Top 40 ; The worst ranking place of the video is #81. "Sakit Gigi" has been charted in 1 trends (countries):
Monthly Chart Achieves (Top 40 Songs)
The best charting position of the entry is #13 . The song appeared 1 total times in the Top 20 ; 1 total times in the Top 40 ; The worst ranking place of the video is #22. "Sakit Gigi" has been charted in 1 trends (countries):
Daily Chart Achieves (Top 100 Songs)
The highest ranking position of the entry is #13 . The song appeared 36 total times in the Top 20 ; 47 total times in the Top 100 ; The worst charting place of the entry is #84. Find all daily charts - Top 100 Indonesia