Delet Lamakot

by Ariel Israelov

"Delet Lamakot" is Israeli song released on 03 February 2022 in the official channel of the record label - "ArielIsraelovMusic". Discover exclusive information about "Delet Lamakot". Explore Delet Lamakot lyrics, translations, and song facts. Earnings and Net Worth accumulated by sponsorships and other sources according to information found in the internet. How many times the Israeli song appeared in music charts compiled by Popnable? "Delet Lamakot " is well-known music video that took placements in popular top charts, such as Top 100 Israel Music Chart , Top 40 Israeli Songs Chart, and more.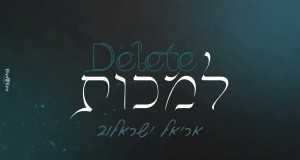 Country
Israel
Added
Origin Name
אריאל ישראלוב דליט למכות || Ariel Israelov Delet Lamakot
Report
[Not music related] [Add Artist Related] [Report Fake Views] [Remove Linked Artist] [Add Lyrics] [Add Lyrics Translation]
"Delet Lamakot" Facts
"Delet Lamakot" has reached 162.1K total views, 923 likes, and 0 dislikes on YouTube.

The song has been submitted on 03/02/2022 and spent 3 weeks on the charts.
The original name of the music video "Delet Lamakot" is "אריאל ישראלוב דליט למכות || ARIEL ISRAELOV DELET LAMAKOT".
"Delet Lamakot" has been published on Youtube at 03/02/2022 09:00:12
"Delet Lamakot" Lyrics, Composers, Record Label
מילים ולחן : נדב חלילי , משה יהודה, ותום בנודיז
עיבוד והפקה מוסיקלית : נדב חלילי
להזמנת הופעות פרטיות /אירועים מוסדיים /עירייות וועדי עובדים ‭050-6577-965 ‬
אריאל ישראלוב אינסטגרם


ספוטיפיי-

אפל מיוזיק-

דיזר-

טידל-

יאנדקס-

אמזון-

נאפסטר-

7דיגיטל-

קקבוקס-

קובוז-

מילים:
אולי זה לא הסתדר
למה לנו לדבר
אומרים שהזמן יעשה את שלו
אז למה לשקר

התמונות שבראש נמחקות עשינו דליט למכות
רצינו שלום וקיבלנו מלחמות
בחוץ מבול דמעות הלב רועש
בלי שקט חכי לי דקה


בסהכ קצת גשם ממה את מתרגשת
תחזיקי לי תיד תראי הנר דולק אפשר עוד לתקן
ואם תרצי ללכת לקחת עוד רכבת
אני תמיד איתך מחכה בתחנה שלנו


לאט לאט מתגבר
הבנתי שחייב לשחרר
מכל השיחות שלנו , כל השירים
תמונות למזכרת על המקרר
מסתבר שעכשיו כבר המשכת
לא גיבור לא אופטימי
כנראה לא חזק , מה עכשיו מאוחר
לב חצוי לא מוכר לי כל ההרגשה הזאת


עיבוד והפקה מוסיקלית : נדב חלילי
גיטרות ובס : מיקי אביעוז
תופים : מתן אוסמו
קולות : דוד בודה, נדב חלילי
קלידים ותכנותים : נדב חלילי
מיקס ומאסטרינג : אלי מלמד
הפקת קליפ מילים : אליה עזרא
עיצוב עטיפה : אליה עזרא 0538585297
יחסי ציבור: ES PRODUCTION
050-6577-965

להזמנת הופעות פרטיות /אירועים מוסדיים /עירייות וועדי עובדים ‭050-6577-965 ‬ אליאור סרור
@
Weekly Chart Achieves (Top 40 Songs)
The highest charting position of the entry is #90 . The worst ranking place of the video is #357. "Delet Lamakot" has been charted in 1 trends (countries):
Monthly Chart Achieves (Top 40 Songs)
The best charting position of the entry is #90 . The worst ranking place of the video is #484. "Delet Lamakot" has been charted in 1 trends (countries):
Daily Chart Achieves (Top 100 Songs)
The highest ranking position of the entry is #90 . The song appeared 8 total times in the Top 100 ; The worst charting place of the entry is #95. Find all daily charts - Top 100 Israel