In One Body

by Eliav Zohar

"In One Body" is Israeli song released on 04 November 2023 in the official channel of the record label - "אליאב זוהר - Eliav Zohar". Discover exclusive information about "In One Body". Explore In One Body lyrics, translations, and song facts. Earnings and Net Worth accumulated by sponsorships and other sources according to information found in the internet. How many times the Israeli song appeared in music charts compiled by Popnable? "In One Body " is well-known music video that took placements in popular top charts, such as Top 100 Israel Music Chart , Top 40 Israeli Songs Chart, and more.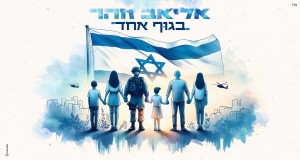 Eliav Zohar "In One Body"

on Apple Music Unlimited

Listen to over 100 million songs—ad free.

Try Apple Music Free
Country
Israel
Added
Report
[Not music related] [Add Artist Related] [Report Fake Views] [Remove Linked Artist] [Add Lyrics] [Add Lyrics Translation]
"In One Body" Facts
"In One Body" has reached 1.1M total views, 14.3K likes, and dislikes on YouTube.

The song has been submitted on 04/11/2023 and spent 3 weeks on the charts.
The original name of the music video "In One Body" is "אליאב זוהר - בגוף אחד".
"In One Body" has been published on Youtube at 02/11/2023 10:00:12
"In One Body" Lyrics, Composers, Record Label
אליאב בפייסבוק:
אליאב באינסטגרם:
אליאב בטיקטוק: @eliav__zohar

להופעות: 054-4690510
ניהול ויחסי ציבור - שיר פינטו: 054-4690510
שיווק דיגיטלי: יקיר ונה הפקות | ;Productions 0522-40-41-41
עיצוב עטיפה והפקת קליפ מילים: Avoxvision

מילים ולחן: אליאב זוהר
עיבוד והפקה מוזיקלית:אריאל יום טוב וניצן אלון

אמא אומרת לך אל תהיה עצוב
עוד כמה ימים זה נגמר והיא תשוב
גם כשכבד על הלב זה עם שלא נשבר
כולנו ביחד הולכים

בגוף אחד לא לוחם שלא שוכח
אבל סולח לעצמו ולכל מי שלא יכל
לאהוב את כולם
יש עוד סיכוי לאהבה

אבא אומר לכולם שיהיה פה טוב
עוד כמה שנים זה יקח הכל כבר קרוב
גם שהגשם יורד ולבבות בוכים
כולנו ביחד אחים

בגוף אחד לוחם שלא שוכח
אבל סולח לעצמו ולכל מי שלא יכל
לאהוב את כולם - כולנו ביחד הולכים
בגוף אחד לוחם שלא שוכח
אבל סולח לעצמו ולכל מי שלא יכל
לאהוב את כולם
יש עוד סיכוי לאהבה שתבוא ונשמח
יש עוד סיכוי לאהבה


קלידים ותכנותים: אריאל יום טוב וניצן אלון
גיטרות: ניצן אלון
פסנתר: ניצן אלון
בס: אריאל יום טוב
בוזוקי: אריאל יום טוב
כלי הקשה: רן גנז ואריאל יום טוב
קולות: ניצן אלון, אריאל יום טוב, אליאב זוהר, נבו עמרני, ספיר מסיקה
כלי מיתר/עיבוד כלי מיתר: יועד ניר
הוקלט באולפן של ניצן אלון ואריאל יום טוב ובאולפן של רן גנז
הקלטת כלי מיתר באולפן של יועד ניר
מיקס: שמוליק דניאל
מאסטרינג: שמוליק דניאל hookstudio hay&mastering

#אליאבזוהר
Weekly Chart Achieves (Top 40 Songs)
The highest charting position of the entry is #4 . The song appeared 2 total times in the Top 10 ; 1 total times in the Top 40 ; The worst ranking place of the video is #32. "In One Body" has been charted in 1 trends (countries):
Monthly Chart Achieves (Top 40 Songs)
The best charting position of the entry is #4 . The song appeared 1 total times in the Top 40 ; The worst ranking place of the video is #24. "In One Body" has been charted in 1 trends (countries):
Daily Chart Achieves (Top 100 Songs)
The highest ranking position of the entry is #4 . The song appeared 12 total times in the Top 10 ; 1 total times in the Top 20 ; 3 total times in the Top 100 ; The worst charting place of the entry is #66. Find all daily charts - Top 100 Israel