Guaranà

by Elodie

"Guaranà" is Italian song released on 17 May 2020 in the official channel of the record label - "ElodieVEVO". Discover exclusive information about "Guaranà". Explore Guaranà lyrics, translations, and song facts. Earnings and Net Worth accumulated by sponsorships and other sources according to information found in the internet. How many times the Italian song appeared in music charts compiled by Popnable? "Guaranà " is well-known music video that took placements in popular top charts, such as Top 100 Italy Music Chart , Top 40 Italian Songs Chart, and more.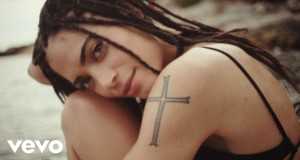 Country
Italy
Added
Report
[Not music related] [Add Artist Related] [Report Fake Views] [Remove Linked Artist] [Add Lyrics] [Add Lyrics Translation]
"Guaranà" Facts
"Guaranà" has reached 36.4M total views, 155.5K likes, and 9.6K dislikes on YouTube.

The song has been submitted on 17/05/2020 and spent 56 weeks on the charts.
The original name of the music video "Guaranà" is "ELODIE - GUARANÀ".
"Guaranà" has been published on Youtube at 16/05/2020 01:00:14
"Guaranà" Lyrics, Composers, Record Label
"Guaranà" è fuori ovunque
Ascolta il nuovo album THIS IS ELODIE

► Segui Elodie



;

Una produzione Maestro Production

Regia: Attilio Cusani
Produttore Esecutivo: Antonio Giampaolo
DOP: Leonardo Mirabilia
Montaggio: Simone Mariano
Colorist: Alessandro Rocchi
Organizzatore Generale: Michela Terzaghi
Focus Puller: Gianluca Battelli
Aiuto Operatore: Nicola De Pinto
Video Assist: Simone Mastronardi
Data Manager: Filippo Salvestri
Capo Elettricista: Alessandro Veridiani
Capo Macchinista: Claudio Romani
Direttore di produzione: Giammario D'Eramo
Production Coordinator: Livia Gabriotti
Personal Stylist: Ramona Tabita
Make up artist: Nicoletta Pinna
Hair style: Alessandro Rocchi
Autista Service: Carlo Di Bianca
Trasporti: ;srl

Thanks to :
Max Brigante
Ena, Mary Claire e Mario di Villa Spani
La Sabaudia Nostrana
;Cartocci Srl

Si ringrazia per la preziosa collaborazione l'Ente Parco Nazionale del Circeo e il Comune di Sabaudia.
Un ringraziamento particolare al Presidente, ;Antonio Ricciardi e al Direttore, ;Paolo Cassola.

Il video è stato realizzato rispettando tutte le misure di sicurezza a tutela del contenimento del virus COVID-19.


► Testo

Disegnerò nel cielo quello che non vedi
Raccontami ogni cosa tranne i tuoi segreti
Te lo spacco quel telefono
L'ho sempre odiato il tuo lavoro
Tiro su le cuffiette in metropolitana
Sopravvissuti come gli iguana
Ci siamo fatti male
la vita è strana
È uno stallo alla messicana
Vengo verso di te verso di te
Per capire le cose migliori che ho
Perso di te perso di te

Dovremmo sfiorarci la pelle
sognare l'estate e le stelle
Prendiamoci tutto ora che non resta ci resta più niente
non ci resta più niente

Vieni più vicino lasciati guardare
Che negli occhi tuoi
Non ci vedo me, non ci vedo il mare
Dimmi cosa vuoi
Da questi attimi eterni
Vincere un Oscar o un Grammy
Cosa succederà
Lasciamo la città
Tequila e Guaranà
Guaranà
Guaranà

Sale il fumo dall'asfalto e l'ombra si nasconde
Ho un tuo messaggio
e un bacio sulla fronte
Giro sospesa nei quartieri
Quant'è bella Milano senza veli
E vengo verso di te verso di te
Per cercare le cose migliori
Che ho perso di te perso di te

Dovremmo sfiorarci la pelle
sognare l'estate e le stelle
Prendiamoci tutto ora che non resta ci resta più niente
non ci resta più niente

Vieni più vicino lasciati guardare
Che negli occhi tuoi
Non ci vedo me, non ci vedo il mare
Dimmi cosa vuoi
Da questi attimi eterni
Vincere un Oscar o un Grammy
Cosa succederà
Lasciamo la città
Tequila e Guaranà
Guaranà
Guaranà

Music video by Elodie performing Guaranà. © 2020 Universal Music Italia Srl


Weekly Chart Achieves (Top 40 Songs)
The highest charting position of the entry is #6 . The song appeared 9 total times in the Top 10 ; 5 total times in the Top 20 ; 7 total times in the Top 40 ; The worst ranking place of the video is #177. "Guaranà" has been charted in 1 trends (countries):
Monthly Chart Achieves (Top 40 Songs)
The best charting position of the entry is #6 . The song appeared 2 total times in the Top 10 ; 1 total times in the Top 20 ; 2 total times in the Top 40 ; The worst ranking place of the video is #911. "Guaranà" has been charted in 2 trends (countries):
Daily Chart Achieves (Top 100 Songs)
The highest ranking position of the entry is #6 . The song appeared 57 total times in the Top 10 ; 40 total times in the Top 20 ; 147 total times in the Top 100 ; The worst charting place of the entry is #100. Find all daily charts - Top 100 Italy