Sila Vnutri

by Jah Khalib

"Sila Vnutri" is Kazakh song released on 20 May 2021 in the official channel of the record label - "Jah Khalib". Discover exclusive information about "Sila Vnutri". Explore Sila Vnutri lyrics, translations, and song facts. Earnings and Net Worth accumulated by sponsorships and other sources according to information found in the internet. How many times the Kazakh song appeared in music charts compiled by Popnable? "Sila Vnutri " is well-known music video that took placements in popular top charts, such as Top 100 Kazakhstan Music Chart , Top 40 Kazakh Songs Chart, and more.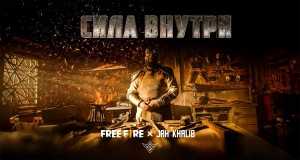 Country
Kazakhstan
Added
Origin Name
Jah Khalib X Free Fire – Сила Внутри | Премьера
Report
[Not music related] [Add Artist Related] [Report Fake Views] [Remove Linked Artist] [Add Lyrics] [Add Lyrics Translation]
"Sila Vnutri" Facts
"Sila Vnutri" has reached 9.6M total views, 66.5K likes, and 1.9K dislikes on YouTube.

The song has been submitted on 20/05/2021 and spent 22 weeks on the charts.
The original name of the music video "Sila Vnutri" is "JAH KHALIB X FREE FIRE – СИЛА ВНУТРИ | ПРЕМЬЕРА".
"Sila Vnutri" has been published on Youtube at 17/05/2021 13:18:33
"Sila Vnutri" Lyrics, Composers, Record Label
Jah Khalib X Free Fire @Free Fire Russia – Сила Внутри

Играть в Free Fire бесплатно:

Совместно с компанией Garena и агентством LVL UP

Исполнительный Продюсер: Станислав Истратов
Продюсер: Анна Проц
Жандос Кахар
Второй режиссер: Мария Рощина
Мадиар Сатыбалдиев
Директор группы/локейшн менеджер: Александр Цветков
Ассистент продюсера: Адина Усембаева

Художественный департамент
Демитрий Колодин
Ассистент художника: Ануар Байсерик
Ассистент художника: Рахат Бугубаев
Ассистент художника: Жулдыз Жумалинова
Ассистент художника: Дильфуза Тешабаева
Ассистент художника: Алексей Лушников
Ассистент художника: Эдгар Нишнианидзе
Ассистент художника: Екатерина Шель
Ассистент художника: Эльдар Невлютов
Ассистент художника: Марат Дауытбаев
Ассистент художника: Бексейтов Берикбай
Ассистент художника: Александр Финенко
Ассистент художника: Богдан Шатерников
Ассистент художника: Михаил Лазарев
Художник по гриму: Галия Бегеева
Ассистент художника по гриму: Дана Винокурова
Художник по костюмам: Айзат Сарсембаев
Ассистент художника по костюмам: Рамиля Ахметова
Ассистент художника по костюмам: Ажар Кудайбергенова

Кастинг
Мадина Жанадилова
Рифат Султанбеков
Виктория Готлиб
Актер: Jah Khalib
Актриса: Мама - Валентина Сараджян
Актер: Отец - Александр Мизерных
Актер: "Парень с цветными волосами Денис Матенов"
Актер: Парень с деревни - Олжас Сизабек
Актер: Дедушка - Марат Жанузаков
Актриса: Девушка скейтер - Аружан Ахметова
Актер: Парень игрок: Амир Мирзоев
Актер: Парень игрок: Богдан Ким
Актер: Парень игрок: Кирилл Хохлов
Актер: Парень игрок: Рустем Шабаров
Актер: Доставщик - Никита Томин
Актер: Мама доставщика - Марина Кульметова

Камера и Свет
Гаффер: Султан Какимбеков
Фокус-пуллер: Амир Зарубеков
Механик камеры: Есен Сырлыбаев
Механик оптики: Бексултан Бектурган
Осветитель: Дмитрий Ли
Осветитель: Нурсултан Муханов
Осветитель: Поти Муханов
Дольщик: Нурлан Замалдинов
DIT: Эльдар Джабраилов
DIT ассистент: Владислав Игнатович
VFX: Олег Чарухин
VFX: Леонид Пак
VFX: Роман Мокров
VFX: Данияс Дабырбек
VFX: Луиза Долгиева

Администрация
Страший Администратор: Даурен Ержанулы
Администратор: Азат Жумуров
Администратор: Кайыржан Кайыртай
Крафт: Асель Асанова
Крафт: Рамиль Малькеев
Бэкстейдж видео: Калбек Нурдос
Бэкстейдж фото: Санжар Нукасов

Постпродакшн
VFX-супервайзер: Ануар Базаргельди
Монтаж: Шынгыс Богданов

Водители
Водитель группы: Аян Берикбосынов
Водитель группы: Гани Утеев
Водитель группы: Ержан Адиль
Водитель группы: Евгений Пушкин
Водитель группы: Ерлан Шапепов
Водитель группы: Бахтияр Худайкулов


#JahKhalib​​ #FreeFire #FFWS #СилаВнутри



QARA 2021
Weekly Chart Achieves (Top 40 Songs)
The highest charting position of the entry is #1 . "Sila Vnutri" atop the Top 40 Songs Chart for 2 total weeks. The song appeared 2 total times in the Top 10 ; 1 total times in the Top 20 ; 4 total times in the Top 40 ; The worst ranking place of the video is #305. "Sila Vnutri" has been charted in 2 trends (countries):
Monthly Chart Achieves (Top 40 Songs)
The best charting position of the entry is #1 . "Sila Vnutri" atop the Top 40 Songs Chart for 1 total months. The song appeared 1 total times in the Top 10 ; 1 total times in the Top 40 ; The worst ranking place of the video is #758. "Sila Vnutri" has been charted in 2 trends (countries):
Daily Chart Achieves (Top 100 Songs)
The highest ranking position of the entry is #1 . "Sila Vnutri" atop the Top 100 Songs Chart for 9 total days. The song appeared 12 total times in the Top 10 ; 4 total times in the Top 20 ; 73 total times in the Top 100 ; The worst charting place of the entry is #98. Find all daily charts - Top 100 Kazakhstan