"Permission To Dance" is Korean song released on 09 July 2021 in the official channel of the record label - "ibighit". Discover exclusive information about "Permission To Dance". Explore Permission To Dance lyrics, translations, and song facts. Earnings and Net Worth accumulated by sponsorships and other sources according to information found in the internet. How many times the Korean song appeared in music charts compiled by Popnable? "Permission To Dance " is well-known music video that took placements in popular top charts, such as Top 100 South Korea Music Chart , Top 40 Korean Songs Chart, and more.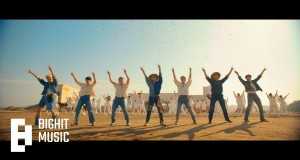 Video
Permission To Dance
Country
South Korea
Added
Origin Name
Bts (방탄소년단) 'permission To Dance' Official Mv
Report
[Not music related] [Add Artist Related] [Report Fake Views] [Remove Linked Artist] [Add Lyrics] [Add Lyrics Translation]
"Permission To Dance" Facts
"Permission To Dance" has reached 550.8M total views, 17M likes, and 0 dislikes on YouTube.

The song has been submitted on 09/07/2021 and spent 74 weeks on the charts.
The original name of the music video "Permission To Dance" is "BTS (방탄소년단) 'PERMISSION TO DANCE' OFFICIAL MV".
"Permission To Dance" has been published on Youtube at 09/07/2021 06:59:12
"Permission To Dance" Lyrics, Composers, Record Label
BTS (방탄소년단) 'Permission to Dance' Official MV

Join the ????Permission to Dance???? Challenge!
????Permission to Dance???? 챌린지에 초대합니다!
????


Credits:
Director: Yong Seok Choi (Lumpens) & Woogie Kim (MOTHER)

-SEOUL credits:

1st AD: Jihye Yoon (Lumpens)
2nd AD: Ran Ro (Lumpens)
PA: Soeyoung Park, Chanyang Kim

Producer: Emma Sungeun Kim (GE Production)
Production manager: Park Jin Sung
Assistant Production: Seo Min ho, Kim Byeongman, Choi Seung Won, Ahn Joo Young, Kim Areum

Director of Photography: Hyunwoo Nam (MOTHER)
Focus Puller: Sangwoo Yun
2nd AC: Eunki Kim
3rd AC: Youngseo Park
DIT: Minjoo You
B Camera Operator: Eumko
Jimmy Jib: Youngjoong Kim, Hyun In Kim, Sunghoon Kim
Techno Crane: Service Vision

Gaffer: Song Hyunsuk (Real Lighting)
Lighting Crew: Choi Jung Hyun, Hwang Uigyu, Park Gyutae, Park Yeonghwan, Jang Yunseok, Sim Junhyeok, Park Seounghun, Woo Sujin, Kim Yeongjin

Production Designer: Jinsil Park, Bona Kim(MU:E)
Assistant Art team: Yeri Kang, Jieun Yoon, A yeong Choi (MU:E)
Jihye An, Jooho Jeong,Taegwan Nam, June Heo, Seonghun Kim, Chaemin Jung, Ryoonha Kim, Suyeon Park
Art-team Manager: ilho Heo (MU:E)

Set: Yonghwi Cho, Euljung Kim, Hyeokjun Lee(ILL SAN ARTCENTER)

Mural Design Collaboration: Abel Macias

DI: LUCID COLOUR
Colorist: Wonseok Ko
DI Crew: Seonyoung Lee, Minjeong Kim, Hwa Dong Jeon, Jaeyeon Baek, Somi Na, Dain Kim, Sujeong Park
DI Producer: Sooyun Hyun

-LA credits:

Executive Producer: Katt Kim (MOTHER)

LA Production Company: Ways & Means
Executive Producers: Lana Kim, Jett Steiger
Head of Production: Lauren Skillen

Director of Photography: Andy Kim (MOTHER)

Producer: Brandon Robinson
Production Manager: Nick Andrus
Production Coordinator: Brendan Lynch

1st Assistant Director: Bashir Taylor
2nd Assistant Director: Carlos Salazar

1st AC: Misael Audelo
2nd AC: Genevieve Agar

VTR: Robbie Johnson
Playback: Dylan Silverglate

Key Grip: Aram Martirosyan
Gaffer: Mike Misslin
Swing / Driver: Mason Malone

Production Designer: Taylor Almodovar
Art Director: Justin Gardner
Set Dresser: Hannah Olsen
Art PA: Corey Boldt

Location Manager: Paris Cronin
Sire Rep: Mark Vigil

Craft Service: Itan Chavira
Studio Teacher: Saena Yi

Set PAs: Danny Alvarez, Mollie Lemm, Federica Lomoriello, Lydia Alexander Du Veaux
Office PA: Deanna Faour
Truck PA: Richie Jacobo

Seoul Production Company: MOTHER

Supervising Creative: Doori Kwak
Producer: Daye Noh

Production Designer: Ina Hwang
Production Design Assistant: Songwoon Kim

Lighting Team: Best Boy Lighting
Seongil Lee, Jiwoo Hong


BIGHIT ;Rights are reserved selectively in the ;Unauthorized reproduction is a violation of applicable ;Manufactured by BIGHIT MUSIC, Seoul, Korea.

0:00 Permission to Dance
2:24 Join the #PermissiontoDance challenge
2:39 Only on YouTube #Shorts

Connect with BTS:
;

;












#BTS #방탄소년단 #PermissiontoDance #BTS_Butter
Weekly Chart Achieves (Top 40 Songs)
The highest charting position of the entry is #1 . "Permission To Dance" atop the Top 40 Songs Chart for 5 total weeks. The song appeared 25 total times in the Top 10 ; 26 total times in the Top 20 ; 22 total times in the Top 40 ; The worst ranking place of the video is #364. "Permission To Dance" has been charted in 2 trends (countries):
Monthly Chart Achieves (Top 40 Songs)
The best charting position of the entry is #1 . "Permission To Dance" atop the Top 40 Songs Chart for 2 total months. The song appeared 7 total times in the Top 10 ; 5 total times in the Top 20 ; 4 total times in the Top 40 ; The worst ranking place of the video is #681. "Permission To Dance" has been charted in 2 trends (countries):
Daily Chart Achieves (Top 100 Songs)
The highest ranking position of the entry is #1 . "Permission To Dance" atop the Top 100 Songs Chart for 26 total days. The song appeared 186 total times in the Top 10 ; 180 total times in the Top 20 ; 281 total times in the Top 100 ; The worst charting place of the entry is #100. Find all daily charts - Top 100 South Korea