Cherry

by Ab6Ix

"Cherry" is Korean song released on 27 September 2021 in the official channel of the record label - "BRANDNEW MUSIC". Discover exclusive information about "Cherry". Explore Cherry lyrics, translations, and song facts. Earnings and Net Worth accumulated by sponsorships and other sources according to information found in the internet. How many times the Korean song appeared in music charts compiled by Popnable? "Cherry " is well-known music video that took placements in popular top charts, such as Top 100 South Korea Music Chart , Top 40 Korean Songs Chart, and more.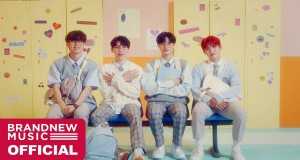 Country
South Korea
Added
Origin Name
Ab6Ix (에이비식스) 'cherry' M/v
Report
[Not music related] [Add Artist Related] [Report Fake Views] [Remove Linked Artist] [Add Lyrics] [Add Lyrics Translation]
"Cherry" Facts
"Cherry" has reached 22.3M total views, 75K likes, and 467 dislikes on YouTube.

The song has been submitted on 27/09/2021 and spent 2 weeks on the charts.
The original name of the music video "Cherry" is "AB6IX (에이비식스) 'CHERRY' M/V".
"Cherry" has been published on Youtube at 27/09/2021 12:00:06
"Cherry" Lyrics, Composers, Record Label
AB6IX (에이비식스) 'CHERRY' M/V

'MO' COMPLETE' Available Everywhere Now!
Melon :
Apple Music :

작사 이대휘, 박우진
작곡 이대휘, On the road, 김승준
편곡 On the road, 김승준


[LYRICS]

Hey you repeat after me say
(Yeah yeah yeah yeah yeah yeah yeah)
Hey there repeat after me say oh
(Yeah yeah yeah yeah yeah yeah yeah)

You are bittersweet cherry
내가 너를 많이 좋아해 very
한입 베어 물어 squirt 난 물들지
Cherry burgundy that's what I mean
Your eyes so deep like atlantic
넓은 바다 위 항해하듯이
And I will swim in ocean blue
With a cherry on top of cocktail blue

Oh you make me fall in love
사랑이란 감정 what is love
괜스레 얼굴이 붉어지는 걸
Girl let's be chill let's be chill
너무 깊이 생각지는 마
And Just for this just for this time
Imma bite you off your lips (muah)

1,2 step 너에게로
하나 둘 셋까지 세고
Oh this love is like a baby blue
You're my cherry on top
Final round got nothing to lose now
Imma give it a shot
Whether or not just go

You are my cherry (yum)
나마저도 붉게 물들어간다
You're my cherry on top You're my cherry on
You're my cherry on top You're my cherry on
Just like a cherry (yum)
달콤한 향기로 나를 조여와
You're my cherry on top you're my cherry on
You're my cherry on top you're my cherry on

Cherish you so sweet oh sweet girl (huh umm)
Treasure you my one and only (woo yeah yeah)
With a bite of a cherry
I can't get enough of you
Yeah I'm falling in love with you

Sober but 어느새 네 옆에
와있네 몸을 끌어당겨 magnet
하루 종일 옆에 딱 붙어있어
N과 S극처럼 우리 둘

Yeah 자연스레 바람을 타고 흐르는
우리 같이 들떠있는 아름다운 melody
눈빛을 주고받은 뒤 말하지 않아도 알아버린
서로의 마음을 take it

1,2 step 너에게로
하나 둘 셋까지 세고
Oh this love is like a baby blue
You're my cherry on top
Final round got nothing to lose now
Imma give it a shot
Whether or not just go

You are my cherry (yum)
나마저도 붉게 물들어간다
You're my cherry on top you're my cherry on
You're my cherry on top you're my cherry on
Just like a cherry (yum)
달콤한 향기로 나를 조여와
You're my cherry on top you're my cherry on
You're my cherry on top you're my cherry on

You're my cherry on top
Like a berry on top of a cake
(Yeah that's right)
네가 보낸 눈빛 또 아름답고도 탐이 나는
너의 입술 체리보다 sweet해
I can't breathe ay
헝클어진 머리조차도 my style
내 맘을 숨기는 건 not my type
우리 함께 하는 순간 매일 꿈같아
Everyday 행복해 너를 볼 때

Hey you repeat after me say
(Yeah yeah yeah yeah yeah yeah yeah)
Hey there repeat after me say oh
(Yeah yeah yeah yeah yeah yeah yeah)
Once again repeat after me say
(Yeah yeah yeah yeah yeah yeah yeah)
So here we are now
Singing love for tonight

You are my cherry (yum)
어느새 가까워진 이 거리가
You're my cherry on top you're my cherry on
You're my cherry on top you're my cherry on
Just like a cherry (yum)
손이 닿을 듯 말 듯 하는 거리가
You're my cherry on top you're my cherry on
You're my cherry on top you're my cherry on

Cherish you so sweet oh sweet girl (huh umm)
Treasure you my one and only (woo yeah yeah)
With a bite of a cherry
I can't get enough of you
Yeah I'm falling in love with you


AB6IX (에이비식스) Official @




BRANDNEW MUSIC Official @




#AB6IX #에이비식스 #CHERRY #MO_COMPLETE #전웅 #김동현 #박우진 #이대휘 #브랜뉴뮤직 #BRANDNEWMUSIC
Weekly Chart Achieves (Top 40 Songs)
The highest charting position of the entry is #4 . The song appeared 2 total times in the Top 10 ; 1 total times in the Top 20 ; The worst ranking place of the video is #55. "Cherry" has been charted in 2 trends (countries):
Monthly Chart Achieves (Top 40 Songs)
The best charting position of the entry is #4 . The worst ranking place of the video is #241. "Cherry" has been charted in 1 trends (countries):
Daily Chart Achieves (Top 100 Songs)
The highest ranking position of the entry is #4 . "Cherry" atop the Top 100 Songs Chart for 1 total days. The song appeared 13 total times in the Top 10 ; 4 total times in the Top 20 ; 6 total times in the Top 100 ; The worst charting place of the entry is #90. Find all daily charts - Top 100 South Korea