Adakah Ini Mimpi

by Reedzwann

"Adakah Ini Mimpi" is Malaysian song released on 07 March 2021 in the official channel of the record label - "Rusa Music". Discover exclusive information about "Adakah Ini Mimpi". Explore Adakah Ini Mimpi lyrics, translations, and song facts. Earnings and Net Worth accumulated by sponsorships and other sources according to information found in the internet. How many times the Malaysian song appeared in music charts compiled by Popnable? "Adakah Ini Mimpi " is well-known music video that took placements in popular top charts, such as Top 100 Malaysia Music Chart , Top 40 Malaysian Songs Chart, and more.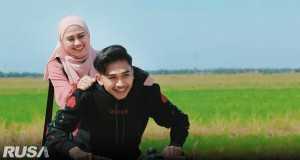 Country

Malaysia
Added
Origin Name
Reedzwann - Adakah Ini Mimpi [Official Music Video]
Report
[Not music related] [Add Artist Related] [Report Fake Views] [Remove Linked Artist] [Add Lyrics] [Add Lyrics Translation]
"Adakah Ini Mimpi" Facts
"Adakah Ini Mimpi" has reached 13.1M total views, 207.8K likes, and 6.3K dislikes on YouTube.

The song has been submitted on 07/03/2021 and spent 14 weeks on the charts.
The original name of the music video "Adakah Ini Mimpi" is "REEDZWANN - ADAKAH INI MIMPI [OFFICIAL MUSIC VIDEO]".
"Adakah Ini Mimpi" has been published on Youtube at 07/03/2021 08:37:55
"Adakah Ini Mimpi" Lyrics, Composers, Record Label
Single rasmi kedua selepas 'Cinta Pandang Pertama', Reedzwann membawa lagu terbaru ciptaan beliau sendiri yang bertajuk 'Adakah Ini Mimpi' yang dimana muzik videonya juga membawa kesinambungan dari kisah muzik video pertama.

Adakah Ini Mimpi
Reedzwann
Composer & Lyricist: Reedzwann
Publisher: RUSA Marketing Sdn Bhd
Music Arranger & Producer: Harry Khalifah
Drum: Ujang
Mixing: Vincent Chan (RUSA Studio)
Mastering: CL Toh (Mastering One Studio)

Story : Reedzwann
Director : Steve Long
Video Editor : Shiwen
Make up : Yikki Yip
Talent : Aidilia Hilda ,Haikal Farid

Official IG:
@reedzwann


Caller Ringtone 'Adakah Ini Mimpi':

Reedzwann - Adakah Ini Mimpi (Verse)
Maxis CRT : Dail *131*680761# and press CALL
Digi Caller Tunes : Dail *233*1530575# and press CALL
Celcom CMT :Dail *323*763231# and press CALL

Reedzwann - Adakah Ini Mimpi (Chorus)
Maxis CRT : Dail *131*680760# and press CALL
Digi Caller Tunes : Dail *233*1530574# and press CALL
Celcom CMT :Dail *323*763230# and press CALL

Reedzwann - Adakah Ini Mimpi
Maxis CRT : Dail *131*680759# and press CALL
Digi Caller Tunes : Dail *233*1530573# and press CALL
Celcom CMT :Dail *323*763229# and press CALL

Lirik Reedzwann 'Adakah Ini Mimpi':

Pada mulanya ku sangka dirimu
Yang terbaik untuk diriku
Awalnya aku berharap padamu
Selamanya ada disampingku

Mungkinkah itu semua
Hanya mimpi ku

Manisnya kenangan saat bersamamu
Kini terpaksa melepaskan mu
Biar ku mencuba sedaya upaya
Menerima segala kenyataannya

Biarkan kau pergi
Demi bahagia

Indahnya bintang berkerlipan
Hati tersiksa menahan luka
Walaupun kini ku di sakitkan
Ku tetap berdoa engkau bahagia

Bersama dirinya
Insan yang kau cinta

Indahnya bintang berkerlipan
Hati tersiksa menahan luka
Walaupun kini ku di sakitkan
Ku tetap berdoa engkau bahagia

Bersama dirinya
Insan yang kau cinta

Insan yang kau cinta



#AdakahIniMimpi #Reedzwann

Follow US !!!
Youtube:
Facebook:
Twitter:
Instagram :

For show booking and promotion : +010-2315388 / +010-9363588


Subscribe to our YouTube channel:


© 2021 | RUSA MARKETING ; ;| All Right Reserved
Weekly Chart Achieves (Top 40 Songs)
The highest charting position of the entry is #2 . The song appeared 14 total times in the Top 10 ; The worst ranking place of the video is #5. "Adakah Ini Mimpi" has been charted in 1 trends (countries):
Monthly Chart Achieves (Top 40 Songs)
The best charting position of the entry is #2 . The song appeared 3 total times in the Top 10 ; The worst ranking place of the video is #6. "Adakah Ini Mimpi" has been charted in 1 trends (countries):
Daily Chart Achieves (Top 100 Songs)
The highest ranking position of the entry is #2 . The song appeared 100 total times in the Top 10 ; The worst charting place of the entry is #7. Find all daily charts - Top 100 Malaysia