Manan

by Gangbay

"Manan" is Mongolian song released on 30 December 2021 in the official channel of the record label - "Guys хамтлаг official". Discover exclusive information about "Manan". Explore Manan lyrics, translations, and song facts. Earnings and Net Worth accumulated by sponsorships and other sources according to information found in the internet. How many times the Mongolian song appeared in music charts compiled by Popnable? "Manan " is well-known music video that took placements in popular top charts, such as Top 100 Mongolia Music Chart , Top 40 Mongolian Songs Chart, and more.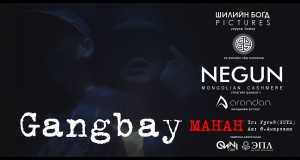 Country

Mongolia
Added
Origin Name
Gangbay "манан" #new_Video (Official M/v) #guys25Anniversary2022
Report
[Not music related] [Add Artist Related] [Report Fake Views] [Remove Linked Artist] [Add Lyrics] [Add Lyrics Translation]
"Manan" Facts
"Manan" has reached 1.6M total views, 24.1K likes, and 0 dislikes on YouTube.

The song has been submitted on 30/12/2021 and spent 3 weeks on the charts.
The original name of the music video "Manan" is "GANGBAY "МАНАН" #NEW_VIDEO (OFFICIAL M/V) #GUYS25ANNIVERSARY2022".
"Manan" has been published on Youtube at 30/12/2021 14:06:55
"Manan" Lyrics, Composers, Record Label
Guys хамтлагийн 25 жилийн ойд зориулан "МАНАН" дууг #Gangbay хамтлагийн хөдөлмөрч, мэргэшсэн уран бүтээлч залуус өөрсдийн хэмнэл, хэв маягт нийцүүлэн, шинэ цагийн хүүхэд залуустаа болон Guys хамтлаг болон Guys-ын үзэгч сонсогч та бүхэнд зориулан "МАНАН" дууны клипийг шинэчлэн хийж дахин бүтээлээ.
Нүд тань баястугай, чих тань жаргатугай...

GUYS-ын үзэгч сонсогчдыг жаргаасан та бүхэндээ машид их БАЯРЛАЛАА...
Энэ бол хамтын уран бүтээл. Энэхүү уран бүтээллүүдийг хийхэд урлагт хайртай олон хүний хамтын үүрэг оролцоо их билээ.

#GUYS хамтлагийн 25 жилийн ойд зориулсан #Guys25annivesary2022 төслийн санаачлагч:
ШИЛИЙН БОГД PICTURES ХХК

Ерөнхий продюсер: Х. Бат-Ундрал (Guys Uugii) Шилийн Богд Pictures-ийн гүйцэтгэх захирал

Төслийн гүйцэтгэгч: Арандан фильм

Төслийн Ерөнхий Спонсор, Урлагийг дэмжигч:
#NEGUN #Mongolian #Cashmere

Төслийн хамтрагч, дэмжигч байгууллага:
#OMNi_Club


"МАНАН"
Gangbay performing "MANAN" (P)2021.
Music by: ;Amarzaya
Lyrics by: Uugii (GUYS) ;Bat-Undral
Rap lyrics by: Ganga & Baynaa (Gangbay)
Music arranged by: #Bandit
Recording studio: #Zaya / #TATAR/
Record Mixing & Mastering: LoDko
Directed & Filmed by: ;Myagmar (Arandan Film)
Cameraman: ;Enkhbat (Arandan Film)
Edited by : ;Amarjargal (Arandan Film)
Locations manager: ;Unurjargal (СТА)

Actors:
А. Дашпэлжээ (АЖ) ;Dashpeljee
Ж. Бямбаа (МУСГЗ) ;Byambaa
Д. Ганбат (Gangbay Gangaa) ;Ganbat
М. Ундрам (Tv9 television News Anchor) ;Undram
С. Баянмөнх (Gangbay Baynaa) ;Bayanmunkh
Ж. Өнөржаргал (СТА) ;Unurjargal
О. Энхсаруул ;Enksaruul
Л. Цэрэнтогтох (СТА) ;Tserentogtokh
М. Од (ДБЭТ-ын балетын гоцлол бүжигчин,СТА)
З. Баярбаатар ;Bayarbaatar

Special thanks to:
NEGUN Mongolian cashmere LLC
Баянчандмань сумын ЗДТГ
Баянчандмань сумын засаг дарга Г. Ариунболд
Баянчандмань сумын Полтехникийн Коллеж
Баянчандмань, Полтехникийн Коллежийн захирал Э. Амартүвшин
Баянчандмань сумын Ерөнхий боловсролын сургуулийн 12А анги
Баянчандмань сумын ард иргэд
Хилийн цэргийн 151-р анги
Монгол Кино Нэгтгэл ТӨҮГ
Монгол Улсын Консерватори
OMNi Night Club
ЭПЛ Якутские бриллианты
Баянзүрх дүүргийн соёлын ордон Жанжан клуб
Л. Мөнх
Н. Болдбаатар
Э. Данзанпунцаг
Б. Дэмид
П. Төгөлдөр

Хүндэтгэсэн GUYS хамтлаг...
Weekly Chart Achieves (Top 40 Songs)
The highest charting position of the entry is #1 . "Manan" atop the Top 40 Songs Chart for 2 total weeks. The song appeared 3 total times in the Top 10 ; The worst ranking place of the video is #2. "Manan" has been charted in 1 trends (countries):
Daily Chart Achieves (Top 100 Songs)
The highest ranking position of the entry is #1 . "Manan" atop the Top 100 Songs Chart for 11 total days. The song appeared 22 total times in the Top 10 ; The worst charting place of the entry is #3. Find all daily charts - Top 100 Mongolia