"Let´s Get It" is Mozambican song released on 08 December 2020 in the official channel of the record label - "Messias Maricoa". Discover exclusive information about "Let´s Get It". Explore Let´s Get It lyrics, translations, and song facts. Earnings and Net Worth accumulated by sponsorships and other sources according to information found in the internet. How many times the Mozambican song appeared in music charts compiled by Popnable? "Let´s Get It " is well-known music video that took placements in popular top charts, such as Top 100 Mozambique Music Chart , Top 40 Mozambican Songs Chart, and more.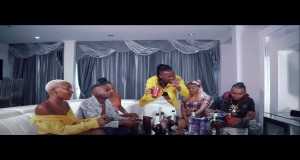 Country
Mozambique
Added
Origin Name
I'black X Messias Maricoa X Crunk Boy - Let´s Get It
Report
[Not music related] [Add Artist Related] [Report Fake Views] [Remove Linked Artist] [Add Lyrics] [Add Lyrics Translation]
"Let´s Get It" Facts
"Let´s Get It" has reached 68.9K total views, 1.6K likes, and 53 dislikes on YouTube.

The song has been submitted on 08/12/2020 and spent 21 weeks on the charts.
The original name of the music video "Let´s Get It" is "I'BLACK X MESSIAS MARICOA X CRUNK BOY - LET´S GET IT".
"Let´s Get It" has been published on Youtube at 08/12/2020 16:00:10
"Let´s Get It" Lyrics, Composers, Record Label
I'Black x Messias Maricoa x Crunk Boy - LET´S GET IT

MessiasMaricoa




I'Black


CrunkBoy


Musica:
Letra e música: Messias Maricoa, ImBlack, Amir CB
Captação & Masterização- DaytonBeatz
Prod by Bicoprod
Vídeo: Amir CB
Realização : Amir CB
Edição - Amir CB

LETRA:

Acordei, eram por aí 11 h e meia
Sem ideia e minha Carteira bem cheia
Qual é a ideia, vou ligar para minhas ha ... há party no Home

Essa dama é um Bugatti
As vezes fico tonto e lhe confundo Maserati
Eu li amo ela não sabe ehh
Ela não poupa , o corpo dela me dá coça
Provei o veneno dela e gostei, dizem o que não mata engorda
Eu li amo no verão, esse verão, outro verã ;
Outros verão outros verão li amar com essa força toda yah
Ela não sabe, na Disney ela é minha Barbie
Se ela é um maionese, então me chame tomate sauce.

Esta é para nós e para quem gosta de nós

Coro

Lets get it Lets get it (Raaaaaaaaa)
Fica a vontade no meu room
Podes juntar com minha Crew
Tudo o que tu precisares só pedire (raaaaaaa)
Podes sentar no meu lambo se permitires teu mambo
É que teu corpo já está me seduzire.

Lets get it lets get it, teu corpo está seduzireee
Nem precisas me pedire
Tens a passe tens à dire yah
Lets get it, lets get it, teu corpo está seduzireee
Nem precisas me pedire
Tens a passe tens a dire
Ohhh é que teu body faz show
Eu adoro quando espalhas este flow
Fico parvo isso deve ser um dom ohhhh ohhhh
Quem te criou, te desenhou, teu skill matou me viciou

Coro

Lets get it Lets get it (Raaaaaaaaa)
Fica a vontade no meu room
Podes juntar com minha Crew
Tudo que tu precisares só pedire (raaaaaaa)
Podes sentar no meu lambo se permitires teu manbo
É que teu corpo já está me seduzireeee.

Eu Sou o Crunk Boy what is up girl nas streets o miúdo das pics
Como disse o black wire, lets get it lets get it Ahmm
Macua de raça, pronto para caça vens para minha zona?
Todo dia só namora, diz para a cota está na escola
Teu corpo é uma jail
Vem para meu hood
Já estou pausado na hood
Seja bem vindo ao meu hood
Queres champanhe ou Room?

Todas tuas amigas no meu Car black cabem
Vem fazer carinho nessas barbas do xxxxxxden se precisas de cozinha chama tuas amigas e prepara para todos nós Barbie
Um gajo trabalha com essas cenas dinheiro só me trás problemas
Minha vida tipo é um cinema e tu sabes.

Coro

Lets get it Lets get it (Raaaaaaaaa)
Fica a vontade no meu room
Podes juntar com minha Crew
Tudo que tu precisares só pedireeee (raaaaaaa)
Podes sentar no meu lambo se permitires teu manbo
É que teu corpo já está me seduzireeee.

#Letsgetit #MessiasMaricoa #IBlack #CrunkBoy
Copyright © 2020
Weekly Chart Achieves (Top 40 Songs)
The highest charting position of the entry is #2 . The song appeared 14 total times in the Top 10 ; 7 total times in the Top 20 ; The worst ranking place of the video is #18. "Let´s Get It" has been charted in 1 trends (countries):
Daily Chart Achieves (Top 100 Songs)
The highest ranking position of the entry is #2 . "Let´s Get It" atop the Top 100 Songs Chart for 1 total days. The song appeared 99 total times in the Top 10 ; 52 total times in the Top 20 ; The worst charting place of the entry is #20. Find all daily charts - Top 100 Mozambique