Don't Be Shy

by Tiësto , Karol G

"Don't Be Shy" is Dutch song released on 12 August 2021 in the official channel of the record label - "Tiësto". Discover exclusive information about "Don't Be Shy". Explore Don't Be Shy lyrics, translations, and song facts. Earnings and Net Worth accumulated by sponsorships and other sources according to information found in the internet. How many times the Dutch song appeared in music charts compiled by Popnable? "Don't Be Shy " is well-known music video that took placements in popular top charts, such as Top 100 Netherlands Music Chart , Top 40 Dutch Songs Chart, and more.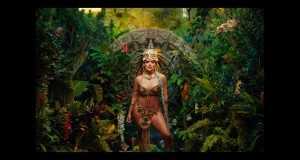 Country

Netherlands
Added
Origin Name
Tiësto & Karol G - Don't Be Shy (Official Music Video)
Report
[Not music related] [Add Artist Related] [Report Fake Views] [Remove Linked Artist] [Add Lyrics] [Add Lyrics Translation]
"Don't Be Shy" Facts
"Don't Be Shy" has reached 303.2M total views, 2.3M likes, and 0 dislikes on YouTube.

The song has been submitted on 12/08/2021 and spent 67 weeks on the charts.
The original name of the music video "Don't Be Shy" is "TIËSTO & KAROL G - DON'T BE SHY (OFFICIAL MUSIC VIDEO)".
"Don't Be Shy" has been published on Youtube at 12/08/2021 19:00:10
"Don't Be Shy" Lyrics, Composers, Record Label
Tiësto & Karol G - Don't Be Shy
Stream/DL:

@tiesto & @karolg - "Don't Be Shy"
Starring @blakewebber :
Music Video out now!
-
Director: @christianbreslauer
Executive Producer: @lluuggaaaa @christhedirector
Producer: @miketheproducer
Associate Producer: @
Line Producer: @nicky_bonez
Production manager: @blaisedoce
Production Coordinator: @anthony_nelson
Production Company: @luckybastards_inc @londonalley
Tiesto Mgmt: @bobasicgram
Karol G Mgmt: @andresfdelgado_ @yegiraldo_
Commissioner's: @wynterstar @philbotti
Label: @atlanticrecords
-
Director of Photography: @nykallen
1st AD: @makingmovesmorales
2nd AD: J Dash
Steadi Cam: Jorge Bustamonte
1st AC A Cam: Juan Carlos
2nd AC: Diego rojas
Techno Crane: @
Audio / Playback: Guillermo Ursini
BTS: Bugsy Rodriguez
-
Gaffer: @eastsidemovie_
BBE: Franky Flietes
Electric: Daniel Carrillo
Key Grip: Charles Day
BBG: Aaron Collier
Grip: David Fils-aime
-
Production Designer: @garabatoarte
And the rest of his hard working Team
-
Key Makeup: @mairamiceli
Assistant Makeup: Samantha Saldias
Hair: Lucio Luciano
Seamstress: Alba Realpe
Stylist/Costuming: @limilian
Assistant Stylist: Jill Gomez
-
Casting Director: @estylecasting
Lead Choreographer: @gregchapkis
Dancer: @
Dancer: Miguel Angel Garcia
Dancer: Justen Taylor
Dancer: Jean-Paul Cajina
Dancer: @katuhleen
Dancer: @jada_anne
-
Editor: @callaird
Color: @billy_hobson_color
VFX Supervisor: @sergiimashevskyi
VFX: @cameofx
-
Key PA: @james_hirschfeld
PA: Alex Aguero
PA: Caio Jordao
PA: Johnathan Menendez
PA: Selena Savage
PA: Ron Digerno
PA: Markensy Joseph

Thank you to everyone who went above and beyond to make this video as epic as ;We appreciate you ;

Make sure to subscribe to Tiësto's channel and turn on notifications to stay updated with all new uploads: ;

Get more music from Tiësto:
Spotify:
Apple Music:
Soundcloud:
Deezer:

Shop the Tiësto Store:

Follow Tiësto:
;
Facebook:
Instagram:
Twitter:
Snapchat:
Subscribe to his YouTube channel:

Follow Karol G
IG:
FB:
Twitter:
TikTok:

See Tiësto live:

LYRICS

Verses
people say
I'm not gonna change
not gonna change
I know that you like that
you know where my mind's at
can't be tamed
I'm not gonna play
not gonna play
oh no I ain't like that
fuck 'em i'm a wild cat

CHORUS
baby break my heart
give me all you got
don't ask why why why
don't be shy shy shy
is it love or lust
i can't get enough
don't ask why why why
don't be shy shy shy

POST
la la la la la
la la la la la
la la la la la
Ta da da da da
la la la la la
la la la la la
la la la la la
Ta da da da da

BRIDGE
show yourself beautiful
wanna get emotional oh-oh-oh
mmmm
follow me, easy now
we could work a miracle
oh-oh-oh

#Tiesto #KarolG #DontBeShy
Weekly Chart Achieves (Top 40 Songs)
The highest charting position of the entry is #1 . "Don't Be Shy" atop the Top 40 Songs Chart for 65 total weeks. The song appeared 66 total times in the Top 10 ; 1 total times in the Top 20 ; 1 total times in the Top 40 ; The worst ranking place of the video is #307. "Don't Be Shy" has been charted in 2 trends (countries):
Monthly Chart Achieves (Top 40 Songs)
The best charting position of the entry is #1 . "Don't Be Shy" atop the Top 40 Songs Chart for 14 total months. The song appeared 15 total times in the Top 10 ; The worst ranking place of the video is #689. "Don't Be Shy" has been charted in 2 trends (countries):
Daily Chart Achieves (Top 100 Songs)
The highest ranking position of the entry is #1 . "Don't Be Shy" atop the Top 100 Songs Chart for 450 total days. The song appeared 472 total times in the Top 10 ; 4 total times in the Top 20 ; 72 total times in the Top 100 ; The worst charting place of the entry is #100. Find all daily charts - Top 100 Netherlands