Borracho

by Dj Khaled , Sech

"Borracho" is Panamanian song released on 25 November 2021 in the official channel of the record label - "Sech". Discover exclusive information about "Borracho". Explore Borracho lyrics, translations, and song facts. Earnings and Net Worth accumulated by sponsorships and other sources according to information found in the internet. How many times the Panamanian song appeared in music charts compiled by Popnable? "Borracho " is well-known music video that took placements in popular top charts, such as Top 100 Panama Music Chart , Top 40 Panamanian Songs Chart, and more.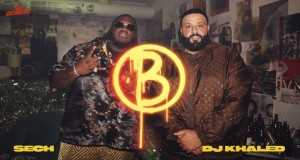 Dj Khaled, Sech "Borracho"

on Apple Music Unlimited

Listen to over 100 million songs—ad free.

Try it FREE
Country

Panama
Added
Origin Name
Sech, Dj Khaled - Borracho (Video Oficial)
Report
[Not music related] [Add Artist Related] [Report Fake Views] [Remove Linked Artist] [Add Lyrics] [Add Lyrics Translation]
"Borracho" Facts
"Borracho" has reached 22.3M total views, 230.4K likes, and 0 dislikes on YouTube.

The song has been submitted on 25/11/2021 and spent 104 weeks on the charts.
The original name of the music video "Borracho" is "SECH, DJ KHALED - BORRACHO (VIDEO OFICIAL)".
"Borracho" has been published on Youtube at 25/11/2021 18:06:44
"Borracho" Lyrics, Composers, Record Label
@Sech , @DJ Khaled - Borracho (Video Oficial)

Producido por @Sech , Cerebro, @Dimelo Flow

Escúchalo:
Mercancía Oficial:

Sigue a Sech





Sigue a Rich Music






Boutique Record label
???? Bookings@
???? Management
???? Distribution
???? Production

--
LETRA

Ayo, Sech
It's so many beautiful ladies out here (We The Best Music)
But that one
Borracho de tu amor (Anotha one)
(Anotha one)

Un fin de semana sin tí no tiene fín
Ahora que no estás, no encuentro mi gin (DJ Khaled)
Aunque esté triste prefiero salir
Pa' ver si me encuentro conmigo y me olvido de tí (Let's ride)

Me meto unos tragos pa' que esto se me olvide
Pero cuando estoy borracho le pido a Dios que te cuide
Bebé, el tiempo es corto y digo que la vida sigue
Pero es cuando estoy borracho
Cuando estoy borracho

Me meto unos tragos pa' que esto se me olvide
Pero cuando estoy borracho le pido a Dios que te cuide
Bebé, el tiempo es corto y digo que la vida sigue
Pero es cuando estoy borracho
Cuando estoy borracho

Borracho te llamo pa' ver (Let's go)
Pa' ver si me contesta' otra vez (Let's go)
Pa' ver si otro te dice "bebé"
Y si es así yo me pongo a beber

Cuando estoy borracho te llamo pa' ver (Let's go)
Pa' ver si me contesta' otra vez (Let's go)
Pa' ver si otro te dice "bebé"
Y si es así yo me pongo a beber

Ay dime, ¿Cómo bajo las emociones?
Soy fuerte, como tú en ocasiones
El problema es cuando ponen las canciones
Que en nuestra relación hicimos mucha' relaciones (Uy)
Después no digas que lo nuestro lo dejé tira'o
Más adelante cuando el phone yo lo tenga apaga'o
No estás aquí pero hablas de mí en otro la'o
Lo nuestro no era firme y yo nunca me he vira'o (Anotha one)

Me meto unos tragos pa' que esto se me olvide
Pero cuando estoy borracho le pido a Dios que te cuide
Bebé, el tiempo es corto y digo que la vida sigue
Pero es cuando estoy borracho
Cuando estoy borracho

Me meto unos tragos pa' que esto se me olvide
Pero cuando estoy borracho le pido a Dios que te cuide
Bebé, el tiempo es corto y digo que la vida sigue
Pero es cuando estoy borracho
Cuando estoy borracho

Ey, ey
Borracho si acaso te puse los cachos
No me dedicas tiempo, me dedicas los captions
Con otra gallery hice un video a reaction
Contigo no me río, hasta parezco bocacho
, pa'l carajo por siete
Si tienes mi número, el de "call" no lo aprietes
Aunque seas lotería no compro el billete
Y si la libertad e' contigo, me dejo el grillete

Sólo cuando estoy borracho, ey
Sólo cuando estoy borracho
Cerebro
Sólo cuando estoy borracho
John El diver
Sólo es cuando estoy Borracho
Dímelo Flow
Ey, B
Rike Music

Me meto unos tragos pa' que esto se me olvide
Pero cuando estoy borracho le pido a Dios que te cuide

Rich Music
--

#Sech #DJKhaled #Borracho
Weekly Chart Achieves (Top 40 Songs)
The highest charting position of the entry is #1 . "Borracho" atop the Top 40 Songs Chart for 3 total weeks. The song appeared 20 total times in the Top 10 ; 14 total times in the Top 20 ; 11 total times in the Top 40 ; The worst ranking place of the video is #432. "Borracho" has been charted in 2 trends (countries):
Monthly Chart Achieves (Top 40 Songs)
The best charting position of the entry is #1 . "Borracho" atop the Top 40 Songs Chart for 2 total months. The song appeared 5 total times in the Top 10 ; 3 total times in the Top 20 ; 3 total times in the Top 40 ; The worst ranking place of the video is #408. "Borracho" has been charted in 2 trends (countries):
Daily Chart Achieves (Top 100 Songs)
The highest ranking position of the entry is #1 . "Borracho" atop the Top 100 Songs Chart for 9 total days. The song appeared 133 total times in the Top 10 ; 103 total times in the Top 20 ; 428 total times in the Top 100 ; The worst charting place of the entry is #100. Find all daily charts - Top 100 Panama