Cócteles

by Emil

"Cócteles" is Peruvan song released on 01 October 2021 in the official channel of the record label - "EMIL". Discover exclusive information about "Cócteles". Explore Cócteles lyrics, translations, and song facts. Earnings and Net Worth accumulated by sponsorships and other sources according to information found in the internet. How many times the Peruvan song appeared in music charts compiled by Popnable? "Cócteles " is well-known music video that took placements in popular top charts, such as Top 100 Peru Music Chart , Top 40 Peruvan Songs Chart, and more.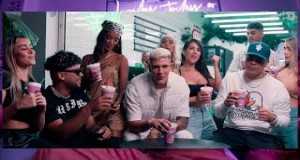 Country
Peru
Added
Origin Name
Emil & Bo (Fissher, Kenedi) - Cócteles (Laureles) [Video Oficial]
Report
[Not music related] [Add Artist Related] [Report Fake Views] [Remove Linked Artist] [Add Lyrics] [Add Lyrics Translation]
"Cócteles" Facts
"Cócteles" has reached 2.8M total views, 5.1K likes, and 209 dislikes on YouTube.

The song has been submitted on 01/10/2021 and spent 3 weeks on the charts.
The original name of the music video "Cócteles" is "EMIL & BO (FISSHER, KENEDI) - CÓCTELES (LAURELES) [VIDEO OFICIAL]".
"Cócteles" has been published on Youtube at 01/10/2021 05:00:13
"Cócteles" Lyrics, Composers, Record Label
Video Oficial "Cócteles" by EMIL, BO.

Suscríbete:

Disponible En:
Spotify:
iTunes:
Deezer:
Tidal:

Redes Sociales:
TikTok:
Instagram:
Facebook:
Twitter:

LETRA:
Bebé Me Tienes Maquinando
Se Que También Lo Estás Sintiendo
Terminemos Lo De La Otra Vez
No Esperamos Tanto Es Mejor De Una Vez!!

Baby Yo Te Quiero Hacer Mía
Toito' El Día Hasta Por La Noche
Si Supieras Lo Que Te Haría
To' Lo Que No Hicimos
Esa Tarde En El Porshe
Ven Que Yo Te Quiero Hacer Mía
Toito El Día Hasta Por La Noche
Si Supieras Lo Que Te Haría
To' Lo Que No Hicimos
Esa Tarde En El Porshe

Cumplía Con Todo Los Requisitos
Y En El Sexo Ella Era Un 100
Era Un Dolor De Cabeza Que Se Sentía Bien
Pasajero En Su Tren
Yo Era Su Rehén
Pegaito A Ella Como Su Sostén
Esos Ojitos Color Mocca
A Mente Sabe Su Boca
Sentía Que Tocaba El Cielo
Cuando Encima Te Me Trepabas
Tus Locuras Alocan
El Corazón Latiendo Como Una Vaina Loca

Cócteles Alla Por Laureles
Hicimos Que La Cama Suene
Recorrimos To' Los Moteles
Lo Nuestro Pasó A Otro Niveles

Cócteles Alla Por Laureles
Hicimos Que La Cama Suene
Recorrimos To' Los Moteles
Lo Nuestro Pasó A Otro Niveles

Baby Yo Te Quiero Hacer Mía
Toito' El Día Hasta Por La Noche
Si Supieras Lo Que Te Haría
To' Lo Que No Hicimos
Esa Tarde En El Porshe
Ven Que Yo Te Quiero Hacer Mía
Toito El Día Hasta Por La Noche
Si Supieras Lo Que Te Haría
To' Lo Que No Hicimos
Esa Tarde En El Porshe

Conozco Tu Debilidad
Pero Tu Tienes La Habilidad
De Jugar Con Mi Mente Y Alterar Mi Tranquilidad
Delante De La Gente Aparentamos Que No Somos Nah
Pero En Privado Son Poses Diferentes…

Después De Unos Cócteles
Allá Por Laureles
Hicimos Que La Cama Suene
Recorrimos To' Los Moteles
Lo Nuestro Paso A Otros Niveles

Allá Por Laureles
Hicimos Que La Cama Suene
Recorrimos To' Los Moteles
Lo Nuestro Pasó A Otros Niveles
La Causaaa

Baby Yo Te Quiero Hacer Mía
Toito' El Día Hasta Por La Noche
Si Supieras Lo Que Te Haría
To' Lo Que No Hicimos
Esa Tarde En El Porshe

Bebe Me Tienes Maquinando
Se Que También Lo Estás Sintiendo
Terminemos Lo De La Otra Vez
No Esperamos Tanto Es Mejor De Una Vez!!

Cocteles Allá Por Laureles….
Emil… La Causaa
Hicimos Que La Cama Suene
Kei Kenedi
Recorrimos To' Los Moteles
Maikyfull
Lo nuestro paso …….
Fissher Baby
Reggeton Colombiano Uoo Ohhh

Mavig 420
Bo.


#EMIL #LaCausa

Weekly Chart Achieves (Top 40 Songs)
The highest charting position of the entry is #1 . "Cócteles" atop the Top 40 Songs Chart for 2 total weeks. The song appeared 3 total times in the Top 10 ; The worst ranking place of the video is #307. "Cócteles" has been charted in 2 trends (countries):
Daily Chart Achieves (Top 100 Songs)
The highest ranking position of the entry is #1 . "Cócteles" atop the Top 100 Songs Chart for 12 total days. The song appeared 20 total times in the Top 10 ; 4 total times in the Top 20 ; The worst charting place of the entry is #15. Find all daily charts - Top 100 Peru