El Malo

by Juhn , Omy De Oro

"El Malo" is Puerto Rican song released on 09 June 2021 in the official channel of the record label - "Omy De Oro". Discover exclusive information about "El Malo". Explore El Malo lyrics, translations, and song facts. Earnings and Net Worth accumulated by sponsorships and other sources according to information found in the internet. How many times the Puerto Rican song appeared in music charts compiled by Popnable? "El Malo " is well-known music video that took placements in popular top charts, such as Top 100 Puerto Rico Music Chart , Top 40 Puerto Rican Songs Chart, and more.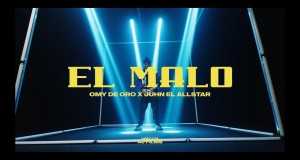 Country

Puerto Rico
Added
Origin Name
Omy De Oro X Juhn - El Malo [ Video ]
Report
[Not music related] [Add Artist Related] [Report Fake Views] [Remove Linked Artist] [Add Lyrics] [Add Lyrics Translation]
"El Malo" Facts
"El Malo" has reached 7.2M total views, 78.6K likes, and 2.2K dislikes on YouTube.

The song has been submitted on 09/06/2021 and spent 11 weeks on the charts.
The original name of the music video "El Malo" is "OMY DE ORO X JUHN - EL MALO [ VIDEO ]".
"El Malo" has been published on Youtube at 09/06/2021 01:47:28
"El Malo" Lyrics, Composers, Record Label
Omy De Oro x Juhn - El Malo
Song produced by Jowny Boom Boom
Video directed by AJ Films

Letra:
Hace tiempo no te veia
Ha pasado tanto que ni te reconocía
Dime si tiene tiempo que yo tengo todo el día
Todo lo que te hice tu no te lo merecías
Y si te quiere vengar yo me dejo usar
No me va a estar mal
Espero por ti si lo tienes que pensar
El daño que te hice quiero recompensarlo

Baby yo siempre he sido el malo
Que te hizo perder la fe en el amor
Y ahora que te encontré, quiero volver a intentarlo
Baby yo siempre he sido el malo
Que te hizo perder la fe en el amor
Y ahora que te encontré, quiero volver a intentarlo

Baby si tú me das el chance
Te lo juro no va a haber otro por el percance
No soy bueno bregando con eso del romance
Pero contigo me atrevo a meterme hasta las sanses
Sé que bote la bola
Dime si tienes a alguien o estás sola
Por mi parte desde que te fuiste nada mejora
Ya no tengo con quien irme en la motora los domingo
Dicen que por mi ya no te enamoras
Baby yo quiero recuperar el tiempo perdido
Quiero que veas el hombre que soy ahora
No sabes cuánto me jode el haberme ido
Tengo las fotos de nosotros guardas' en mi computadora

Y si te quiere vengar yo me dejo usar
No me va a estar mal
Espero por ti si lo tienes que pensar
El daño que te hice quiero recompensarlo

Baby yo siempre he sido el malo
Que te hizo perder la fe en el amor
Y ahora que te encontré, quiero volver a intentarlo
Baby yo siempre he sido el malo
Que te hizo perder la fe en el amor
Y ahora que te encontré, quiero volver a intentarlo

Yo te lo juro que cambie soy diferente
Prometo no mirar pal' lau' si me para una baby de frente
Sé que estás molestas todavía
Si quiere hazme lo mismo tú pa ver lo que se siente
Que jodan con tú corazón
Siempre tuviste razón
Ponte bonita y vámonos pal' Mall
No quiero comprar tú conciencia no me enseñes más la evidencia
Esta es mi forma de pedir perdón

Y si te quiere vengar yo me dejo usar
No me va a estar mal
Espero por ti si lo tienes que pensar
El daño que te hice quiero recompensarlo

Baby yo siempre he sido el malo
Que te hizo perder la fe en el amor
Y ahora que te encontré, quiero volver a intentarlo

Juhn appears courtesy of Interscope Records
Copyright 2021 Young Boss Entertainment
Weekly Chart Achieves (Top 40 Songs)
The highest charting position of the entry is #144 . The worst ranking place of the video is #445. "El Malo" has been charted in 1 trends (countries):
Monthly Chart Achieves (Top 40 Songs)
The best charting position of the entry is #144 . The worst ranking place of the video is #406. "El Malo" has been charted in 1 trends (countries):
Daily Chart Achieves (Top 100 Songs)
The highest ranking position of the entry is #144 . The song appeared 3 total times in the Top 100 ; The worst charting place of the entry is #59. Find all daily charts - Top 100 Puerto Rico