Señor Juez

by Ozuna

"Señor Juez" is Puerto Rican song released on 04 November 2021 in the official channel of the record label - "Ozuna". Discover exclusive information about "Señor Juez". Explore Señor Juez lyrics, translations, and song facts. Earnings and Net Worth accumulated by sponsorships and other sources according to information found in the internet. How many times the Puerto Rican song appeared in music charts compiled by Popnable? "Señor Juez " is well-known music video that took placements in popular top charts, such as Top 100 Puerto Rico Music Chart , Top 40 Puerto Rican Songs Chart, and more.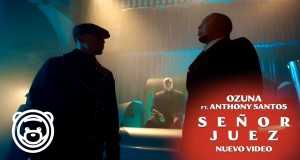 Country

Puerto Rico
Added
Origin Name
Ozuna, Anthony Santos - Señor Juez (Video Oficial)
Report
[Not music related] [Add Artist Related] [Report Fake Views] [Remove Linked Artist] [Add Lyrics] [Add Lyrics Translation]
"Señor Juez" Facts
"Señor Juez" has reached 67.5M total views, 532.5K likes, and 0 dislikes on YouTube.

The song has been submitted on 04/11/2021 and spent 65 weeks on the charts.
The original name of the music video "Señor Juez" is "OZUNA, ANTHONY SANTOS - SEÑOR JUEZ (VIDEO OFICIAL)".
"Señor Juez" has been published on Youtube at 04/11/2021 19:00:10
"Señor Juez" Lyrics, Composers, Record Label
Ozuna, Anthony Santos - Señor Juez (Video Oficial)

#SenorJuez #Ozuna #AnthonySantos

Escúchala en tu plataforma favorita:


Suscríbete al canal:

Sígueme en:
TikTok | @ozuna
Instagram |
Twitter |
Facebook |

Letra:
Señor juez
Vengo hasta aquí a declararme culpable
Eh cometido un delito
Y no merezco mi libertad

Cuantos anos
Me daria
Ami no me va doler
Si me da vida le insisto un poco mas
Senor Juez soy culpable

Es que por mas que la quiero
Nada me la me la va a traer de vuelta
Prefiero enterrar mi corazón
antes de dar amor
De nuevo

Y es que por mas que la quiero
Nada me la me la va a traer de vuelta
Prefiero enterrar mi corazón
antes de dar amor
De nuevo


Que ironia
que sorpresa de la vida tan grande
esa mujer por la que tu estas aquí
yo soy el padre

Este dolor no tiene perdón esta acabando mi vida
no hay castigo que sane esta herida
el tiempo no vuelve a tras

es que por mas que la quiero
nada me la va a traer de vuelta
tu le rompiste en dos el corazón
y con este dolor me muero

Anthony hablando
en la vida, uno nunca llega a conocer a una persona
que lamentable que tristeza tan grande…

Pero dime algo Ozuna!

Uno nunca termina de conocer el amor
Durmiendo con el enemigo
la venganza y el temor
Siempre estamos viviendo con la traición
Romo pal dolor

Mientes con solo tu mirada
el amor se vuelve nada
esperando tanto tiempo
pa decir que no me amas
En secretos se quedaron
esa noche ahi en mi almohada
después que di mi vida
dice que no supe amarla

ya mi princesa no vuelve donde mi
que tu le hiciste para que ella se fuera así
yo que tantas veces le advertí
que por hombres como tu
no vale la pena sufrir

Y es que por mas que la quiero
Nada me la me la va a traer de vuelta
Prefiero enterrar mi corazón
antes de dar amor
De nuevo

es que por mas que la quiero
nada me la va a traer de vuelta
tu le rompiste en dos el corazón
y con este dolor me muero
Weekly Chart Achieves (Top 40 Songs)
The highest charting position of the entry is #2 . The song appeared 3 total times in the Top 10 ; 3 total times in the Top 20 ; 2 total times in the Top 40 ; The worst ranking place of the video is #496. "Señor Juez" has been charted in 3 trends (countries):
Monthly Chart Achieves (Top 40 Songs)
The best charting position of the entry is #2 . The song appeared 1 total times in the Top 20 ; The worst ranking place of the video is #850. "Señor Juez" has been charted in 3 trends (countries):
Daily Chart Achieves (Top 100 Songs)
The highest ranking position of the entry is #2 . "Señor Juez" atop the Top 100 Songs Chart for 2 total days. The song appeared 20 total times in the Top 10 ; 10 total times in the Top 20 ; 49 total times in the Top 100 ; The worst charting place of the entry is #98. Find all daily charts - Top 100 Puerto Rico