"Ghybtetak La Taedha" is Saudi Arabian song released on 04 August 2022 in the official channel of the record label - "عبدالله ال مخلص Abdullah Al Mokhles l". Discover exclusive information about "Ghybtetak La Taedha". Explore Ghybtetak La Taedha lyrics, translations, and song facts. Earnings and Net Worth accumulated by sponsorships and other sources according to information found in the internet. How many times the Saudi Arabian song appeared in music charts compiled by Popnable? "Ghybtetak La Taedha " is well-known music video that took placements in popular top charts, such as Top 100 Saudi Arabia Music Chart , Top 40 Saudi Arabian Songs Chart, and more.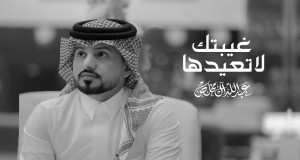 Video
Ghybtetak La Taedha
Country

Saudi Arabia
Added
Origin Name
عبدالله ال مخلص - غيبتك لاتعيدها (حصرياً) | 2022
Report
[Not music related] [Add Artist Related] [Report Fake Views] [Remove Linked Artist] [Add Lyrics] [Add Lyrics Translation]
"Ghybtetak La Taedha" Facts
"Ghybtetak La Taedha" has reached 6.6M total views, 113.9K likes, and dislikes on YouTube.

The song has been submitted on 04/08/2022 and spent 8 weeks on the charts.
The original name of the music video "Ghybtetak La Taedha" is "عبدالله ال مخلص - غيبتك لاتعيدها (حصرياً) | 2022".
"Ghybtetak La Taedha" has been published on Youtube at 04/08/2022 00:36:11
"Ghybtetak La Taedha" Lyrics, Composers, Record Label
لمتابعة عبدالله ال مخلص على صفحات التواصل الإجتماعية والموسيقية:


عبدالله ال مخلص - غيبتك لاتعيدها (حصرياً) | 2022
Abdullah Almokhles - Ghybetak La Taedha (Exclusive) | 2022

كلمات : ثنيان الثنيان - غريب ال مخلص
توزيع ومكس : حازم الأبيض
تصوير : غالب
توزيع ديجيتال وإنتاج مرئي : مجموعة الفان

الكلمات :

لا تجيني تحاول تعتذر
عذرك الي مابي اسمعه
منك حالي صاير مندمر
كن قلبي ماهو بموقعه

رح فمان الله والله يحفظك
حالفٍ يازين ماعاد اتبعك
كنت لك وافي واقرب من هلك
ياخسارة وقتي الي ضاع لك

يا سلام يوم انّك معي
في رضاك اسعى لك سعي
والغياب فقدّني وعي
لا سلام

يا حرام اقرب تبتعد
ما وفيت في حلْف و وعَد
وش بشوف بعْنادك بعَد
يا حرام

للوصل صابر صابر وانتظر
بالغياب بالغياب ليه معطي حظر
لو بعيش مابعيش روحي بحتظر
الوصل ينعش الروح ويغيثها


الوفي حظّه مثل حظّ الشقي
والشقى حالي وانا ماني معك

ليتني ويّاك مرّه نلتقي
لو تشوف الحال قلبك يوجعك
-

-

انتظر للجبِر لو يجي معتذر
والعذِر يعتبر جبْر لو يعتذر
لو يعوّد بقول الحذر و الحذر
غيبتِك موت وارجوك لاتْعيديها
Weekly Chart Achieves (Top 40 Songs)
The highest charting position of the entry is #3 . The song appeared 6 total times in the Top 10 ; 1 total times in the Top 20 ; 1 total times in the Top 40 ; The worst ranking place of the video is #419. "Ghybtetak La Taedha" has been charted in 2 trends (countries):
Monthly Chart Achieves (Top 40 Songs)
The best charting position of the entry is #3 . The song appeared 1 total times in the Top 20 ; The worst ranking place of the video is #12. "Ghybtetak La Taedha" has been charted in 1 trends (countries):
Daily Chart Achieves (Top 100 Songs)
The highest ranking position of the entry is #3 . The song appeared 52 total times in the Top 10 ; 3 total times in the Top 20 ; 18 total times in the Top 100 ; The worst charting place of the entry is #95. Find all daily charts - Top 100 Saudi Arabia