Aqaf Alaa Babah

by Shbel Aldwaser

"Aqaf Alaa Babah" is Saudi Arabian song released on 04 November 2023 in the official channel of the record label - "Shebl Aldwaser l شبل الدواسر". Discover exclusive information about "Aqaf Alaa Babah". Explore Aqaf Alaa Babah lyrics, translations, and song facts. Earnings and Net Worth accumulated by sponsorships and other sources according to information found in the internet. How many times the Saudi Arabian song appeared in music charts compiled by Popnable? "Aqaf Alaa Babah " is well-known music video that took placements in popular top charts, such as Top 100 Saudi Arabia Music Chart , Top 40 Saudi Arabian Songs Chart, and more.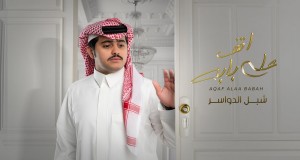 Shbel Aldwaser "Aqaf Alaa Babah"

on Apple Music Unlimited

Listen to over 100 million songs

Try Apple Music
Country

Saudi Arabia
Added
Origin Name
شبل الدواسر - اقف على بابه (حصرياً) | 2023
Report
[Not music related] [Add Artist Related] [Report Fake Views] [Remove Linked Artist] [Add Lyrics] [Add Lyrics Translation]
"Aqaf Alaa Babah" Facts
"Aqaf Alaa Babah" has reached 1.6M total views, 7.4K likes, and dislikes on YouTube.

The song has been submitted on 04/11/2023 and spent 4 weeks on the charts.
The original name of the music video "Aqaf Alaa Babah" is "شبل الدواسر - اقف على بابه (حصرياً) | 2023".
"Aqaf Alaa Babah" has been published on Youtube at 04/11/2023 15:00:10
"Aqaf Alaa Babah" Lyrics, Composers, Record Label
إشترك في قناة عبيد بن ذيب شبل الدواسر وفعّل جرس التنبيهات للوصول إلى أحدث إصدرات الفنية:



تابع شبل الدواسرعلى جميع المنصات الموسيقية والإجتماعية:



شبل الدواسر - اقف على بابه (حصرياً) | 2023
Shbel Aldwaser - Aqaf Alaa Babah (EXCLUSIVE) | 2023


كلمات : مدغم ابو شيبة
الحان واداء : شبل الدواسر
تسجيل : تون لايف
توزيع ومكس : حازم الابيض
تصوير : ديتيلز - مالك العنقري
فيديو : عبدالعزيز
توزيع ديجيتال : الفان
-----


الكلمات | Lyrics


طلي علي من شرفة القصر طلي
القصر عدّت شيمته عن ركونه


اقف على بابه واعوّد محلي
واقول مايتساهل اللي يخونه


هواك يبي له بعيرٍ مفلي
لو البحر وراه والقوم دونه


ليت الطمأنينة بروح المصلي
اللي سجد قلبه وسالت عيونه


في نفسي اليا ضاقت وقلبي اللي
كان الله بعون امنياته وعونه


لاجيت ادوّر وصلك ولا حصل لي
واقبل ظلام الليل وارخا ردونه


ودك تحب اللي شبابه مولّي
ولاتحب اللي هلك مايبونه


رحنا وعودنا على طير ياللي
اللي نسيناه ونسينا لحونه


وانتي وانا على الصعيد المحلي
نعرف بياع الهوى من زبونه


وان الحياه ليا خذت ماتخلي
لازم نواجهها بصبر وخشونه


ماوقّفت بفراق خلك وخلي
قد مات ابونا آدم وعشنا بدونه

#شبل_الدواسر #اقف_على_بابه
Weekly Chart Achieves (Top 40 Songs)
The highest charting position of the entry is #9 . The song appeared 1 total times in the Top 10 ; 1 total times in the Top 40 ; The worst ranking place of the video is #317. "Aqaf Alaa Babah" has been charted in 2 trends (countries):
Monthly Chart Achieves (Top 40 Songs)
The best charting position of the entry is #9 . The song appeared 1 total times in the Top 20 ; The worst ranking place of the video is #340. "Aqaf Alaa Babah" has been charted in 2 trends (countries):
Daily Chart Achieves (Top 100 Songs)
The highest ranking position of the entry is #9 . "Aqaf Alaa Babah" atop the Top 100 Songs Chart for 2 total days. The song appeared 5 total times in the Top 10 ; 4 total times in the Top 20 ; 10 total times in the Top 100 ; The worst charting place of the entry is #97. Find all daily charts - Top 100 Saudi Arabia