Dalou Adouna

by Kid Dou

"Dalou Adouna" is Senegalese song released on 28 July 2022 in the official channel of the record label - "Kid Dou". Discover exclusive information about "Dalou Adouna". Explore Dalou Adouna lyrics, translations, and song facts. Earnings and Net Worth accumulated by sponsorships and other sources according to information found in the internet. How many times the Senegalese song appeared in music charts compiled by Popnable? "Dalou Adouna " is well-known music video that took placements in popular top charts, such as Top 100 Senegal Music Chart , Top 40 Senegalese Songs Chart, and more.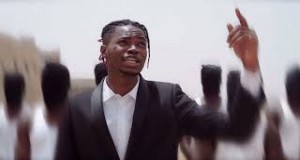 Country
Senegal
Added
Origin Name
Kid Dou Feat. Oothentik Zeus - Dalou Adouna ( Clip Officiel )
Report
[Not music related] [Add Artist Related] [Report Fake Views] [Remove Linked Artist] [Add Lyrics] [Add Lyrics Translation]
"Dalou Adouna" Facts
"Dalou Adouna" has reached 117.2K total views, 6.2K likes, and dislikes on YouTube.

The song has been submitted on 28/07/2022 and spent 2 weeks on the charts.
The original name of the music video "Dalou Adouna" is "KID DOU FEAT. OOTHENTIK ZEUS - DALOU ADOUNA ( CLIP OFFICIEL )".
"Dalou Adouna" has been published on Youtube at 16/07/2022 22:59:27
"Dalou Adouna" Lyrics, Composers, Record Label
"Dalou adouna" Maintenant disponible sur toutes les plateformes en streaming


Artiste : kid dou x Oothentik Zeus
Production @skeymusic
Mix Master @Mao Beatz
Directed by @kainri_pictures
Beat by @RICH MIND BEATS L'OFFICIEL


Listen on:
Yelh distribution :

Follow on:
YouTube :
Instagram :
Snapchat :
Facebook :

Lyrics

Refrain:
Meussoumeu guiss ma try ma nekk si lonely
Deff na ay projet youy diay
Gni fogougnou wone lii

COUPLET1:
[[ Kid dou ]]

Dingua dieki dieki Guiss ma Garé trok bi
Fokk ma wéki Gnimeu beuguone barél yone wi
Dangmay rombou dimeu nouyou lekk lekk
Nga Toguakk kénéne di wakh si mane lo khamoul

Ma Teudé gni eumbb sa rappeur
Ouakam denkk nama Drapeau
Mbedd béma nangoul Ak Sa wakeur
Dalou adouna la Sol yeyeh
Sopi deff crampon yeyeh
Eskey signé Ko man (Coman-Bayern)
Am dolé bayern kouné lay fadj koukoy pariéé (iyeh)

Allô Allo wagnilma sa thiow
Soril boudé beuguo yeuffou Goor
No matter meloumani ten thousand
mais doff ndey sah mako Geuneu con

Fi deur leu do miné ni Fou bou tameu soul ay dope
Yow Bayil say connerie
Door leu dominé ni modou xaragne souley dope
FIls niakkouma dolé bi
Par force danguay roukh ni Auto Police souley topp
Gneuw Andalé sirène bi
Kou romb niveau Assamane wakhma kouley diott
Sa khel binguay Niopati

Mama Waroul mérr santouma loudoul dioulékk diangg
Papa Nénama fékhél ba lepp loy deff si Adouna bi na done diam

Refrain:
Meussoumeu guiss ma try ma nekk si lonely
Deff na ay projet youy diay
Gni fogougnou wone lii

Couplet 2 :
[[ Oothentik Zeus]]

Yagg na degg si yaye
Téguilma thiono sa Baye
Problème yi kholko si eyes
Meunougnou dead si sa vibe
Defal sa confident sa Ndiéguénay
Wéteuk sa problémou life bokk
Dalou adouna bi lay pro
Ken dou thiarakhou ay no
Thiatou Montagne bi tokk
Sen ma sikaw kouné yaye sama boss
Dagn la tinguome life bi diott nama wone
Niata djiko dina done number One
Fuck sa niveau manguekk niata diplome
Né si job bi di job beugg tankal say nopp
Mélni gnom sidy Diop
Derett tokk si gnom
Deff sen kani chewing-gum
Defaite tokki si gnom dinguene deukk si thiow (bro)
Si lou Méti la yagg dokh
Dalou Adouna la Mérito
Amoul Métite boumay réthiou loooo
Téguil thiono sama yaye boye (yaye boyo)
Téguil thiono sama baye Boye

Refrain:
Meussoumeu guiss ma try ma nekk si lonely
Deff na ay projet youy diay
Gni fogougnou wone lii
Weekly Chart Achieves (Top 40 Songs)
The highest charting position of the entry is #24 . The song appeared 1 total times in the Top 40 ; The worst ranking place of the video is #116. "Dalou Adouna" has been charted in 1 trends (countries):
Monthly Chart Achieves (Top 40 Songs)
The best charting position of the entry is #24 . The worst ranking place of the video is #57. "Dalou Adouna" has been charted in 1 trends (countries):
Daily Chart Achieves (Top 100 Songs)
The highest ranking position of the entry is #24 . The song appeared 6 total times in the Top 100 ; The worst charting place of the entry is #91. Find all daily charts - Top 100 Senegal