Aman

by Rasta , Voyage

"Aman" is Serbian song released on 12 July 2021 in the official channel of the record label - "Balkaton Gang". Discover exclusive information about "Aman". Explore Aman lyrics, translations, and song facts. Earnings and Net Worth accumulated by sponsorships and other sources according to information found in the internet. How many times the Serbian song appeared in music charts compiled by Popnable? "Aman " is well-known music video that took placements in popular top charts, such as Top 100 Serbia Music Chart , Top 40 Serbian Songs Chart, and more.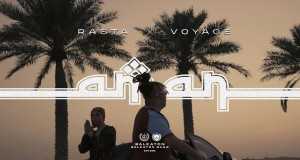 Country

Serbia
Added
Origin Name
Rasta X Voyage - Aman (Official Video)
Report
[Not music related] [Add Artist Related] [Report Fake Views] [Remove Linked Artist] [Add Lyrics] [Add Lyrics Translation]
"Aman" Facts
"Aman" has reached 12.9M total views, 156K likes, and 5.1K dislikes on YouTube.

The song has been submitted on 12/07/2021 and spent 10 weeks on the charts.
The original name of the music video "Aman" is "RASTA X VOYAGE - AMAN (OFFICIAL VIDEO)".
"Aman" has been published on Youtube at 12/07/2021 13:00:08
"Aman" Lyrics, Composers, Record Label
Rasta x Voyage - Aman

???? "Aman" sada na svim platformama:
???? Više iz Balkatona, slušaj na svim platformama:
???? Uključi ???? za obaveštenja o novom sadržaju!


Muzika: Stefan Djurić Rasta
Tekst: Stefan Djurić Rasta, Mihajlo Veruović Voyage
Aranžman: Stefan Djurić Rasta, Djordje Gvozdić GVZDC
Mix i Master: Jan Magdevski


Režija: Stefan Djurić Rasta
Direktor fotografije: Marko Budimirović Budan, Ilija Nikolić Podlivsky
Kamera: Ilija Nikolić Podlivsky
Producent: Mihailo Smiljanić, Milena Misić
Montaža I kolor korekcija: Marko Budimirović Budan, Ilija Nikolić Podlivsky
Stajling: Vanja Pantin


Subscribe to Balkaton Gang YT:

Hvala HUQQA DUBAI


Tekst:

Aman a gde si , s'kim si sad?
Daleko neki drugi grad
Što dalje nek si srećnija
Zbog nas
Aman a tajne sve ti znam
Da ljubav prodaješ za gram
Lagala kad si plakala
Na glas

Prišla je sama
Prišla da pita ko je on?
Jer baš ovih dana glavna tema
Sam u gradu tvom 
Sećam se valjda
plave oči s toplim osmehom
Kučka i dama
to do sad nisam video
 
Dija dija dijamanti ljubav dalek grad
U gradu kriminala ne brini mislim na nas
A dija dija dijamanti ne bi shvatila
Kad priznao bih ti ko sam, što me nema danima 
Aman a gde si , s'kim si sad?
Daleko neki drugi grad
Što dalje nek si srećnija
Zbog nas
Aman a tajne sve ti znam
Da ljubav prodaješ za gram
Lagala kad si plakala
Na glas
 
Još noćas tu si
Da srećan poželim ti put
Možda ne sretnem te nikad
Možda vratiš se u snu
A kažu nisi za mene
preloš sam za nju
kako znam te tako kratko
A sve bih dao da si tu
Dija dija dijamanti ljubav dalek grad
U gradu kriminala ne brini mislim na nas
A dija dija dijamanti ne bi shvatila
Kad priznao bih ti ko sam, sto me nema danima 

Aman a gde si , s'kim si sad?
Daleko neki drugi grad
Što dalje nek si srecnija
Zbog nas
Aman a tajne sve ti znam
Da ljubav prodaješ za gram
Lagala kad si plakala
Na glas



Nemojte Kačiti video, ni pesmu na svoje kanale, sva prava zadržava Balkaton ;
Proizvodnja Balkaton 2021.
#Rasta #Voyage #Aman #Balkaton #BalkatonGang
Weekly Chart Achieves (Top 40 Songs)
The highest charting position of the entry is #4 . The song appeared 16 total times in the Top 10 ; 3 total times in the Top 20 ; The worst ranking place of the video is #16. "Aman" has been charted in 2 trends (countries):
Monthly Chart Achieves (Top 40 Songs)
The best charting position of the entry is #4 . The song appeared 3 total times in the Top 10 ; 1 total times in the Top 20 ; The worst ranking place of the video is #14. "Aman" has been charted in 2 trends (countries):
Daily Chart Achieves (Top 100 Songs)
The highest ranking position of the entry is #4 . "Aman" atop the Top 100 Songs Chart for 7 total days. The song appeared 107 total times in the Top 10 ; 31 total times in the Top 20 ; The worst charting place of the entry is #17. Find all daily charts - Top 100 Serbia