For Your Happiness

by Feng Ze

"For Your Happiness" is Singaporean song released on 20 May 2022 in the official channel of the record label - "Feng Ze邱鋒澤". Discover exclusive information about "For Your Happiness". Explore For Your Happiness lyrics, translations, and song facts. Earnings and Net Worth accumulated by sponsorships and other sources according to information found in the internet. How many times the Singaporean song appeared in music charts compiled by Popnable? "For Your Happiness " is well-known music video that took placements in popular top charts, such as Top 100 Singapore Music Chart , Top 40 Singaporean Songs Chart, and more.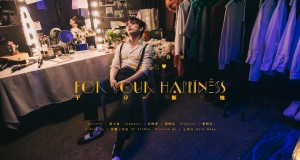 Country
Singapore
Added
Origin Name
邱鋒澤 Feng Ze ' 平分慚愧 For Your Happiness ' (Official Mv)
Report
[Not music related] [Add Artist Related] [Report Fake Views] [Remove Linked Artist] [Add Lyrics] [Add Lyrics Translation]
"For Your Happiness" Facts
"For Your Happiness" has reached 3M total views, 23.2K likes, and 0 dislikes on YouTube.

The song has been submitted on 20/05/2022 and spent 18 weeks on the charts.
The original name of the music video "For Your Happiness" is "邱鋒澤 FENG ZE ' 平分慚愧 FOR YOUR HAPPINESS ' (OFFICIAL MV)".
"For Your Happiness" has been published on Youtube at 19/05/2022 09:44:37
"For Your Happiness" Lyrics, Composers, Record Label
5/22 19:00 Fengze 邱鋒澤 Youtube Channel《平分慚愧 情歌之夜》Live 直播

原音兄弟官網 Reason Brothers Website:

平分慚愧


作詞:葛大為

你終於願意標記我
在那張 說抱歉的照片上
周遭 不是沒問過
你我 到底算甚麼
信任原來 再多還是 不夠

默契被用錯了地方
彼此都軟弱 以為離開更溫柔
他來找過我 但 為何他看來 比我難受
你覺得他想說什麼

我會後退 別為難每一位
你也很累 不用平分慚愧
他沒不對 只是愛 不是有意牽連
要擁抱 就得有人 讓出空位

時間不允許我閃躲
我討厭 不得不然的堅強
不是 沒被打擊過
只是 偶爾會困惑
還在愛的 比不愛的 失落

繞過你常去的地方
回憶到最後 都像沉淪的坑洞
不如就封鎖 但 為何斷絕後 更不好受
難道我還想說什麼

我會後退 別為難每一位
你也很累 不用平分慚愧
他沒不對 只是愛 不是有意牽連
要擁抱 就得有人 讓出空位

再故意 往前走又何必
我並不是挑釁
早不想追問原因


就當作 你給我 最好的 紀念

我會後退 別為難這些年
你也很累 不需要被責備
他沒不對 真的愛 就不是個誤會
要擁抱 就得有人 知難而退

音樂 Credit
製作人 producer | 張暐弘 Hoong
編曲 Arrangement | 張暐弘 Hoong
錄音師 Recording Engineer | 張暐弘 Hoong
錄音室 Recording Studio |
混音師 Mixing Engineer | 陳禹丞 Nick
混音室 Mixing Studio |
母帶後期處理製作人 Mastering Producer | 張暐弘 Hoong
母帶後期處理工程師 Mastering Engineer | 張暐弘 Hoong
母帶後期處理錄音室 Mastering Studio |

弦樂 Strings | 曜爆甘音樂工作室 Just Busy Music Studio
第一小提琴 First Violin | 蔡曜宇 Shuon Tsai
第二小提琴 Second Violin | 黃雨柔 Nala Huang
中提琴 Viola | 潘自琦 Tzu-Chi Pan
大提琴 Cello | 劉涵 隱分子 Hang Liu
弦樂錄音師 Strings Recording Engineer | 張閔翔 Min-Hsiang Chang
弦樂助理錄音師 Strings Assistant Engineer | 朱品豪 Pin-Hao Ju
錄音室Recording Studio | 玉成戲院錄音室 YuChen Cinema


MV Credit
製作團隊 | 得體工作室 ;Studio
導演 | 王孝玨 Mark Wang
監製/製片 | 柯英智 Arvin Ke
製片 | 林孝昇 Elva Lin
執行製片 | 孔渝婷 Yu Ting Kong

美術 | 許嘉達 Aplus Hsu
美術執行 | 張淯茜 Amber Zhang
美術場務 | 李佳杰 JIA JIE LI
美術場務 | 吳芳源 FANG YUAN WU

攝影師 | 林燁 Ye Lin
攝大助 | 文國平 Kok Peng Boon
攝影助理 | 劉得生 De Sheng Liu
攝影助理 | 劉純穎 Chun Ying Liu
實習生:朱家駿 Jia Jun Zhu

燈光師 | 黃維宣 Gary Huang
燈光大助 | 黃業勤 Ye Qin Huang
燈光助理 | 林余璠 Yu Fan Lin
燈光助理 | 廖孟晉 Meng Jin Liao

造型 | 饒芳瑜 Funny Rao
張小娟 Niki Chang
妝髮 | 童梓綺 Nimo Tung
翁鈺婷 Choaya Weng


女主角 | 葉芸希 Yunxi Ye
男配角 | 王孝程 Xiao Cheng Wang
群演 | 家珍演藝工作室

九巴 | 張凱傑 Kai Chieh Chang

攝影器材 | 旋轉牧馬有限公司
燈光器材 | 光之島影像工作室

場地提供 | 音樂火箭餐廳 Rocket Music

邱鋒澤髮型師hairstylist | Rebecca @ Cubex
邱鋒澤彩妝師 Makeup artist | 瑋瑋 @a room makeup


Follow Feng Ze 邱鋒澤
Instagram:
Facebook:
YouTube: @Feng Ze邱鋒澤
Tiktok:

工作聯絡:Work Contact
bvpvstudio@

ⓒ 2022 Reason Brothers All Rights Reserved

#平分慚愧
Weekly Chart Achieves (Top 40 Songs)
The highest charting position of the entry is #1 . "For Your Happiness" atop the Top 40 Songs Chart for 3 total weeks. The song appeared 18 total times in the Top 10 ; The worst ranking place of the video is #7. "For Your Happiness" has been charted in 1 trends (countries):
Monthly Chart Achieves (Top 40 Songs)
The best charting position of the entry is #1 . "For Your Happiness" atop the Top 40 Songs Chart for 1 total months. The song appeared 4 total times in the Top 10 ; The worst ranking place of the video is #5. "For Your Happiness" has been charted in 1 trends (countries):
Daily Chart Achieves (Top 100 Songs)
The highest ranking position of the entry is #1 . "For Your Happiness" atop the Top 100 Songs Chart for 19 total days. The song appeared 131 total times in the Top 10 ; The worst charting place of the entry is #8. Find all daily charts - Top 100 Singapore