"Bi Rabbek" is Syrian song released on 25 July 2016 in the official channel of the record label - "Nassif Zeytoun". Discover exclusive information about "Bi Rabbek". Explore Bi Rabbek lyrics, translations, and song facts. Earnings and Net Worth accumulated by sponsorships and other sources according to information found in the internet. How many times the Syrian song appeared in music charts compiled by Popnable? "Bi Rabbek " is well-known music video that took placements in popular top charts, such as Top 100 Syria Music Chart , Top 40 Syrian Songs Chart, and more.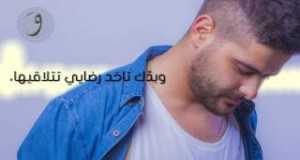 Country
Syria
Added
Origin Name
Nassif Zeytoun - Bi Rabbek [Official Lyric Video] (2016) / ناصيف زيتون - بي ربك
Report
[Not music related] [Add Artist Related] [Report Fake Views] [Remove Linked Artist] [Add Lyrics] [Add Lyrics Translation]
"Bi Rabbek" Facts
"Bi Rabbek" has reached 93.1M total views, 399.9K likes, and 24K dislikes on YouTube.

The song has been submitted on 25/07/2016 and spent 264 weeks on the charts.
The original name of the music video "Bi Rabbek" is "NASSIF ZEYTOUN - BI RABBEK [OFFICIAL LYRIC VIDEO] (2016) / ناصيف زيتون - بي ربك".
"Bi Rabbek" has been published on Youtube at 22/07/2016 18:27:10
"Bi Rabbek" Lyrics, Composers, Record Label
Nassif Zeytoun - Bi Rabbek [Official Lyric Video] (2016) / ناصيف
زيتون - بربك

Lyrics By: Adel Raffoul
Composed By: Wassim Boustany
Arranged By: Jimmy Haddad

Birabbek | بربّك

يا قمر نزال على هالارض كرمال
تسأل لحالك سؤال من هي الأجمل منك
يا قمر نزال على هالارض كرمال
تسأل لحالك سؤال من هي الأجمل منك

بأكّدلك محلّك رح تعطيها وبدّك تاخد رضايي تتلاقيها،
هلّق شوفها حدّي هي ومخبيي راسها فيي ليكها مستحيي

بربّك حدا قدّي بحبك
حتى القمر على الأرض بنزّلك
بربّك حدا قدّي بحبك
عن محلو جبرتو يتنازلك

كان من الاوّل لازم من حالك تخجل
و ما تسأل مين الأجمل بمية مرة منك

بأكّدلك محلّك رح تعطيها وبدّك تاخد رضايي تتلاقيها،
هلّق شوفها حدّي هي ومخبيي راسها فيّي ليكها مستحيي

بربّك حدا قدّي بحبك
حتى القمر على الأرض بنزّلك
بربّك حدا قدّي بحبك
عن محلو جبرتو يتنازلك
بربّك حدا قدّي بحبك
حتى القمر على الأرض بنزّلك
بربك حدا قدّي بحبك
عن محلو جبرتو يتنازلك



Powered By Watary Production:
;.
Edited By: Walaa Georges ABDALLAH .

Listen to this Song and Subscribe on Spotify: ;--
Download Nassif Zeytoun's App:

Android :

iOS :
-- --
Download Nassif Zeytoun's App:

Android :

iOS :
--
Weekly Chart Achieves (Top 40 Songs)
The highest charting position of the entry is #1 . "Bi Rabbek" atop the Top 40 Songs Chart for 18 total weeks. The song appeared 111 total times in the Top 10 ; 40 total times in the Top 20 ; 35 total times in the Top 40 ; The worst ranking place of the video is #490. "Bi Rabbek" has been charted in 2 trends (countries):
Monthly Chart Achieves (Top 40 Songs)
The best charting position of the entry is #1 . "Bi Rabbek" atop the Top 40 Songs Chart for 2 total months. The song appeared 23 total times in the Top 10 ; 7 total times in the Top 20 ; 8 total times in the Top 40 ; The worst ranking place of the video is #972. "Bi Rabbek" has been charted in 3 trends (countries):
Daily Chart Achieves (Top 100 Songs)
The highest ranking position of the entry is #1 . The song appeared 81 total times in the Top 10 ; 191 total times in the Top 20 ; 742 total times in the Top 100 ; The worst charting place of the entry is #77. Find all daily charts - Top 100 Syria