When You Loved Me

by Eric

"When You Loved Me" is Taiwanese song released on 18 May 2021 in the official channel of the record label - "Eric周興哲". Discover exclusive information about "When You Loved Me". Explore When You Loved Me lyrics, translations, and song facts. Earnings and Net Worth accumulated by sponsorships and other sources according to information found in the internet. How many times the Taiwanese song appeared in music charts compiled by Popnable? "When You Loved Me " is well-known music video that took placements in popular top charts, such as Top 100 Taiwan Music Chart , Top 40 Taiwanese Songs Chart, and more.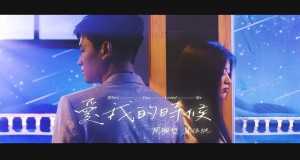 Country
Taiwan
Added
Origin Name
Eric周興哲 × 單依純《愛我的時候 When You Loved Me》Official Music Video
Report
[Not music related] [Add Artist Related] [Report Fake Views] [Remove Linked Artist] [Add Lyrics] [Add Lyrics Translation]
"When You Loved Me" Facts
"When You Loved Me" has reached 6.4M total views, 50.8K likes, and 672 dislikes on YouTube.

The song has been submitted on 18/05/2021 and spent 9 weeks on the charts.
The original name of the music video "When You Loved Me" is "ERIC周興哲 × 單依純《愛我的時候 WHEN YOU LOVED ME》OFFICIAL MUSIC VIDEO".
"When You Loved Me" has been published on Youtube at 18/05/2021 15:00:30
"When You Loved Me" Lyrics, Composers, Record Label
???? Indonesia/Bahasa Melayu/Pilipino/Tiếng subtitles are available.
???? Stream/Download here :
???? Subscribe To My YouTube Channel :





MV 邀請知名動畫團隊 Finger and Toe 操刀,以華語 MV 少有的逐格手繪動畫 + MV!


・Song Lyrics・

詞:Eric周興哲
曲:Eric周興哲

安靜的夜晚裡 頭腦還不想停


潛入了大海裡 我笑著看著妳


緣分還是第一 像悲劇的電影

這是我的決定

妳付出愛我的時候 擁抱妳的人還是我
爭吵時我都不會走 我不會放開妳的手
原諒我還是不成熟 都把話留在我心中
太愛妳才會讓妳走 只怪我想得太多

是夜晚太安靜 讓我又想到你


潛入了大海裡 我只想抓著你


緣分還是第一 像悲劇的電影

這是我的決定

你付出愛我的時候 擁抱你的人還是我
爭吵時我都不會走 我不會放開你的手
原諒我還是不成熟 都把話留在我心中
只怪我想得

你付出愛我的時候 擁抱你的人還是我
爭吵時我都不會走 我不會放開你(妳)的手
原諒我還是不成熟 都把話留在我心中
只怪我想得太多

怪我想得太多


。MV 製作 Credit。
動畫製作: Finger and Toe
周興哲實拍導演:Seen Lin
攝影指導:蘇品豪
攝影助理:吳柏諺
燈光師:林宏洋

製片:郝翊展


攝影指導:李伯恩

燈光師:劉坤

製片:吳雨薇

。音樂製作 Credit。
詞 Lyricist:周興哲 Eric Chou
曲 Composer:周興哲 Eric Chou
製作人 Producer:馬敬恆 T-Ma/周興哲 Eric Chou

編曲 Music Arranger:馬敬恆 T-Ma
鋼琴 Piano:周興哲 Eric Chou
吉他 Guitars:馬敬恆 T-Ma

和聲編寫 Backing Vocals Arrangement:周興哲 Eric Chou
和聲 Backing Vocals:周興哲 Eric Chou

配唱錄音工程師 Vocal Recording Engineer:周興哲 Eric Chou
配唱錄音室 Vocal Recording Studio:Echou Productions
配唱錄音工程師 Vocal Recording Engineer:楊惠琳 Yang Huilin
配唱錄音室 Vocal Recording Studio:Studio21A

弦樂編寫 Strings Arrangement:馬敬恆 T-Ma
弦樂 Strings:靳海音弦樂團 Jin Hai Yin String Orchestra
弦樂錄音室 Strings Recording Studio:Tweak Tone Labs

混音工程師 Mixing Engineer:Brian Paturalski
混音錄音室 Mixing Studio:Dance Party Studio

;Entertainment Ltd
SP:Universal Ms Publ Ltd Taiwan
ISRC:TWAP12100002



----------------------------

・Eric周興哲官方FB

・Eric周興哲官方Weibo

・Eric周興哲官方IG


・更多活動詳情請上
索尼音樂 Sony Music Taiwan Instagram

索尼音樂 Sony Music Taiwan CPOP


#周興哲 #EricChou #주흥철
Weekly Chart Achieves (Top 40 Songs)
The highest charting position of the entry is #1 . "When You Loved Me" atop the Top 40 Songs Chart for 3 total weeks. The song appeared 9 total times in the Top 10 ; The worst ranking place of the video is #4. "When You Loved Me" has been charted in 1 trends (countries):
Monthly Chart Achieves (Top 40 Songs)
The best charting position of the entry is #1 . "When You Loved Me" atop the Top 40 Songs Chart for 1 total months. The song appeared 2 total times in the Top 10 ; The worst ranking place of the video is #10. "When You Loved Me" has been charted in 1 trends (countries):
Daily Chart Achieves (Top 100 Songs)
The highest ranking position of the entry is #1 . "When You Loved Me" atop the Top 100 Songs Chart for 12 total days. The song appeared 67 total times in the Top 10 ; The worst charting place of the entry is #5. Find all daily charts - Top 100 Taiwan