"Addiction" is Taiwanese song released on 19 April 2022 in the official channel of the record label - "相信音樂BinMusic". Discover exclusive information about "Addiction". Explore Addiction lyrics, translations, and song facts. Earnings and Net Worth accumulated by sponsorships and other sources according to information found in the internet. How many times the Taiwanese song appeared in music charts compiled by Popnable? "Addiction " is well-known music video that took placements in popular top charts, such as Top 100 Taiwan Music Chart , Top 40 Taiwanese Songs Chart, and more.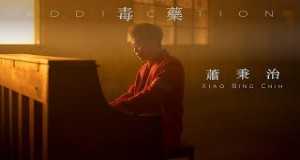 Xiao Bing Chih "Addiction"

on Apple Music Unlimited

Listen to over 100 million songs—ad free.

Try Apple Music Free
Country
Taiwan
Added
Origin Name
蕭秉治Xiao Bing Chih [ 毒藥 Addiction ] Official Music Video
Report
[Not music related] [Add Artist Related] [Report Fake Views] [Remove Linked Artist] [Add Lyrics] [Add Lyrics Translation]
"Addiction" Facts
"Addiction" has reached 19.5M total views, 52.6K likes, and 0 dislikes on YouTube.

The song has been submitted on 19/04/2022 and spent 80 weeks on the charts.
The original name of the music video "Addiction" is "蕭秉治XIAO BING CHIH [ 毒藥 ADDICTION ] OFFICIAL MUSIC VIDEO".
"Addiction" has been published on Youtube at 19/04/2022 13:00:23
"Addiction" Lyrics, Composers, Record Label
── ──

只有愛你


蕭秉治 Project X 二號章《狂人》

為你成癮 抒情主打〈毒藥〉

我們的愛不用為誰
只有我們在一起 才是無限



-












#蕭秉治
#毒藥
#狂人


-「Music Credit」-
製作人 Producer|蕭秉治XBC
編曲 Music Arrangement|溫奕哲 Phil Wen
配唱製作人 Vocal Producer|李雅微 Shivia Lee
和聲編寫 Backing Vocals & Arrangement|李雅微 Shivia Lee, 蕭秉治 XBC
吉他 Guitar|王漢威 Mellow Wang
貝斯 Bass|黃群翰 Chun Han Huang
鼓 Drums|許沐恩 Samuel HSU
弦樂 Just Busy Music Studio
第一小提琴 First Violin|沈羿彣 YiWen Shen, 陳奕勇 YiYung Chen
第二小提琴 Second Violin|黃雨柔 Nala Huang、黃瑾諍 ChinCheng Huang
中提琴 Viola|潘自琦 TzuChi Pan
大提琴 Cello|劉涵隱分子 Hang Liu
弦樂錄音師 Strings Recording Engineer|林尚伯 Lin Shang-Po
弦樂助理錄音師 Strings Assistant Engineer|張閔翔 Min-Hsiang Chang
弦樂助理錄音師 Strings Assistant Engineer|朱品豪 Pin-Hao Ju
技術支援 Technical Support|徐振程 Jason Hsu
錄音室 Recording YuChen Cinema
錄音師 Recording Engineer|黃君富 Frank Huang
錄音室 Recording Studio|B'in Music Studio
混音工程師 Mixing Engineer|單為明 Link Shan
混音錄音室 Mixing Studio|Lights Up Studio


-「Video Credit」-
製作公司 10 United Films
導演 Director|莊絢維 David Chuang
主要演員 Starring|林酉芯 Sora Lin、楊孟霖 Nick Yang、袁緒虎 Hsu Hu Yuan、黃柔閩 Rou Ming Huang

製片 Producer|石芳綺 Kiki Shih, 吳浩瑜 Coal Wu
現場製片 On-set Producer|蔡欣甫 Other Tsai、林君翰 Chun Han Lin
生活製片 Catering & Craft Service|王郁慈 Nicole Wang
美術指導 Art Director|黃明仁 Ming Ren Huang
執行美術 Production Executive|張儷齡 Li Ling Chang
陳設助理 Set Assistant|邱國寧 Kuo Ning Chiu, 蘇家駒 Chia Chu Su
造型製作 Costume Cosmo Fruit Art Studio
造型指導 Costume Designer|張薰尹 Hsun Yin Chang
造型執行 Assistant Costume Designer|林郁芬 Yu Fen Lin
髮型師 Hairstyle|潘顗仁 Pan Yi Ren
化妝師 Makeup Artist|張允 Yun Chang

攝影師 Director of Photography|仉春霖 Chun Lin Chang
攝影大助 Focus Puller|胡瑋洲 Hu Wei Chow
攝影二助 2st Assistant Camera|李煜宬 Yu Cheng Li
攝影二助 2st Assistant Camera|邱宗哲 Zong Zhe Kho, 李溢 I Lee
攝影器材 Camera Hekuan Equipment
燈光師 Gaffer|楊青翰 Yang Ching Han
燈光組 Lighting Crews|許原毓 Hsu Yuan Yu, 張玉璇 Nana Chang
燈光組 Lighting Crews|李德諒 Li De Liang
燈光器材 Camera Visionary Creature
電工 Electrician|陳人誌 Chen Ren Zhi
移動攝影器材 Grip Yong Xiang
操作技師 Operator|李紹邦 Li Shao Bang
操作助理 Technician|黃偉誠 Huang Wei Cheng
剪接師 Editor|黃柏勳 Syun Huang
標準字設計 Front Design|張芳綾 Funny
調光室 Color Timeline Studio
調光師 Colorist|Penny Chen
專案管理 Post-production PM|陳映芳 Ying Fang Chen
視覺特效製作 Visual Effects Renovatio Pictures
視覺特效總監 Visual Effects Supervisor|郭憲聰 Tomi Kuo
特效製片 VFX Producer|黃棨雋 Peter Huang
CG 總監 CG Supervisor|馬松稚 Shawn Ma, 陳昭詠 Chao Yung Chen
特效專案管理 VFX Project Manager|陳姵均 Hulk Chen
特效協調 VFX Coordinators|葉惠怡 Echo Yip, 吳宇琁 Sharon Wu
資深合成師 Senior Compositor|謝欣霏 Faye Hsieh、王建程 Gareth Wang、徐佳佑 Chia Yu Shu、楊依璇 Von Yang

合成師 Compositor|李珞丞 Riley Lee, 邱莛淨 Jing Chiu
合成師 Compositor|黃御峰 Yu Fong Huang
CG 數位視覺設計師 CG Digital Artists|戴子書 Zih Shu Tai
CG 數位視覺設計師 CG Digital Artists|蘇聖智 Sheng Chih Su
特效模擬 FX Artists|邱俊毅 Daniel Chiu、蕭子修 Thomas Hsiao
追蹤組長 Matchmove Lead|周小淨 Demi Chou
鏡頭追蹤 Matchmove Artists|潘欣榆 Shin Yu Pan、施欣汝 Hsin Ju Shih、黃御峰 Yu Fong Huang、王建程 Gareth Wang

模型師 Modeler|黃亮凱 Liang Kai Huang、許佑奎 Bick Hsu
模型師 Modeler|林子閔 Tzu Min Lin
技術流程 Pipeline TD|范屹閔 Willy Fan
IT工程師 IT Engineer|曾俊瑋 Roters Zeng
現場特效指導 On-Set VFX Supervisor|郭憲聰 Tomi Kuo
現場特效 On-Set VFX|王建程 Gareth Wang
概念美術總監 Concept Art Director|呂奇駿 Chi Chun Lu
行政企劃 Administration|呂旻穎 Moira Lu、黃榆庭 Yu Tin Huang
行政企劃 Administration|蔡芳琦 Jess Tsai
實習生 Intern|陳姿妤 Tzu Yu Chen
錄音工作室 Recording Pixelfly Digital Sound Co.
錄音室混音師 Recording Engineer|戴志光 Chih Kuang Tai


蕭秉治團隊 Xiao's Team
造型 Stylist|林修瑋 Lin Xiu Wei
造型助理 Stylist Assistant|邵葳 Shao Wei
化妝 Make up|丁詩穎 Ting Shih Yin (花心工作室)
化妝助理 Make up Assistant|吳岱蓉 Diana Wu (花心工作室)
髮型 Hair Style|郭泰驛 Laurance Kuo (Artists Club)
髮型助理 Hair Style Assistant|張皓閔 Min Chang
平面攝影 Photographer|周浩詠 Chou Hao Yung



Subscribe YouTube
--


➩ 蕭秉治 OFFICIAL ➩
YouTube:@蕭秉治Xiao Bing Chih
Weekly Chart Achieves (Top 40 Songs)
The highest charting position of the entry is #1 . "Addiction" atop the Top 40 Songs Chart for 3 total weeks. The song appeared 20 total times in the Top 10 ; 20 total times in the Top 20 ; 34 total times in the Top 40 ; The worst ranking place of the video is #45. "Addiction" has been charted in 1 trends (countries):
Monthly Chart Achieves (Top 40 Songs)
The best charting position of the entry is #1 . "Addiction" atop the Top 40 Songs Chart for 1 total months. The song appeared 7 total times in the Top 10 ; 3 total times in the Top 20 ; 8 total times in the Top 40 ; The worst ranking place of the video is #43. "Addiction" has been charted in 1 trends (countries):
Daily Chart Achieves (Top 100 Songs)
The highest ranking position of the entry is #1 . "Addiction" atop the Top 100 Songs Chart for 22 total days. The song appeared 128 total times in the Top 10 ; 162 total times in the Top 20 ; 250 total times in the Top 100 ; The worst charting place of the entry is #47. Find all daily charts - Top 100 Taiwan