Ushamba

by Harmonize

"Ushamba" is Tanzanian song released on 08 November 2020 in the official channel of the record label - "Harmonize". Discover exclusive information about "Ushamba". Explore Ushamba lyrics, translations, and song facts. Earnings and Net Worth accumulated by sponsorships and other sources according to information found in the internet. How many times the Tanzanian song appeared in music charts compiled by Popnable? "Ushamba " is well-known music video that took placements in popular top charts, such as Top 100 Tanzania Music Chart , Top 40 Tanzanian Songs Chart, and more.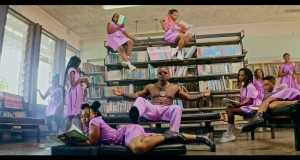 Country

Tanzania
Added
Origin Name
Harmonize - Ushamba (Official Music Video)
Report
[Not music related] [Add Artist Related] [Report Fake Views] [Remove Linked Artist] [Add Lyrics] [Add Lyrics Translation]
"Ushamba" Facts
"Ushamba" has reached 6.1M total views, 59.8K likes, and 7K dislikes on YouTube.

The song has been submitted on 08/11/2020 and spent 26 weeks on the charts.
The original name of the music video "Ushamba" is "HARMONIZE - USHAMBA (OFFICIAL MUSIC VIDEO)".
"Ushamba" has been published on Youtube at 08/11/2020 19:00:09
"Ushamba" Lyrics, Composers, Record Label
This Song Based on People Who Likes To Brag Too much In Everything They Do Or They !! Harmonize Came Up Went hard on This Song To All People Who Brags Too much That Its Not A Funny to Brag In Things Are Not Even Sensetive.!!

Harmonize - Ushamba
Stream/Download:


Subscribe for more official content from Harmonize:


Follow Harmonize
Instagram:
Twitter:
Facebook:
TikTok:


Listen to Harmonize
YouTube:
Audiomack:
Apple Music :
Spotify :

The official YouTube channel of ;Subscribe for the latest music videos, performances, and more.


For Bookings & More
Email: Harmonizemanagement@
Call: +255 752 222 442, +255 658 135 762

Lyrics

Kondeboy
Weeeeeeeee

Chorus
Huo ni ushambaa huo ni wee huo ni ushambaa huo ni wee
Huo ni ushambaa huo ni eeeeh huo ni ushambaa

Verse
pesa ya kulipa gesti unayo eeeh nyumbani familia inapiga miyayo eeeh
mmh yanafurahisha ufanyayo eeeh huo ni ushamba
inaboa kudadadeki dereva wa uber hataki kuova teki eti kisa pesa haiongezeki eeeh huo ni ushamba yupo kitandani kajilegeza eeh mi nimeshapaka vya kuteleza eeh eti bebi leo simba wanacheza eeeh huo ni ushamba husband material kutwa unalike picha za makalio vya wenzako usijipe matamanio eeh huo ni ushamba Ashura wa mbagala huna pakula pakulala komenti ndefu picha za kajala huo tunaita eeeh huo ni ushamba

Chorus
Huo ni ushambaa huoni huo ni ushambaa huo ni
Huo ni ushambaa huo ni eeeeh huo ni ushambaa

Verse
mmmh malejendi si wamerudisha vita wanahofia eti jeshi anawapita bila sababu wananikunjia ndita
eeh huo ni ushamba limechoka acha nilikalagaze halina meno ilo simba zeee likila demu lazima litangaze huo tunaita eeeh huo ni ushamba hivi dunia ndo ipo kikomo eeh maana hadi waganga wanapiga promo hadi insta eeh wana page za kujipigia domo eeeh huo ni ushamba amepanga chumba huko vingunguti yupo mbezi kwa demu pesa hatafuti mmh vipi akikupiga kibuti eeeh huo ni ushamba aaah konda wa daladala umenipitisha bahati mbaya nililala unataka nilipe tena ni busara eeeh huo ni ushamba

Chorus
Huo ni ushambaa huo ni huo ni ushambaa huo ni
Huo ni ushambaa huo ni eeeeh huo ni ushambaa

Verse
kaja na vumbi uso umefubaa anadai kapaka poda eeh kaniomba nauli ya uber
eeeh huo ni ushamba yule namuona kapanda boda vitu vingine haviji na ubongo eeh punguzeni sifa wana sio mchongo eeh demu humjui unampakia mkongoo eeeh huoni ushambaa yeye ndo kalewa kuliko wote anaimba nakucheza ngoma zote wakati wakulipa bili sina chochote eeh huo ni ushambaa
meno yote nje anachekelea ahsante bebi nimepokea hasa mbona haujatuma na yakutoleaa eeeh huo ni ushambaa kumepambazuka alfajiri tupo club wana anasema subiri yani kisa yeye ndo mwenye usafiri aah eeeh huoni ushambaa
tunaishi kwa nyumba ya kupanga mwenzetu unatuletea muganga unataka wote tuonekane wangaa huo tunaita eeeh huo ni ushambaa

Chorus
Huo ni ushambaa huo ni huo ni ushambaa huo ni
Huo ni ushambaa huo ni eeeeh huo ni ushambaa.

hehehehee hasa kama kama tumekutana mchana unasema haujala
heheheee asubuhi si ungeniomba mswaki wewee hehehe hahaha hahahahah

Huo ni ushambaa huo ni huo ni ushambaa huoni
Huo ni ushambaa huo ni huo ni ushambaa

they call me kondeboy no 1 jeshiiiiiii



#Harmonize #Ushamba #Kondegang
Weekly Chart Achieves (Top 40 Songs)
The highest charting position of the entry is #1 . "Ushamba" atop the Top 40 Songs Chart for 1 total weeks. The song appeared 3 total times in the Top 10 ; 2 total times in the Top 20 ; 4 total times in the Top 40 ; The worst ranking place of the video is #167. "Ushamba" has been charted in 1 trends (countries):
Monthly Chart Achieves (Top 40 Songs)
The best charting position of the entry is #1 . The song appeared 1 total times in the Top 10 ; 1 total times in the Top 20 ; The worst ranking place of the video is #141. "Ushamba" has been charted in 1 trends (countries):
Daily Chart Achieves (Top 100 Songs)
The highest ranking position of the entry is #1 . "Ushamba" atop the Top 100 Songs Chart for 6 total days. The song appeared 19 total times in the Top 10 ; 12 total times in the Top 20 ; 88 total times in the Top 100 ; The worst charting place of the entry is #100. Find all daily charts - Top 100 Tanzania