Ya Galbi

by Balti

"Ya Galbi" is Tunisian song released on 17 July 2021 in the official channel of the record label - "Thisiz Balti". Discover exclusive information about "Ya Galbi". Explore Ya Galbi lyrics, translations, and song facts. Earnings and Net Worth accumulated by sponsorships and other sources according to information found in the internet. How many times the Tunisian song appeared in music charts compiled by Popnable? "Ya Galbi " is well-known music video that took placements in popular top charts, such as Top 100 Tunisia Music Chart , Top 40 Tunisian Songs Chart, and more.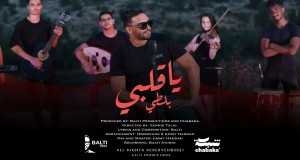 Country
Tunisia
Added
Origin Name
Balti - Ya Galbi (Official Music Video)
Report
[Not music related] [Add Artist Related] [Report Fake Views] [Remove Linked Artist] [Add Lyrics] [Add Lyrics Translation]
"Ya Galbi" Facts
"Ya Galbi" has reached 6.5M total views, 158.6K likes, and 4.3K dislikes on YouTube.

The song has been submitted on 17/07/2021 and spent 1 weeks on the charts.
The original name of the music video "Ya Galbi" is "BALTI - YA GALBI (OFFICIAL MUSIC VIDEO)".
"Ya Galbi" has been published on Youtube at 17/07/2021 15:00:07
"Ya Galbi" Lyrics, Composers, Record Label
Balti - Ya Galbi (Official Music Video)

Produced by: Balti Productions & Chabaka
Directed by: Yannis Talal
Lyrics and Composition: Balti
Arrangement: Hbibzgang & Jimmy Haddad
Mix and Master: Jimmy Haddad
Recording: Balti Studio

Lyrics:

Ya galbi chbik chbik ya galbi
w 3lech 3lik khali 3la rabi
la 7al ydoum la 7al ydoum
lbera7 madem w madem lyoum
w W khali El dhahka tban hehehe hahaha
chmeta fil 3edyan hehehe hahaha
w meni ken insen mara ca va w ca va pas
w rabi fil wejden w hani mechi pas a pas

Ou cheda w tzoul
slat 3ala il rasoul
w il me7na ma toul
ou sandid ou ghoul
w dam3a khabeha
w dha7ka wareha
w 3la Allah khaleha
gloubna w rabi El 3alem beha
w denya mara b mara
la7louwa wil mora
w 3alech il mdhara
wa7na n3ichou feha mara
ou kol youm w youmou
Bchamsou w ghyoumou
w nti7ou w ngoumou
nzidou nti7ou w ngoumou

Ya galbi chbik chbik ya galbi
w 3lech 3lik khali 3la rabi
la 7al ydoum la 7al ydoum
lbera7 madem w madem lyoum
w W khali El dhahka tban hehehe hahaha
chmeta fil 3edyan hehehe hahaha
w meni ken insen mara ca va w ca va pas
w rabi fil wejden w hani mechi pas a pas

Yar7em baba chguali
wali win twali
w ken 3ssit nsali
houma ywatou w enty 3ali
sid w weld labba
W fi chedda ma tkhaba
w mechi daba daba
w yar7em eli kaber w raba
w ghaleb ou maghloub
jondi fi 7roubou
w yekteb il maktoub
ah yamma nfara7 le gloub
w denya mezyena
w nansew la7zena
emta il fara7 y watina
w ngoulou il fara7 watena

Ya galbi chbik chbik ya galbi
w 3lech 3lik khali 3la rabi
la 7al ydoum la 7al ydoum
lbera7 madem w madem lyoum
w W khali El dhahka tban hehehe hahaha
chmeta fil 3edyan hehehe hahaha
w meni ken insen mara ca va w ca va pas
w rabi fil wejden w hani mechi pas a pas

Da3na meli wgua3na
w madhi 3alech rja3na
trig il ghlat manfa3na
mchina bil galeb w tlaya3na
nfig w nchid 7sebi
w mandhaya3ch chbebi
naaref nrabi klebi
w nhani il mama fi ghyebi
w nawar esghitou
il chouk li jra7 dawitou
li be3 b rkhis nsitou
w il ghali 7abni w 7abitou
w 3lech dhahka mazmouma
7elma w kabous fi nouma
chbina haka ya houma
chbina haka ya 7kouma

Ya galbi chbik chbik ya galbi
w 3lech 3lik khali 3la rabi
la 7al ydoum la 7al ydoum
lbera7 madem w madem lyoum
w W khali El dhahka tban hehehe hahaha
chmeta fil 3edyan hehehe hahaha
w meni ken insen mara ca va w ca va pas
w rabi fil wejden w hani mechi pas a pas

Chaine officielle de Balti




#BALTI #YA_GALBI

Digital Distribution: Chabaka


Weekly Chart Achieves (Top 40 Songs)
The highest charting position of the entry is #1 . "Ya Galbi" atop the Top 40 Songs Chart for 2 total weeks. The song appeared 2 total times in the Top 10 ; 2 total times in the Top 20 ; The worst ranking place of the video is #427. "Ya Galbi" has been charted in 3 trends (countries):
Daily Chart Achieves (Top 100 Songs)
The highest ranking position of the entry is #1 . "Ya Galbi" atop the Top 100 Songs Chart for 8 total days. The song appeared 19 total times in the Top 10 ; 3 total times in the Top 20 ; 4 total times in the Top 100 ; The worst charting place of the entry is #34. Find all daily charts - Top 100 Tunisia