Al Mafroth

by Aseel Hamim

"Al Mafroth" is Emirati song released on 25 February 2019 in the official channel of the record label - "JDED Music l جديد ميوزك". Discover exclusive information about "Al Mafroth". Explore Al Mafroth lyrics, translations, and song facts. Earnings and Net Worth accumulated by sponsorships and other sources according to information found in the internet. How many times the Emirati song appeared in music charts compiled by Popnable? "Al Mafroth " is well-known music video that took placements in popular top charts, such as Top 100 United Arab Emirates Music Chart , Top 40 Emirati Songs Chart, and more.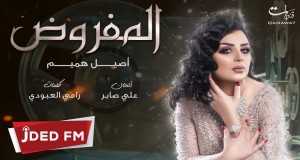 Country

United Arab Emirates
Added
Origin Name
أصيل هميم - المفروض (حصرياً) | 2019
Report
[Not music related] [Add Artist Related] [Report Fake Views] [Remove Linked Artist] [Add Lyrics] [Add Lyrics Translation]
"Al Mafroth" Facts
"Al Mafroth" has reached 195.6M total views, 1.3M likes, and 63.5K dislikes on YouTube.

The song has been submitted on 25/02/2019 and spent 142 weeks on the charts.
The original name of the music video "Al Mafroth" is "أصيل هميم - المفروض (حصرياً) | 2019".
"Al Mafroth" has been published on Youtube at 24/02/2019 18:18:38
"Al Mafroth" Lyrics, Composers, Record Label
استمع على جميع المنصات:

اشترك في قناة JDEDFM لمشاهدة أحدث الأغاني على يوتيوب:


أصيل هميم - المفروض | 2019
Aseel Hameem - Al Mafroth | 2019

كلمات : رامي العبودي
الحان : علي صابر
توزيع ومكس وماستر : عثمان عبود
ايقاعات : صفاء الغريب
ناي : وسام خصاف
عود : صادق جعفر
كمانات : سوريا
جيتار : farshid

انتاج: قنوات
#اصيل_هميم #المفروض

كلمات الأغنية :

المفروض اعوفك من زمان
كون من ذاك الوكت
من عليه تغيرت
ليش منك ماتبت بس يلا من فات الاوان
تعبي هان كلشي بان الوعدني بوعده خان الوعدني بوعده خان
انطيتك فرصه تتغير مثل ماانت ضليت
غلطه عمري سامحتك هواي اغلاط عديت
انا الضحيت والحبيت والوافيت واهتميت
شسويلك بعد اكثر كلشي وياك سويت
بس يلا بعدنا بيها هاي العشره خل ننهيها حياتي من اطلعك منها لاتصدك ارجعك بيها
****
ماجنت افكر للبعيد ضيعت عمري بغرام مو حقيقي وبس كلام
اغلطت مره وحرام ارجع اغلط من جديد
شي اكيد مااريد انت حبك مايفيد انت حبك لامايفيد
وداعت حبي الك عفتك
ومانرجع حبيبين خل اشتاقلك فتره
بس انساك بعدين
خلاص ياعين لاتبجين وتسهرين وتحنين
هو اللي خسر كلشي من فراكه لاتخافين من فراكه لاتخافين
صارتلي بعشرتك عبره
بعد ماعيد هاي الكره
اذا هيج العشك ماريده
هاي اول واخر مره


#جديد_ميوزك
#أصيل_هميم
ـــــــــــــ
تابع قناة جديد إف أم :
Twitter:
Instagram:
Google+: ;.
Email: info@ ;
TikTok :
Weekly Chart Achieves (Top 40 Songs)
The highest charting position of the entry is #1 . "Al Mafroth" atop the Top 40 Songs Chart for 17 total weeks. The song appeared 114 total times in the Top 10 ; 54 total times in the Top 20 ; 6 total times in the Top 40 ; The worst ranking place of the video is #476. "Al Mafroth" has been charted in 3 trends (countries):
Monthly Chart Achieves (Top 40 Songs)
The best charting position of the entry is #1 . "Al Mafroth" atop the Top 40 Songs Chart for 3 total months. The song appeared 27 total times in the Top 10 ; 12 total times in the Top 20 ; 1 total times in the Top 40 ; The worst ranking place of the video is #611. "Al Mafroth" has been charted in 3 trends (countries):
Daily Chart Achieves (Top 100 Songs)
The highest ranking position of the entry is #1 . "Al Mafroth" atop the Top 100 Songs Chart for 116 total days. The song appeared 784 total times in the Top 10 ; 371 total times in the Top 20 ; 290 total times in the Top 100 ; The worst charting place of the entry is #100. Find all daily charts - Top 100 United Arab Emirates