Enta Al Saadah

by Aseel Hameem

"Enta Al Saadah" is Emirati song released on 06 February 2020 in the official channel of the record label - "JDED Music l جديد ميوزك". Discover exclusive information about "Enta Al Saadah". Explore Enta Al Saadah lyrics, translations, and song facts. Earnings and Net Worth accumulated by sponsorships and other sources according to information found in the internet. How many times the Emirati song appeared in music charts compiled by Popnable? "Enta Al Saadah " is well-known music video that took placements in popular top charts, such as Top 100 United Arab Emirates Music Chart , Top 40 Emirati Songs Chart, and more.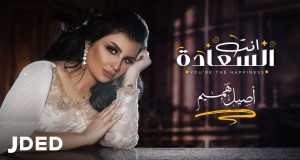 Country

United Arab Emirates
Added
Origin Name
اصيل هميم - انت السعاده (حصرياً) | 2020 | Aseel Hameem - Enta Al Saadah
Report
[Not music related] [Add Artist Related] [Report Fake Views] [Remove Linked Artist] [Add Lyrics] [Add Lyrics Translation]
"Enta Al Saadah" Facts
"Enta Al Saadah" has reached 94.8M total views, 931.3K likes, and 45.6K dislikes on YouTube.

The song has been submitted on 06/02/2020 and spent 74 weeks on the charts.
The original name of the music video "Enta Al Saadah" is "اصيل هميم - انت السعاده (حصرياً) | 2020 | ASEEL HAMEEM - ENTA AL SAADAH".
"Enta Al Saadah" has been published on Youtube at 05/02/2020 15:30:10
"Enta Al Saadah" Lyrics, Composers, Record Label
| للاستماع علي جميع المنصات

اشترك في قناة JDED MUSIC لمشاهدة أحدث الأغاني على يوتيوب:


اصيل هميم - انت السعاده (حصرياً) | 2020
Aseel Hameem - Enta Al Saadah (Exclusive) | 2020

كلمات : أدم
ألحان : أزهر حداد
توزيع ومكس : حسام الدين
تم التسجيل في : استوديوهات ديمو العراق
آلات لايف جمبش وترومبون : تركيا

كلمات الأغنية :

كلما ردت أنساك من راسي أطلعك
أتعوذ الشيطان والقلبي أرجعك
كلما أقول اليوم قررت أعوفك
أنسى وأقول شلون وشوقت أشوفك

هيج أنا أحبك حيل غيرك ولا أحب
لو قلت أعوفك راح معناها أجذب
شقد هددت بس ما خفت من عندي تعرف بيه
أزعل مثل زعل الطفل وأتقشمر بحنية

أنت الأحبه هواي وقلبي راده
شي مختصر معناه أنت السعادة
حلوة الحياة وياك والدنيا جنة
وأيامي يمك حيل صار إلها معنى

كلما كبرت وياي تكبر محبتك
والمشكلة من تغيب تكثر معزتك
بحبك عشت وتعلقت مو مال أعوفك وأنسى
حبي إلك مالت قبل مو عشق مالت هسه

#جديد_ميوزك
#انت_السعاده
#اصيل_هميم
#Aseel_Hameem
#Enta_Al_Saadah
#You_Are_The_Happiness

#أزهر_حداد
#آدم
#Demo
#حسام_الدين
ـــــــــــــ
تابع قناة جديد ميوزك:
Twitter:
Instagram:
Google+:
TikTok :
Weekly Chart Achieves (Top 40 Songs)
The highest charting position of the entry is #1 . "Enta Al Saadah" atop the Top 40 Songs Chart for 6 total weeks. The song appeared 39 total times in the Top 10 ; 45 total times in the Top 20 ; 13 total times in the Top 40 ; The worst ranking place of the video is #489. "Enta Al Saadah" has been charted in 3 trends (countries):
Monthly Chart Achieves (Top 40 Songs)
The best charting position of the entry is #1 . "Enta Al Saadah" atop the Top 40 Songs Chart for 2 total months. The song appeared 10 total times in the Top 10 ; 10 total times in the Top 20 ; 1 total times in the Top 40 ; The worst ranking place of the video is #760. "Enta Al Saadah" has been charted in 3 trends (countries):
Daily Chart Achieves (Top 100 Songs)
The highest ranking position of the entry is #1 . "Enta Al Saadah" atop the Top 100 Songs Chart for 46 total days. The song appeared 269 total times in the Top 10 ; 302 total times in the Top 20 ; 143 total times in the Top 100 ; The worst charting place of the entry is #100. Find all daily charts - Top 100 United Arab Emirates